The Loop
Golf pioneer Lee Elder remains an inspiration
FAR HILLS, N.J. -- From the back of the room came a familiar question for Lee Elder. The man best known as the first African American to play in the Masters has been answering it in some form or another for more than 37 years: What are your recollections from your first trip to Augusta?
"I was scared to death," Elder said without hesitation.
Nearly four decades after that historic event, Elder's chilling words are just as meaningful -- if not even more important. To a younger generation of golfers, some of whom were in the crowd Wednesday at the USGA's headquarters, it was a reminder that it wasn't too long ago that a black man could feel fear on a golf course that went well beyond a daunting tee shot.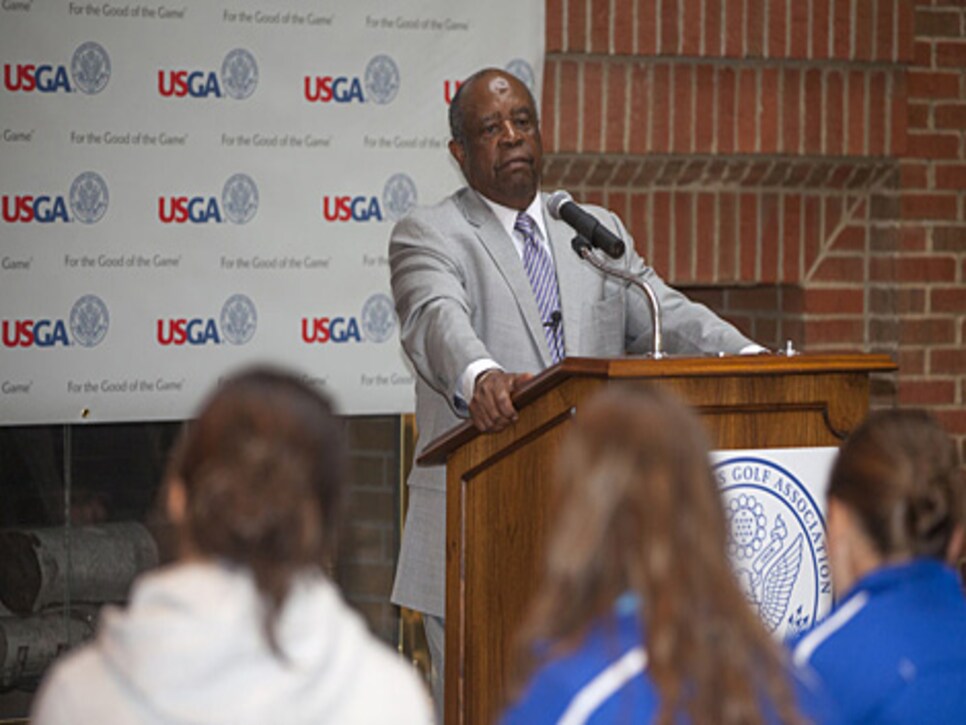 Photo courtesy of the USGA
Elder addressed the 1975 Masters along with plenty of other aspects of his storied career during a talk and Q&A with a crowd ranging from children in the First Tee program to older fans familiar with his record. The 78-year-old's best days on the golf course are well behind him, but that doesn't mean he's finished doing what he can for the sport he loves.
"I think you should give back until you're not longer here. I would never walk away from the game," said Elder, who splits his time between homes in Fort Lauderdale and San Diego. "Golf has been so good to me. Golf gave me my livelihood. Golf made it possible for me to enjoy a lot of things I probably wouldn't have enjoyed had I not been involved in the game of golf. And I think once you do that, you should keep on trying to improve the game of golf and how you do that is by helping the younger people that are going to come after you."
His message was well received by those listening, including the younger portion with whom he took photographs and signed autographs for afterward.
"It was encouraging to me to hear about his life in golf because I want to be a golfer," Sebastian Gonell, 8, of Jersey City, said.
Speaking in the shadow of the USGA museum, Elder represents a living piece of history. It's for this reason that he was sought out by the museum's director, Robert Williams, to help improve the building's exhibit on minorities in golf.
"He is a real pioneer, along with (Charlie) Sifford and others, and that pioneering spirit, that ability to stand up in the face of all adversity and succeed is a uniquely American story," Williams said. "It's not just inspirational to the minority community, I think it's inspirational to us all."
The exhibit includes material on Jackie Robinson, Althea Gibson and Joe Louis, all pioneers in their own sports who used their influence to help open golf's doors as well. Elder had close relationships with all three and noted that "It's really important to me that I carry on that legacy that they started."
Elder's groundbreaking appearance at Augusta -- for which he says he received up to 100 death threats -- rightfully gets a lot of attention, but his career also included four PGA Tour titles and eight wins on the Champions Tour. After dominating the United Golf Association (a professional tour for African Americans), he earned his PGA Tour card through qualifying school in 1967. His best year came in 1978 when he won twice, including a playoff victory over Lee Trevino at the Greater Milwaukee Open. That led to what he described as the only "tear-jerking" moment of his career: Representing the U.S. at the 1979 Ryder Cup.
"To be sitting in that chair and to have them announce your name. And you stand up as a member of the team, and to have the U.S. flag behind you . . . that was so significant for me," said Elder, who also became the first African American to play in the biennial event that week at the Greenbrier. "I'd never experienced anything like that."
Speaking to reporters before his talk, Elder also recalled his most frightening experience on a golf course. That came at a 1970 tournament in Memphis when someone in the crowd on Saturday picked up his ball out of the left side of the fairway and threw it onto a road. No one in the gallery spoke on Elder's behalf, but playing partner Terry Dill vouched for Elder and he received a free drop.
"They really didn't want me to win the tournament," Elder said. "After that, it led to a lot of hollering and name calling, so I had to play in the rest of the way with a police escort."
The on-course atmosphere is a lot different now for Elder, who still plays from time to time in the "Grand Champions" division of the Champions Tour. He is also currently working on a book and is in the process of trying to set up clinics for young, minority golfers in his name -- something he wishes Tiger Woods did more of.
"I'm surprised because I felt he'd be a little more involved. I thought he'd be more outspoken," Elder said of Woods, who he is still friends with, but with whom he acknowledges his relationship is not as close as it once was.
Elder still keeps close tabs on the world of golf. He attended last week's Ryder Cup at Medinah (If he were captain, he wouldn't have sent Tiger Woods off last on Sunday), and he was thrilled when Augusta National was in the news earlier this year for breaking down another barrier and finally opening its doors for women by admitting its first two female members: former Secretary of State Condoleezza Rice and Darla Moore.
"I thought that was fantastic and I thought they selected great people," Elder said.