News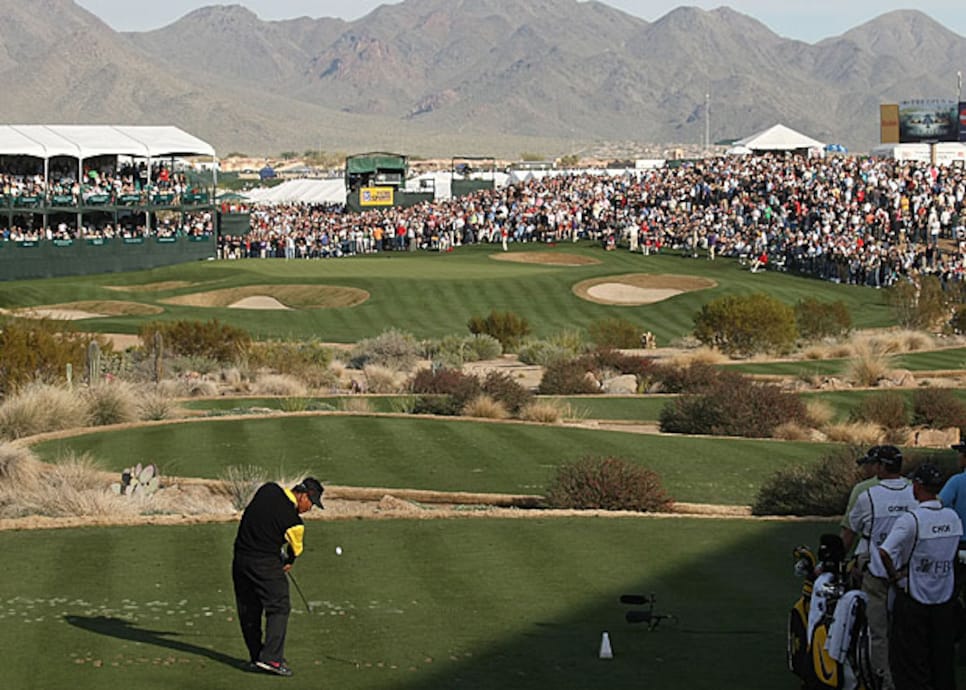 The revelry surrounding the 16th hole will be a welcome departure from the serious issues gripping golf.
SCOTTSDALE, Ariz. -- A sobering week in golf last week won't deliver an encore, of that we can all be certain. The Waste Management Phoenix Open is the perfect tonic (or gin and tonic) for a game in need of a pick-me-up.
Tiger Woods has gone underground again, sending the paparazzi and tabloids scurrying off in search of him. The sparse crowds that saddled the WGC-Accenture Match Play Championship with listlessness won't be an issue at the TPC Scottsdale, the happiest place on turf.
Weather permitting, in fact, the tournament attendance records could be in reach. For the first time since 2002, the Phoenix Open won't be competing with the Super Bowl, which ought to help boost attendance figures that are never lagging to begin with.
Two years ago, attendance for the week was a record 538,356, with a record 170,802 there on Saturday alone. The Super Bowl and its attendant parties historically curtailed Sunday attendance, last year in particular, when the Arizona Cardinals were playing.
"I hope it's over 200,000 (on Saturday) this year," the tournament's unofficial host, Charley Hoffman said. Hoffman has an endorsement contract with the sponsor, Waste Management. "We're not against the Super Bowl, and the weather hopefully is going to hold off and be good over the weekend. This is one of the funnest events I come and play, and the crowd's cheering you on, or not cheering you on in some cases. It's a fun place to play golf, and I love coming here."
It's not for everyone, of course, which is why only three of the top 10 and seven of the top 20 in the World Ranking are entered. But they include a local favorite, Ariozona State's own Phil Mickelson; a local resident, Australian Geoff Ogilvy, and the man in pink, Ian Poulter, who won the Match Play Championship last week.
A preponderance of the mayhem occurs at the par-3 16th hole, which now comes with a stadium surrounding it.
"If there's one person moving behind the green you focus on that one person, but if there are 50,000 people, you can't focus on anything so it doesn't bother you," said Hoffman, who lost to Kenny Perry in a playoff here last year. "It's like if everybody's talking, it doesn't bother you. I think it would probably be easier on 16 if everybody kept talking instead of the Thunderbirds (the tournament's organizing group) trying to get everybody quiet. But you know what you're walking into when you go into the stadium on 16. It's fun, and you just hope you hit the green so you don't get booed."
It is a tournament that seems to emphasize the 19th hole above all others, even the 16th, which will make for a raucous crowd and a wild week that is certain to return some energy to a tour in the midst of its own hangover.