News
With Tiger Woods Out, Pros Eye Top Spot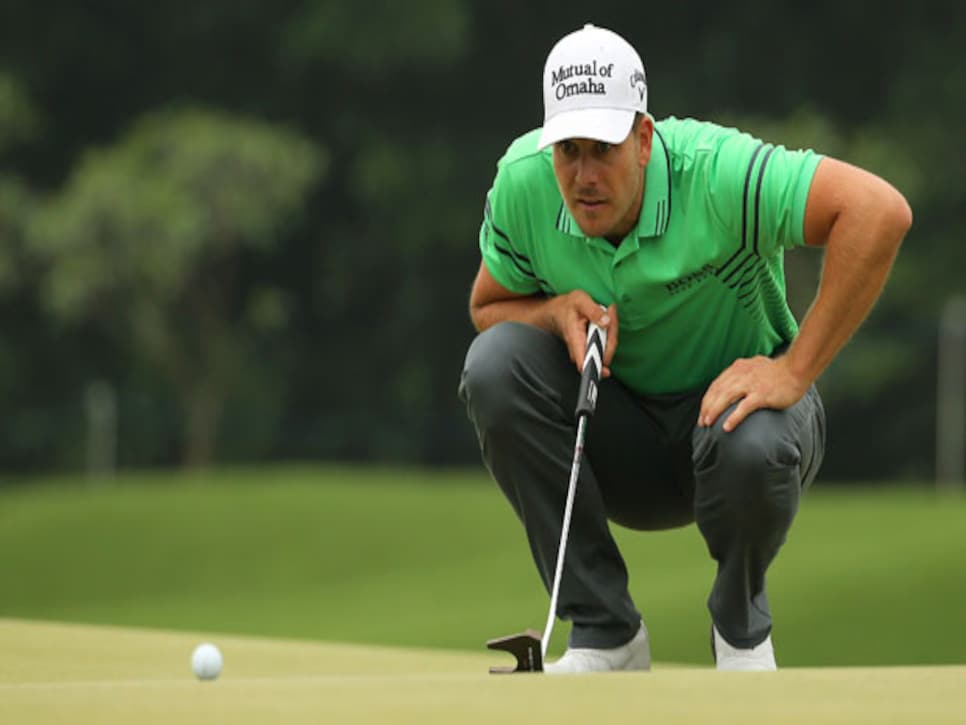 Henrik Stenson is one of those players closing in on the top spot.
The window is cracked open. As Tiger Woods resumes chipping and putting, former No. 1 players like Lee Westwood are talking about getting there again. Kids like Patrick Reed are popping off about being among the top five players in the world. Bubba Watson has won his second Masters. Parity has once again become the rule in professional golf.
Ratings are down, but opportunity is up. With Woods recuperating from back surgery and so many first-time winners emerging, 2014 resembles that era that began after the 2008 U.S. Open and ended when Woods starting winning tournaments again in 2012. But there are no asterisks next to Padraig Harrington's three major championships. Keegan Bradley's 2011 PGA Championship doesn't count any less than Y.E. Yang's against Woods before the fall in 2009.
Two weeks removed, the 78th Masters feels more and more like the changing of the guard, with 20-year-old Jordan Spieth making a run, Rickie Fowler coming away from Augusta saying, "I can win here," and Jonas Blixt recording his second straight top-five in a major.
They're not talking about Tigerproofing Augusta National anymore. They're talking about Bubbaproofing it. Woods didn't play; Phil Mickelson and Ernie Els missed the cut; Steve Stricker was a nonfactor; and Freddie Couples sadly didn't have it again on a Sunday where he could have made a move.
At 41, Westwood doesn't want to be lumped into that group. He didn't get it done on Sunday at Augusta (73 when he started the day three shots off the lead), but he did come back a week later to win the Maybank Malaysian Open in Kuala Lumpur. Against a field with no top-35 players, his first victory in two years only moved him up six spots to No. 30 in the world, but he made it seem like No. 30 with a bullet. Armed now with a short game, back on track after working with swing coach Mike Walker, the Englishman now making his home in Florida said quite confidently, "There's no reason why I couldn't get back up there … there's no reason why not."
There's no reason why Matt Kuchar, Adam Scott, Rory McIlroy or Henrik Stenson couldn't become No. 1, either, except they've all failed when given good chances to ascend. Perhaps Tiger made it look too easy.
Kuchar's stretch of blowing tournaments before winning the RBC Heritage by holing a bunker shot on the 72nd hole was a reminder of how tough it is to close in this league. With a chance to become No. 1, Scott shot a final-round 76 at Bay Hill to blow victory. McIlroy had a putt on the 72nd hole of the Honda Classic, but missed and lost in a playoff. The common feeling is that Woods would have made that putt, even though he was not particularly putting well when he went off the grid at Bay Hill.
Over the next four weeks, a stockpile of World Ranking points will be available at the Wells Fargo Championship, the Players and the BMW PGA in Europe. Westwood, for one, is playing all three. But if Stenson's performance in Hong Kong is an indicator, Woods may keep his ranking. With a chance to become No. 1, Stenson fought a stomach virus and finished eight shots back of a Frenchman named Alexander Levy.
Parity won again. Embrace it.