News
Quail Hollow To Host 2017 PGA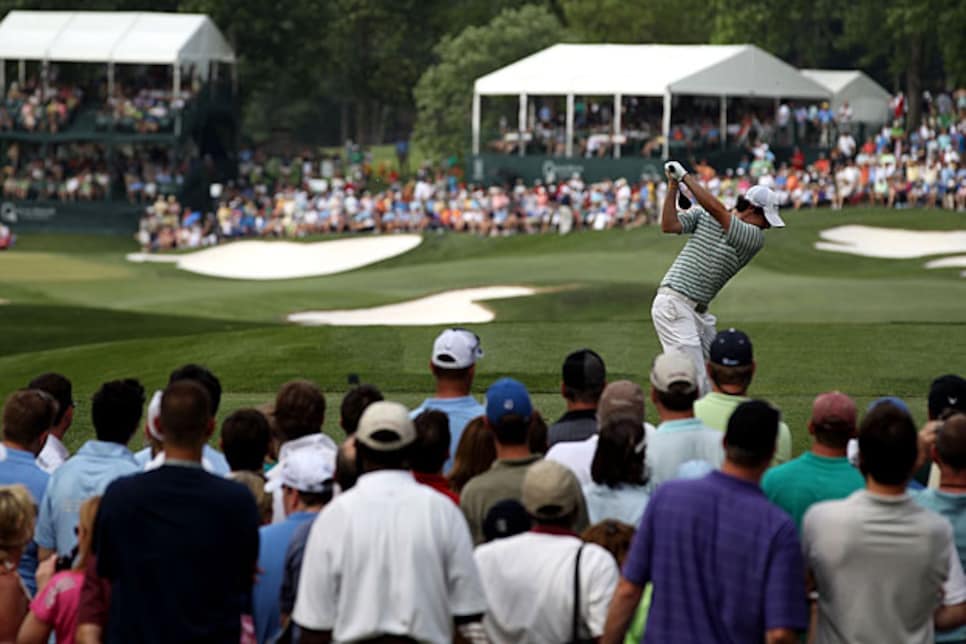 Rory McIlroy won his first PGA Tour title this year with a final-round 62 at Quail Hollow.
CHARLOTTE, N.C. (AP) -- North Carolina Gov. Beverly Perdue remembers sitting with Johnny Harris in 1993 as the Quail Hollow Club president gushed about his ambitious plans.
"He said, 'Bev, we're going to make us a prize. We're bringing in a great golf designer and we're going to change this course,'" Perdue recalled. "He said, 'We're going to have us an international tournament here.'"
Two redesigns and 17 years later, Perdue sat next to Harris on the same stage Tuesday with PGA of America CEO Joe Steranka, who announced the 2017 PGA Championship will be played at the old-style, private course.
"Charlotte deserves this," Steranka said. "Quail Hollow deserves it."
It will mark the third time the PGA will be in North Carolina, and the first for the state's largest city. The event will draw about 50,000 a people a day, millions of television viewers worldwide and tens of millions of dollars in economic impact.
No wonder Harris was smiling at an event that included numerous state dignitaries, Carolina Panthers owner Jerry Richardson and Charlotte Bobcats president Fred Whitfield.
"We wanted to have a golf course that could host a major championship," said Harris, a real estate developer and member of Augusta National. "Everything we've done has been done to improve the experience of players and patrons."
The PGA of America was drawn to Quail Hollow after watching its success as one of the top non-majors since its return to the PGA Tour in 2003. It came after famed designer Tom Fazio made major renovations to the course starting in the late 1990s which added length and new greens, but kept much of the natural landscape.
"Their commitment to the two renovations that Tom did and their support of doing additional things that would improve Quail Hollow as a championship venue is what we looked for," said Steranka, who first discussed bringing the tournament here two years ago. "We've had the benefit of seeing Quail Hollow prove itself as a test of players of every ability."
There could be several changes, however, by the time the first ball is struck in August 2017. Harris hinted the PGA Tour event could end once the sponsorship deal with Wells Fargo & Co. expires after the 2014 tournament.
"I'm saying I have a contract that runs through 2014," Harris said. "I haven't been contacted by anyone that suggested anything different than that."
Harris added there certainly won't be a PGA Tour event in 2016-17 as the course transitions from playing in overseeded rye for a May event to Bermuda grass for the heat of the midsummer.
They also expect to rebuild all 18 greens with a new type of bent grass more resistant to the intense heat Charlotte is accustomed to. Harris wants a new entrance for fans to get onto the course, and may ask for state aid in getting the road outside the club widened.
But Steranka stressed he doesn't want a lot of changes for a 7,469-yard, par-72 layout that has received mostly positive reviews by the game's top players. The closing three-hole stretch, called "The Green Mile," is one of the most difficult on the PGA Tour and could provide drama with the Wanamaker Trophy on the line.
"Quail Hollow could host the PGA Championship next year. It's that good," Steranka said. "We would give it three years of new greens to do it because more than likely you're going to have to transition to a new type of turf. The Green Mile is famous in golf for a reason. It's got everything that it needs to test the world's greatest players."
That's just as Harris envisioned three decades ago.
"We didn't have to build what the TPC (Sawgrass) built," Harris said. "What we did was take our natural characteristics and Tom Fazio enhanced that."