News
Kaymer Claims First Major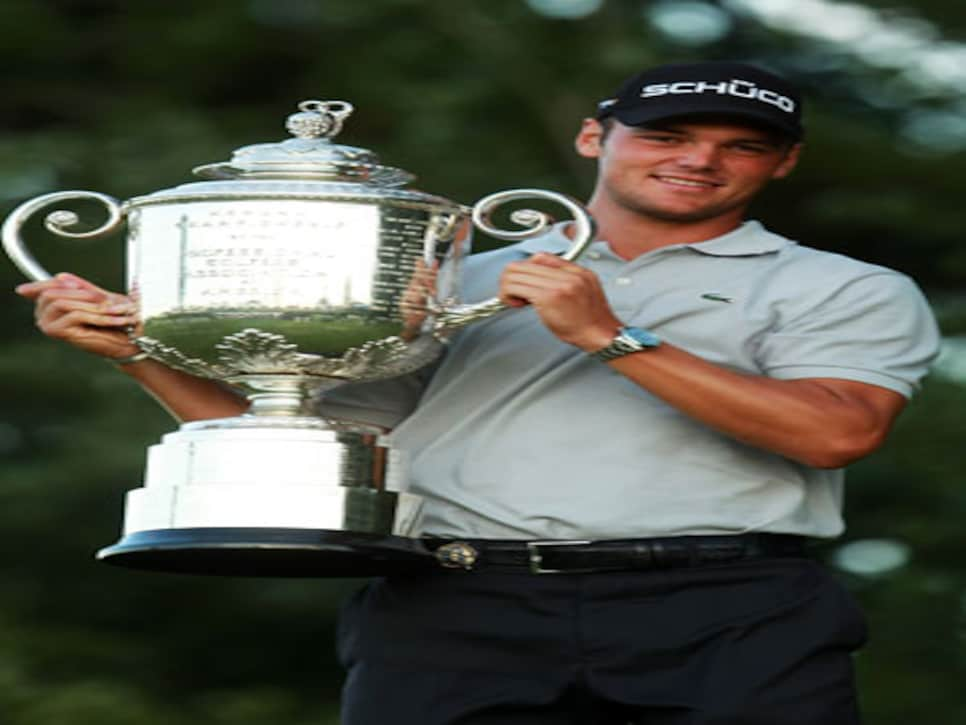 Kaymer made a clutch putt on his 72nd hole to get into the playoff.
SHEBOYGAN, Wis. (AP) -- Martin Kaymer won his first major Sunday in a PGA Championship that will be remembered as much for the guy who tied for fifth.
The final stroke of this most bizarre major was Kaymer tapping in from 2 feet to win a three-hole playoff over Bubba Watson.
Equally significant was the 4-iron that Dustin Johnson gently placed in the sand behind his ball on the final hole of regulation at Whistling Straits, unaware that he was in one of more than 1,000 bunkers that litters this lunarlike landscape.
Johnson had a one-shot lead playing the 18th hole when he drove it well right into a tiny patch of sand where the gallery had been walking all week. He grounded his club, thinking it was grass that had been killed under a week's worth of foot traffic. Fans were packed so tight around him that he never gave it another thought.
"Walking up there, seeing the shot, it never once crossed my mind that I was in a sand trap," Johnson said. "It's very unfortunate. The only worse thing that could have happened was if I had made the putt on that last hole."
He missed the 7-foot par putt to seemingly slip into a three-man playoff with Kaymer and Watson. But the two-shot penalty turned his 71 into a 73, and instead of going to a playoff for redemption from his U.S. Open meltdown, Johnson tied for fifth and headed home.
As Johnson was leaving the course, Kaymer was coming up clutch again.
The 25-year-old German holed a 15-foot par putt on the 18th hole in regulation for a 2-under 70 to join Watson (68) at 11-under 277. One shot behind in the playoff, Kaymer made another 15-foot putt for birdie on the par-3 17th, then watched Watson implode.
Watson went from the right rough into the water, then over the green into a bunker. His bunker shot hit the flag, and he tapped in for double bogey. Kaymer chipped out after seeing Watson go in the water, and he hit 7-iron to 15 feet for a two-putt bogey.
"I don't realize what happened," Kaymer said. "I just won my first major. I've got goose bumps just talking about it."
It was the cruelest ending to a major since Roberto de Vicenzo signed for a higher score in the final round of the 1968 Masters that was won by Bob Goalby.
Watson was only disappointed for a few minutes until learning he had played his way onto the Ryder Cup team.
For Johnson, this might take far longer to recover from the U.S. Open, where he had a three-shot lead going into the final round, took triple bogey on the second hole and shot an 82.
The final major of the year proved to be the most thrilling over the final hour, even with Tiger Woods long gone before all the excitement began. Woods closed with a 73 and tied for 28th.
Six players had a share of the lead at some point Sunday, and six players were separated by one shot over the final 30 minutes.
That included Rory McIlroy, the 21-year-old from Northern Ireland who was trying to become the youngest major champion in 80 years. He had a 20-foot birdie putt on the final hole to join the clubhouse leaders at 11 under, only for the putt to turn away.
Also one shot behind was former Masters champion Zach Johnson. Both of them needed a birdie on the 500-yard closing hole that only allowed one birdie in the final round.
For all the clutch putts by Kaymer, however, this PGA Championship came down to the bunkers.
The PGA of America posted a notice in the locker room and on the first tee throughout the week, reminding players that all bunkers will be treated like hazards -- even though the ropes go right through the middle of some of them, and fans can pitch a lawn chair in them.
Six years ago in the PGA Championship at Whistling Straits, Stuart Appleby was unaware of the rule and assessed a four-shot penalty.
Johnson never disputed that he grounded his club, yet he was no less stunned to realize he was in a bunker. Inside the scoring room, he could be seen erasing the 5 on this scorecard and changing it to a 7.
A PGA rules official approached him before he left the 18th green and said to Johnson and his playing partner, Nick Watney, that it appeared Johnson had grounded his club in a bunker.
"What bunker?" Johnson said he told him. "There's a lot going on. I'm excited I had a putt to win -- or thought I had a putt to win. Walking off ... I think I'm going to a playoff, and I've got a two-stroke penalty."
Dressed in street clothes as he spoke to reporters, Johnson had to watch Watson and Kaymer head for the three-hole playoff, the second in as many trips to Whistling Straits.
Watson, who had overpowered the back nine with his booming tee shots, struck first with a massive strike to just short of the par-4 10th green and a pitch to 4 feet for birdie. Kaymer answered with a 15-foot birdie on the 17th, sending them to the 18th hole.
That's where Watson fell apart, driving into the rough and going after the 18th green from a tough lie. He hit a 7-iron and was posing until it came up woefully short and into the water.
"I made a bad swing. You can't get mad at a bad swing," Watson said. "I wouldn't do anything different. I play to win, not to lay up and finish second."
Lost in the maddening finish was Watney, who had a three-shot lead going into the final round. He took double bogey on the opening hole, lost the lead for good with a tee shot on No. 7 that bounced off the rocks and into Lake Michigan for a triple bogey and closed with an 81, the highest finish by a 54-hole leader at the PGA Championship since it went to stroke play in 1958.
He tied for 18th and cost himself a chance of earning a spot on the Ryder Cup team. Then, he had to endure watching Johnson, with whom he often plays practice rounds, have a chance at his first major taken away by a peculiar local rule.
"I didn't see anything on the golf course, and when the official came up, I was totally shocked," Watney said. "I thought he was coming to me about it, the way my day was going.
"Whether that's fair? I guess they did write it on the sheet," Watney said. "Man, that's a tough call, though."
About all Johnson can take away is how he finished. Three shots behind with six holes to play, he made a spectacular escape from deep rough below the par-5 16th green to 2 feet for birdie, then hit 6-iron to 12 feet for birdie on the 17th.
His tee shot on the 18th sailed to the right and into the gallery. He had no idea how badly that would end up costing him.