News
Kuchar In Control For Now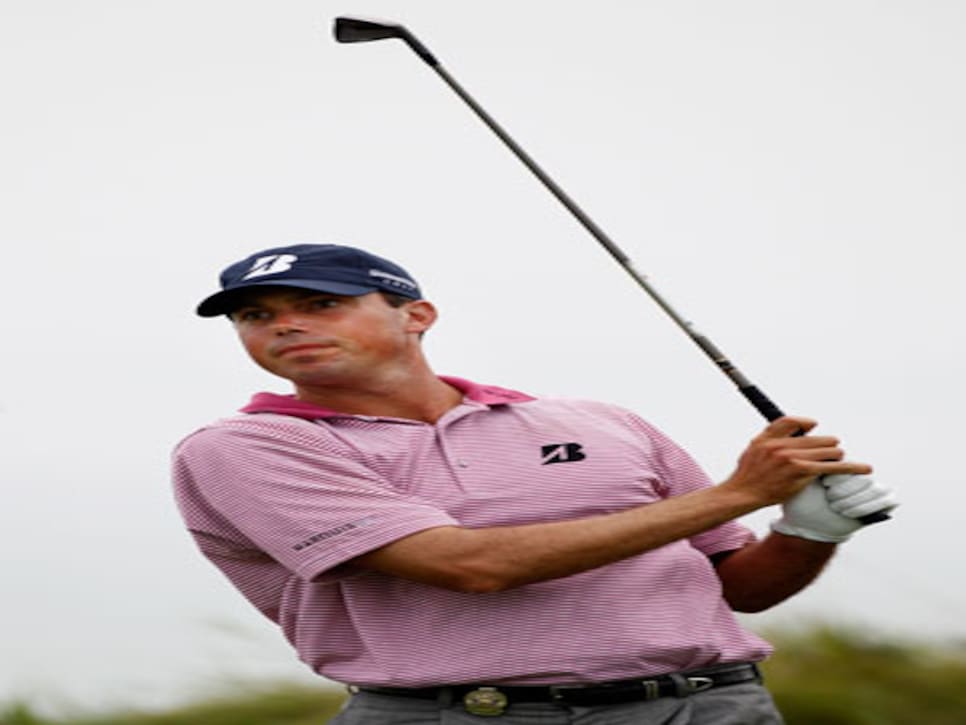 Kuchar made three straight birdies on the back nine in his second round.
SHEBOYGAN, Wis. (AP) -- Matt Kuchar made a birdie on the first hole he played Friday to take the lead, and that's where he wound up at the end of another long day at the PGA Championship.
What it meant was as clear as the cloudy, darkening sky over Whistling Straits.
Kuchar nearly holed out again from the 13th fairway on his way to a 69 that gave him a one-shot lead over Nick Watney, although half the field didn't finish the second round and some players didn't get past the fourth hole.
In the most disjointed major of the year, Tiger Woods had breakfast three times before teeing off in the first round, and he teed off around dinnertime in the second round.
Bubba Watson teed off some 30 hours after he finished his first round.
"I was talking with my caddie this afternoon, and we were talking about something that happened this morning," Watney said. "But we both thought it was yesterday. So it's been a long day. I'll have no trouble sleeping tonight and wake up tomorrow and see where we're at."
Kuchar made birdie on the sixth hole when he resumed the first round Friday morning to finish off a 67. As a half-dozen players jockeyed for the lead in the afternoon, Kuchar took advantage when the wind was at his back and ran off three straight birdies on the back nine.
That put him in the lead, and a series of pars into the wind kept him there.
He was at 8-under 136, although he won't find out until shortly before lunchtime Saturday whether that will be enough to give him his first lead ever in a major championship.
"Sitting around right now, it's nice to be done," said Kuchar, who woke up at 4 a.m. and left the course about 12 hours later.
Woods finished six holes, and only the first one was routine.
He had to scramble for par off a cart path, out of grass up to his knees and from a grassy knoll that made it tough for him to keep his balance. After the siren sounded to suspend play, Woods opted to finish the sixth hole. He chipped out of deep grass below the green and left himself a 5-foot birdie putt that spun 270 degrees around the cup and sent him home somber.
Six holes, six pars. He remained at 1 under.
"Had to hang in there, and did a good job with that," Woods told a PGA official.
There was another fog delay, this one lasting just over 2½ hours, and it played havoc on the starting times. Whistling Straits delivered its own share of misery at times, starting with European Ryder Cup captain Colin Montgomerie. He played in the same group with Kuchar and was 26 shots worse over two rounds, going 78-83.
Phil Mickelson took some unusual routes from tee-to-green, although some of his misses were so big that he wound up in the gallery, where the grass had been trampled. Mickelson carries extra gloves in his bag for souvenirs when he hits a fan, and he handed one out on the 15th hole, complete with a frown sign inside the "o'' in "Sorry."
No apologies were necessarily when he scrambled his way to a 69, putting him at 2-under 142 and still very much alive in his quest to move to No. 1 in the world for the first time.
"This is a penalizing golf course to not play from the fairway," Mickelson said. "And I certainly explored a lot of areas here. First 27 holes for me to keep it around par was a feat, and I drove it better the last nine holes. ... I just want to be in a position where if I play like I know I can, I can make up some ground. And I feel like I'm within striking distance."
Bryce Molder, once regarded as a can't-miss kid when he played on the same Georgia Tech team as Kuchar, made an impressive debut in his first PGA Championship. He made five birdies in a six-hole stretch and wound up with a 67.
That put him in a large group at 5-under 139 that included 19-year-old S.Y. Noh (71), 21-year-old Rory McIlroy (68), short-hitting Zach Johnson (70) and big-hitting Dustin Johnson (68).
Dustin Johnson, the 54-hole leader in the U.S. Open until a memorable meltdown, made a sensational par save to start his day by blasting out of a bunker -- one foot in the sand, one foot on a dune -- from 50 yards away to about 10 feet. That was the 15th hole of the first round.
Equally memorable was the tee shot he blasted on the par-5 fifth hole, leaving him only a wedge from 149 yards and a 35-foot eagle putt that turned his fortunes.
"It fits me perfect," he said when asked about the design of the fifth hole.
Chad Campbell had another 70 and was alone -- at the moment -- at 4-under 140. But of the 78 players who had to return at 7 a.m. Saturday to resume the second round -- provided there's no fog -- Martin Laird and Francesco Molinari also were at 4 under.
Watson looked as though he would make up ground in a hurry.
He birdied his first two holes, and had a 5-foot birdie putt on the 12th hole to make it three in a row and pull within one shot of the lead. He rammed it about 4 feet by and wound up three-putting for bogey. Watson stumbled again on the par-5 16th when his shot out of a bunker caught the lip and he was 3 under for the tournament when he stopped at the turn.
Kuchar is No. 7 in the Ryder Cup standings, and no matter where he winds up when the cut is made Saturday, these were two big days toward securing a spot on his first team. He has called this a "great" year, referring to the eight top 10s, but he has yet to win.
He put that Georgia Tech degree to good use in analyzing his slow-starting PGA Tour career, realizing that winning starts with at least giving himself a chance.
"The goal for the week is to put yourself in contention on Sunday," Kuchar said. "To win, there's definitely an element of luck involved in winning. You just can't control everything out there. If fate is on your side, you find yourself in the winner's circle."
Ernie Els began his day with a 5-wood for a second shot into the par-4 15th -- "How about starting out on this?" he said as he walked off the green with a hard-earned par -- and ended it with a double bogey on the final hole of his second round for a 74. He was in a large group at 2-under 142, yet found himself hopeful that Woods and the late starters didn't get off the hook by a storm system that threatened all day.
"It would be a little unfair if these guys don't play this afternoon if a weather system comes in and they get a quiet day tomorrow," Els said. "Then, a lot of guys will lap us."
Not to worry. The wind was whipping along Lake Michigan, and players were grinding.
Woods had to work harder than ever not to drop shots. The par 5s on the front nine continue to taunt him, especially No. 2. Woods drove into a steep bunker, then turned quickly when sand sprayed into his face on the second shot, which traveled about 90 yards right of the gallery. From a muddy cart path, he ripped a 3-wood to the right of the green and escaped with par.
Woods also made a par on No. 5, the easiest hole at Whistling Straits, which felt like losing a stroke to the field.
He slammed his driver to the turf after his tee shot sailed to the right on the sixth, and he was stewing when the birdie putt spun around the hole. Walking toward the parking lot in the twilight, Woods declined comment, while dozens of other players hurried to get home.
Just like the first two days, Saturday figured to be a marathon.