News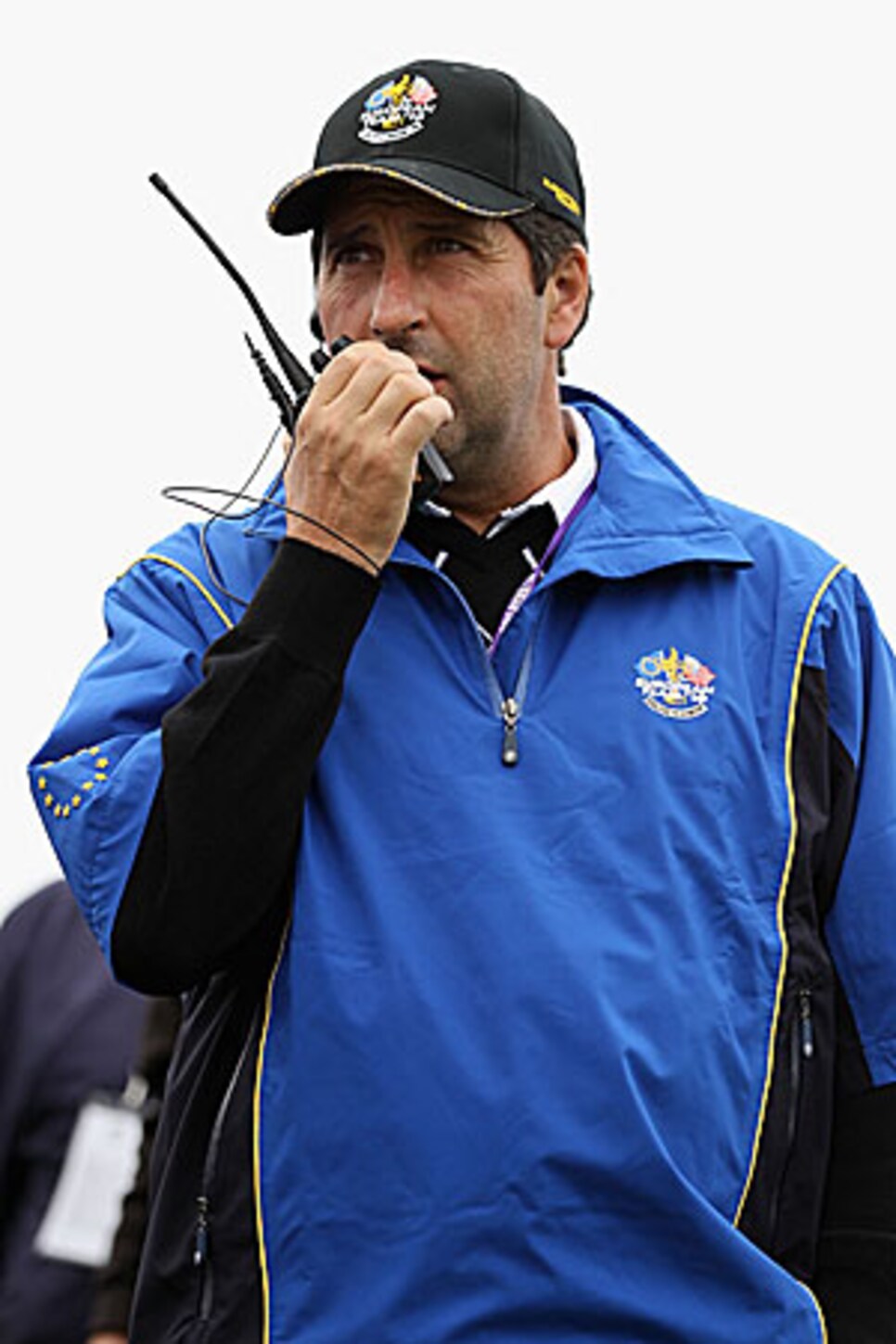 Olazabal has served as a European vice captain for the past two Ryder Cups.
NEWPORT, Wales (AP) -- Jose Maria Olazabal wants to replace Colin Montgomerie as Europe's Ryder Cup captain -- provided he is healthy enough to take on the role.
The Spanish player, who took part in seven Ryder Cups before becoming vice-captain for the last two, appears to be the unanimous choice among Europe's leading players to take over from Montgomerie for the 2012 match at Medinah in Chicago.
Olazabal said Tuesday there would be "only one answer -- yes," if he's offered the job and his rheumatoid arthritis is under control.
"It's been mentioned, by the players, by Monty. We have talked about it a little bit -- there is just one issue, my health. Time will tell," Olazabal told Sky Sports.
The popular Olazabal was one of Montgomerie's four vice-captains as Europe regained the trophy with a dramatic victory over the United States at Celtic Manor in Wales on Monday. He was also an assistant to Nick Faldo at Valhalla two years ago.
But his appearances on tour have been limited in recent years because of rheumatoid arthritis.
"You need to be close to the players and play with them during the qualifying process, that is why it (health) is the only question mark," said the 44-year-old Olazabal, who has played in only one event this season.
"But I have always said the Ryder Cup is special, it's a unique event, and it's been great to be part of it."
Olazabal has an impressive Ryder Cup record, winning 18 of his 31 matches for a 66 percent average, one percent better than Montgomerie. He has been on the winning side with Europe three times.
Montgomerie, who confirmed he would be stepping down as captain after writing a new chapter in his illustrious Ryder Cup record, said Olazabal would be "everybody's choice" to succeed him.
"He has a lot of experience -- as much as I have -- and I am sure he will do as good, if not a better, job than I did," Montgomerie said. "That's it for me with the Ryder Cup, unless I try to qualify as a player."
Ireland's Padraig Harrington agreed with his departing captain.
"I think he'd be the choice of all the players. He had a great Ryder Cup career. He looks like he'd be a great captain, but it's a tough job," Harrington said.
Darren Clarke, another of Montgomerie's assistants in the last two months, ruled himself out of the running for the 2012 captaincy, insisting he wanted to qualify as a player.
"Jose Maria has been battling illness, but if he can come back to proper form then all of Europe and all of this team would welcome him as captain in two years' time," Clarke said.