News
Pros May Take A While To 'Warm' To Royal St. George's Many Quirks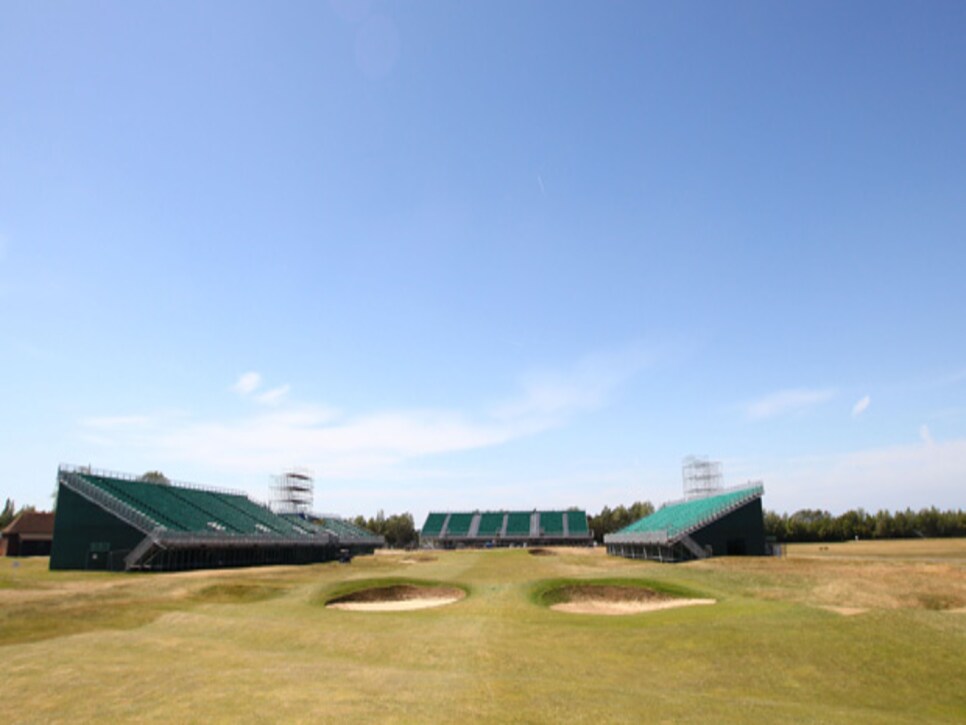 The 18th green and grandstands at Royal St. George's.
The funny thing about Royal St. George's is that it doesn't seem to be anyone's favorite course. It certainly isn't mine. I've been there three times -- all before I turned professional and only on the first occasion did I have what could be described as fun. That was in 1993 when my father and I were there to watch my fellow Aussie, Greg Norman, win his second Open title.
Three years later I was back in Sandwich to play in the Brabazon Trophy (the English Open Amateur Stroke Play Championship). It was quite an experience. The weather was unbelievable. It was so windy and so cold in May, which is supposed to be late spring/early summer in England. I'd never felt anything quite like it and, not surprisingly, I missed the cut.
It's funny now, but it certainly wasn't funny at the time. Playing those two rounds at Royal St. George's, I was wearing every article of clothing I had with me: two pairs of trousers, a rainsuit, three T-shirts, a golf shirt, two sweaters and a woolen hat, of course. I didn't understand why anyone would want to play in those conditions, but we did. I forget the exact numbers, but the winning score was something like 15 over par and second was eight shots more.
One year after that I was back again, this time to play in the (British) Amateur Championship. And again it was windy. I can remember seeing the flags almost touching the ground it was blowing so hard. There were two qualifying rounds for match play -- one on Royal St. George's and the other at Royal Cinque Ports -- and again I failed to qualify. I hung around and caddied for a friend, David Gleeson, who made it through a couple of rounds before losing. And I stayed for the final, where Trevor Immelman lost to Scotsman Craig Watson. So, bottom line, although I haven't played an Open at Royal St. George's, I have walked the course a few times!
If we eliminate the weather factor, the course is memorable for the amount of slope and elevation change it has. There are quite a few ups and downs and big dunes to hit over. But the coolest hole is definitely the fourth, which I believe this year is going to be a long par 4 rather than a short par 5. The tee shot is dominated by one of the biggest bunkers I have ever seen -- thank goodness it isn't really in play unless the wind blows hard against -- and the second shot is very difficult, no matter what club you are using. The green is very small, has a really awkward "false front" and out-of-bounds lurks just over the back.
The next hole has some quirk to it too. Unless you hit your drive into exactly the right spot and get a peek at the distant green, the approach shot is completely blind. I remember standing there in '96 feeling miserable and thinking it was just so ridiculous.
It's not all bad news though. Some of the holes are simply stunning. The seventh is a beautiful par 5 after what seems like a nondescript beginning. The eighth is another beauty, where you drive to the top of a hill and hit down to a lovely, inviting green. I love the 10th hole too. It is just a shortish par 4, but the green is way above the fairway and the flagstick is the only thing you can see on the horizon. It is just flag against sky, something you tend to see only on links.
For me, the back nine is more memorable than the front. And that's one reason why I can never understand why Royal St. George's doesn't get more credit than it does. OK, there are some goofy holes, but there are also goofy holes at places like Turnberry and St. Andrews. Maybe it's because Royal St. George's is a bit wild and wooly, has more than a few blind shots and tends to produce more than its fair share of bad bounces. Players -- especially professionals -- get tired of hitting what seem like good shots down the middle of fairways only to watch them kick left and right into trouble.
I have no doubt there will be plenty of all of the above again at the Open. Which is fine with me, as long as it isn't freezing cold and/or blowing a near hurricane.