News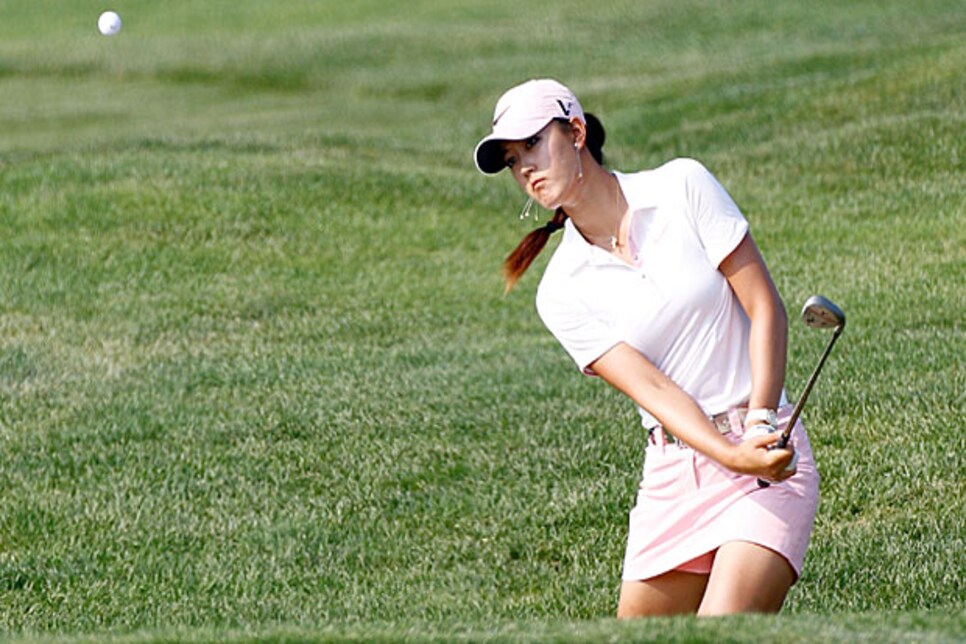 Wie appeared overmatched for much of her first round at Oakmont.
OAKMONT, Pa. -- There will be those who say the USGA got it wrong by making Oakmont CC too difficult for the U.S. Women's Open. But to point the finger at the Far Hills, N.J. headquarters of golf's governing body in the United States is to point it in the wrong direction. Aim that damning digit at the LPGA brass in Daytona Beach, Fla.
The simple fact is that U.S. Women's Open makes it abundantly clear that LPGA courses, week in and week out (and there haven't been all that many weeks in which they played this year) are set up too easy. While the USGA has the best player in mind with its set-ups, the LPGA has the average player in mind.
"My sense is this golf course is very much the same right now as it was in 2007 [for the U.S. Open won by Angel Cabrera at five over par]," said Mike Davis, who sets up courses for the USGA. Davis said the rough is slightly shorter, to compensate in strength differences between the men and the women, and the greens slightly slower -- but at 13 to 14 on the Stimpmeter still way faster than what the LPGA plays.
"So will you see some high scores?" Davis asks. "Yes. But this is the absolute hardest golf course that we have chosen for a Women's Open Championship, just like I said it was for the men's championship. But when we set up a golf course up, what we're trying to do is identify a national champion."
Davis said the idea is to not only make players hit shots but also to think their way around the course, and to maintain their composure. "With respect to the setup of the course, we are very much focused on maybe the top half of the field and saying we're trying to identify the best player, all things considered, this week."
This is what the major championships are supposed to do. Will they occasionally produce a fluke or surprising winner? Absolutely. That happens in all tournaments, in fact, it happens in all sporting events. But there was a time in the late 1990s and early 2000s when 16 out of 20 LPGA majors were won by Karrie Webb, Juli Inkster, Se Ri Pak and Annika Sorenstam. They were simply the four best players, and when the courses were set up to be challenging, the cream rose to the top.
"So if we see a few high scores, I think you just chalk it up to the U.S. Open is supposed to be the toughest test in golf," Davis said. "Oakmont is truly one of the toughest tests in this country. I think you put those two things together and it's a recipe for some players who aren't on their games shooting a high score."
For the most part, there was no whining among the players at Oakmont -- so far. But those who are detractors of women's golf will take their shots when the tournament is over. "Oh, no, they're not unfair," Paula Creamer said about the playing conditions after shooting a one-over-par 72. "They're hard. I mean, that's for sure. They're difficult, but not unfair. You can manage your way around this golf course fairly well."
As much of a shock as the U.S. Open is for the men when they get to an Open venue, it is 10 times the surprise for women. The courses they play come nowhere near what they are getting at Oakmont this week. To makes this point let's contrast a couple of players who've done time at Stanford University.
Mhairi McKay, who graduated from Stanford in 1997 with a degree in Public Policy, managed her golf ball and her emotions with great discipline in Thursday's sweltering first round at Oakmont, finishing at even-par 71 -- a number that is going to be matched very few times this week. She hit eight of 14 fairways, 12 greens and needed 30 putts.
Michelle Wie, who has attended Stanford for three years but has taken off the spring quarter each year in her pursuit of a communications degree, posted an 82 in which there were few bright spots. She hit only four fairways -- four times driving into chip-out fairway bunkers with her 3-wood -- had only six birdies putts and used the putter 39 times, including strokes from the fringe the tour doesn't count as a putt.
"It's quite a beast out there," was McKay's assessment. "I mean, I played well today. I did make some mistakes, but the strategy was just to take my medicine when those errors came up and just give myself an opportunity to have a putt for par. I did make a couple of really good saves. Just tried to stay really patient out there, and it paid off."
Wie, on the other hand, was not able to minimize the damage of her mistakes when she made them, compounding them instead. While McKay made nothing higher than a bogey --three of them -- Wie made three double bogeys and played a four-hole stretch on her first nine -- Nos. 14 through 17 – seven-over par.
The downward spiral began on No. 14 when she drove into a fairway bunker with a 3-wood, pitched out sideways, played to the green and three-putted. On No. 16, she missed the green and three-putted from eight feet. And then on the short par-4 17th hole, she tried to drive the green -- a good idea on Sunday if you are trailing, or if you are hitting it great – but hit into a right bunker, left it in the bunker, blasted 30 feet past and three putted.
The insight and understanding McKay had of both her game and the demands of the Oakmont set-up were completely lacking in Wie. They were as different in assessing their days as they were in executing their games.
"It's like I'm playing fantastic right now," Wie said in a response that was either sarcastic or delusional. "It's a great day. But, I felt a little better. Hopefully tomorrow will be a lot better," she said, nearly lapsing into the chorus from the musical "Annie". "Hopefully tomorrow will be a whole new day and hopefully I'll play a lot better."
Then she sort of rambled around trying to say anything except the fact she was no match for a very difficult golf course. "Mostly I think it was just the putting that got me," Wie said. "Um, but, you know, I felt like my irons were good. My wedges were good. I just need to put it in the fairways so I can hit those."
Then again, it makes perfect sense for Wie to be confused. The conditions at Oakmont are nowhere near what LPGA players experience week-in and week-out. And maybe that gap needs to be narrowed to make it a lot less jarring. And that ball falls in the court of the LPGA.