News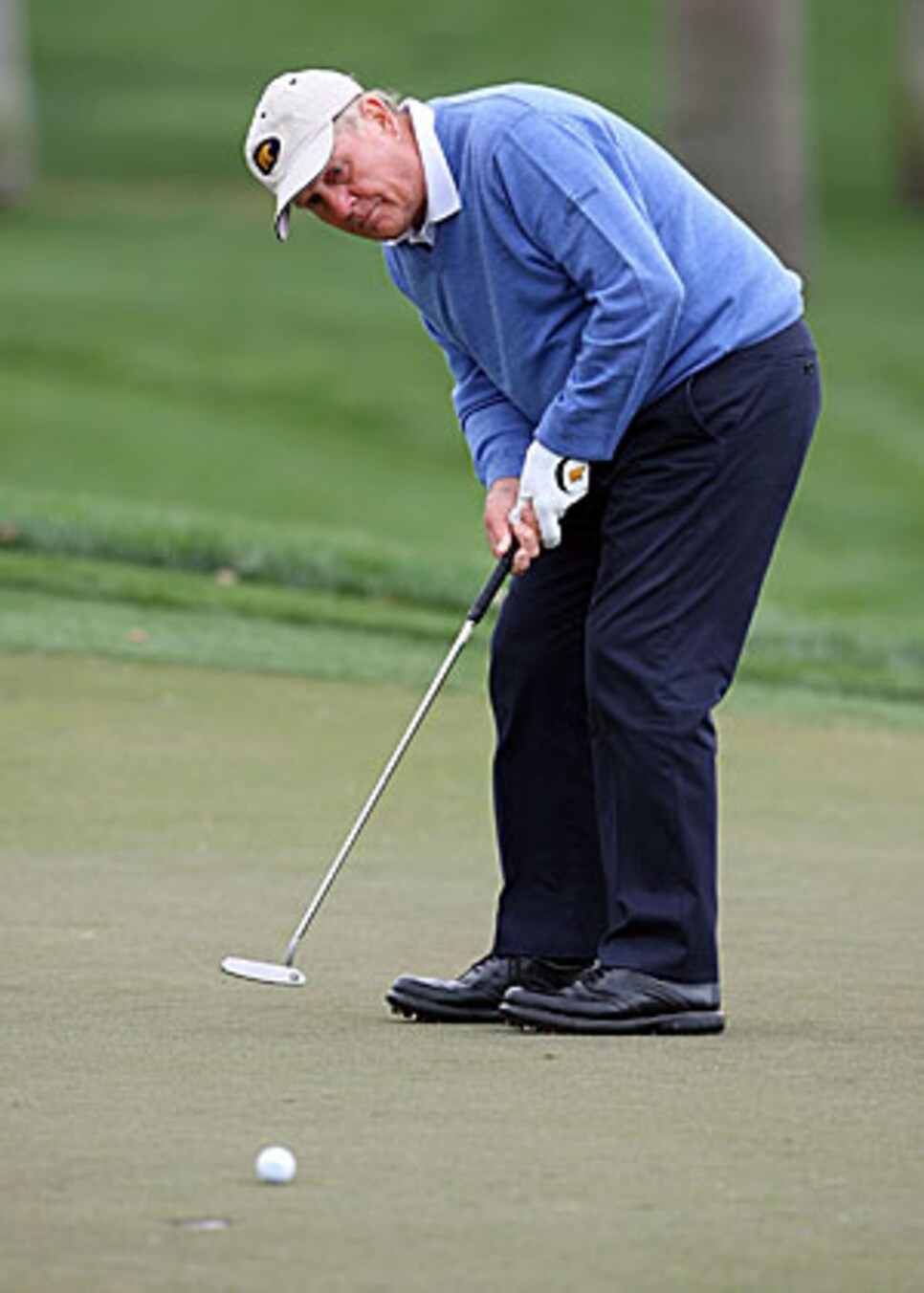 Jack Nicklaus continues to contribute to the game of golf.
JUPITER, Fla. -- Nearly a quarter century ago, when I first started writing about golf for the Associated Press, Bob Green, who lugged around the label "AP Golf Writer" for 26 years, gave me these words of advice: "You can never write too much Jack Nicklaus." Which leads me to a lovely Thursday morning at The Bear's Club, three charming young First Tee golfers and Nicklaus, the legend who can't do enough for the game.
As a camera crew and a slew of technicians scurried to set up the shoot for what will be a TV promotional spot for The First Tee sponsored by the Royal Bank of Scotland that will debut during the broadcast of the Masters, Nicklaus chatted with a threesome who could easily be his grandchildren. None of them had ever seen Jack hit a shot when he was really Jack, but they all knew who he was and what he had accomplished. That is part of the magic of golf.
Just as impressively, Nicklaus knew the back story of each of the youngsters and was impressed with what they had accomplished, journeys, he stressed, that were more important and more difficult than winning golf tournaments. "Each of them found like a father or a mother figure in The First Tee," Nicklaus said. "With what they have experienced in their lives, they could have followed the good things of life or the bad things of life and, in part because of golf, they chose the good things."
Donnie Ray Black, 18, is an African American from Pittsburgh. His father was killed when Donnie was 3 and his mother struggles with mental illness. He has graduated from high school and works at Wendy's to help the family pay its bills. He has been in the First Tee for four years and has had Jack Ligday, an executive for Citizens Bank, an RBS subsidiary, as a mentor.
Katie Hickey, 16, lived in five different foster homes between the ages of 4 and 6 as her mother struggled with alcoholism. Eventually, her grandparents won a custody suit and early on dealt with angry outbursts that got Katie in trouble in school. Her grandparents eventually enrolled her in a First Tee program in Fort Smith, Ark., which has proven to be a life-changing event.
Sara Diaz, 17, grew up in Chihuahua, Mexico and moved to the United States at the age of 12, unable to speak English. She is in The First Tee of San Antonio and is ranked No. 1 out of 641 in her high school class. She is also a bundle of energy not shy about poking fun at a living legend.
"I saw photos of you when you had long, blonde hair," Diaz said to Nicklaus. "You were good looking." That prompted a laugh from Jack who shot back, "What do you mean were?"
Nicklaus worked with the trio on reading putts, stroking the ball on the greens and later, bunker play. It was as if a paint-by-numbers student spent a morning being taught by Picasso.
A debt of gratitude anyone who cares about golf owes to Tiger Woods is that he has reminded all of us of how great Nicklaus was, and he has focused attention on Jack's achievements for a generation who never saw Nicklaus at his best. As remarkable as Woods has been, he is still four short of Nicklaus' record of 18 professional major championships.
Tiger put Jack back on golf's radar screen, and that's extremely important in an instant-gratification age in which whatever happened last night is the greatest thing ever to occur. And when we go back and look at the Nicklaus record we become acutely aware of a distinct advantage Woods has in chasing Jack. Tiger knows where the finish line is. He knows he needs to get to 18.
Once Nicklaus sprinted past Bobby Jones (13 total majors) and Walter Hagen (11 professional majors) he had no finish line. Remember, Jack was second in 19 majors. Do you think if someone had said to Nicklaus back then, "Jack, you are going to need to get to 22 majors" that he wouldn't have figured out a way to do it? I'm betting the over on that.
For a quarter century Nicklaus was at the center of a seemingly endless series of golf greatest moments. Perhaps all you need to know about Jack is that his first PGA Tour victory was a major -- the 1962 U.S. Open -- and that his last PGA Tour victory was a major -- the 1986 Masters.
Not only were they the bookends of a brilliant career, they were two of the more remarkable tournaments ever played. In 1962, the 22-year-old Nicklaus knocked off reigning King and local legend Arnold Palmer in an 18-hole playoff at Oakmont for the U.S. Open title.
And then there was the 1986 Masters, when the 46-year-old Nicklaus -- written off by just about everyone except himself -- shot 65 on Sunday and 30 on the back nine to win. The last two hours of his final round are among the most electric stretches of performance in the history of sports.
"The First Tee teaches the lessons of life," Nicklaus said at The Bear's Club. "It takes kids off the streets and puts them on an entirely different life path. Donnie said to me, 'The First Tee totally changed my life.' How do you put a price tag on that? I'm very proud to be a part of The First Tee, and I'm very grateful that RBS is bringing the story of the First Tee to a wider audience."
There are few who have taken the story of golf to as wide of an audience as Nicklaus. He's done it with style and class off the golf course that have been as impressive as his accomplishments on it. He and his wife Barbara have revitalized the Honda Classic, the PGA Tour stop in Palm Beach Gardens this week, with Barbara directing the charitable end and Jack using his leverage to help attract quality fields.
Nicklaus spent Wednesday playing in the pro-am to help hype the Honda, and he spent three hours Thursday filming a promotional spot for The First Tee, giving three special young people the thrill of a lifetime -- a personal lesson from one of the game's greatest. Bob Green was correct. You can't write too much Jack Nicklaus. And Jack can't do enough for the game he loves. It makes you appreciate all the ways in which he is a champion.