Equipment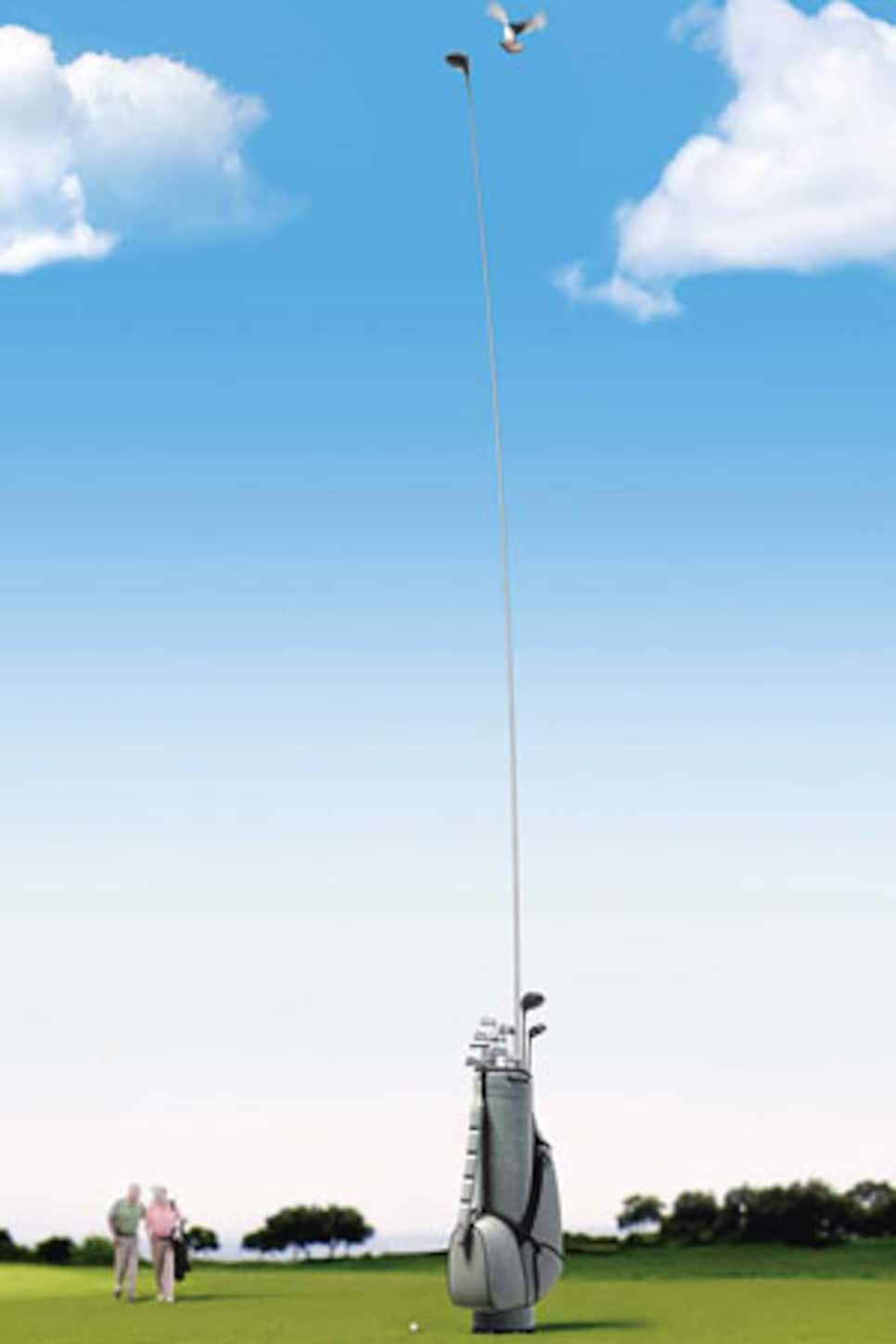 The physics are pretty simple: If you can generate the same energy with the same precision, a longer club will produce more ball speed than a shorter club. That's the reason equipment companies are rushing to offer drivers with shaft lengths of 46 inches and longer: about an inch more than the standard shaft length of most drivers two years ago.
But are longer and lighter shafts a breakthrough in the search for distance, or are they a desperate grab at theoretical gains in ball speed that, for many players, might be negated by off-center hits?
"If it were such an obvious advantage, we all would have done it years ago," says Alan Hocknell, senior vice president of research and development at Callaway, whose new drivers all measure 45½ inches or less. "It seems very much dependent on the player's ability level."
Others say it isn't. "Our research has shown us that longer shafts produce more clubhead speed for almost all players," says Todd Beach, director of product development for metal woods at TaylorMade. "Surprisingly, our test data also shows that for most players, the variability of impact location also doesn't increase significantly as shaft length increases."
Although manufacturers aren't touting "shorter" shafts these days, 45¾ inches is clearly the dividing line. Even TaylorMade, the No. 1 seller of drivers, offers models with shaft lengths of less than 46 inches and more than 46 inches. The company says the reason is that there are two types of golfers.
"It might be more a question of style than handicap," says Beach. "Some golfers prefer a driver that lets them hit the ball as far as possible. Others want a driver that has been fit to achieve the optimal trajectory for distance and accuracy."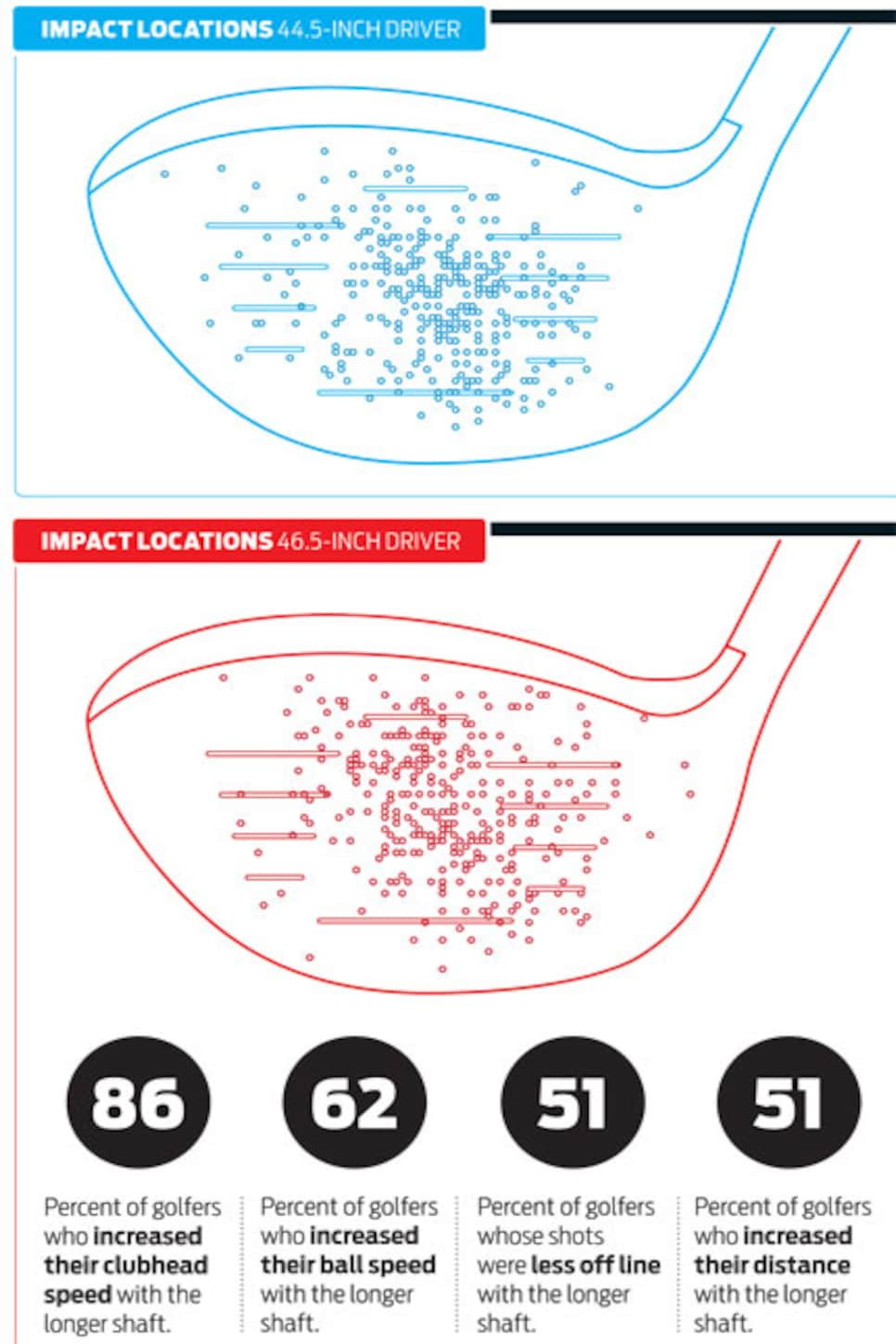 Whether or not golfers are hitting it "as far as possible," it seems clear that some manufacturers believe that today's longer-shafted drivers might be easier to control because of a lighter total weight. For example, TaylorMade's Burner SuperFast and Cleveland's Launcher DST weigh less than 295 grams. The standard driver weight is 320 to 325 grams.
Cleveland engineers believe clubhead speed increases significantly when total club weight is reduced: For example, the same energy that would produce a swing of about 96 miles per hour with a 45-inch driver weighing 325 grams would generate a swing speed of roughly 102 mph with a 46½-inch driver weighing 285 grams.
"Lighter weight is the quickest way to more distance," says Nate Radcliffe, metal-woods development manager at Cleveland. "In fact, the potential for more head speed is a greater function of total club mass than length alone."
Not everyone believes longer and lighter shafts are better. Many point to how tour players prefer drivers in the 45½-inch range. Titleist's Dan Stone, vice president of research and development, says his company fits more players to drivers that are less than 45 inches in length: "It becomes exponentially more difficult to achieve center-face hits with a longer shaft using the same swing."
Tom Wishon, chief designer at Tom Wishon Golf and a longtime fitting advocate, argues that physics make it more difficult to swing a longer-shafted driver at the same speed as a shorter-shafted driver.
"When swinging a club that puts a much greater load on the swing, the golfer fights to keep accelerating the club to a higher velocity," Wishon says. "Those golfers with less strength, with an earlier release and with less athletic skill cannot achieve a higher swing speed or any semblance of control with the longer-length driver."
TaylorMade's Beach disagrees: "We no longer have this problem because we have utilized our lightest-ever grip and the correct headweight [195 grams], which reduces the club's moment of inertia and allows the club to properly release with the longer-length lightweight shaft."
The solution to the shaft-length debate is at best uncertain. It's as much the physics of how a golf club works as the biomechanics of how a human makes a golf swing. The right answer might be the one that's most comfortable in your hands.
The Long And The Short Of It
In a test conducted for Golf Digest by AboutGolf and its 3Trak launch monitor, 37 players hit 10 shots with a 44½-inch driver and 10 with a 46½-inch driver:
1. The range of impact locations showed a slightly tighter, more centralized pattern on shots hit with the 44½-inch driver.
2. Club length affected swing speed. Most players swung the 46½-inch driver faster. The average gain in clubhead speed was 1.7 percent.
3. Ball speed also increased for more than half the players using the 46½-inch driver, but the advantage was inconsistent. Those who gained speed showed an average increase of 1.7 percent. Those who lost speed had an average decrease of 3.2 percent (meaning they tended to have more off-center hits).
4. Accuracy was relatively the same for both clubs.
5. Distance improved for about half the players using the 46½-inch driver (5-percent gain on average). Those who lost distance experienced a decrease of 6 percent on average. Our theory: Shaft length should be tailored to the individual, not a universal standard.
3 Tips For The Long Driver By Terry Dill
The longer shaft is the final place in technology that can benefit every golfer. Here's how to make it work for you:
1. Get right fit: Just popping in a longer shaft isn't enough. You need to maintain a similar swingweight to what you've been using.
2. Fix your setup: You stand a little farther from the ball using a 6-iron than you do for a pitching wedge, don't you? Same with a longer driver. If you're hitting the longer driver in the heel, step back a little.
3. Wait for it: Don't rush the downswing. Finish the backswing (imagine delaying it for a millisecond) before you start down.
Terry Dill led the Champions Tour in driving distance in 1996 and 2000 while using a 47-inch shaft.