News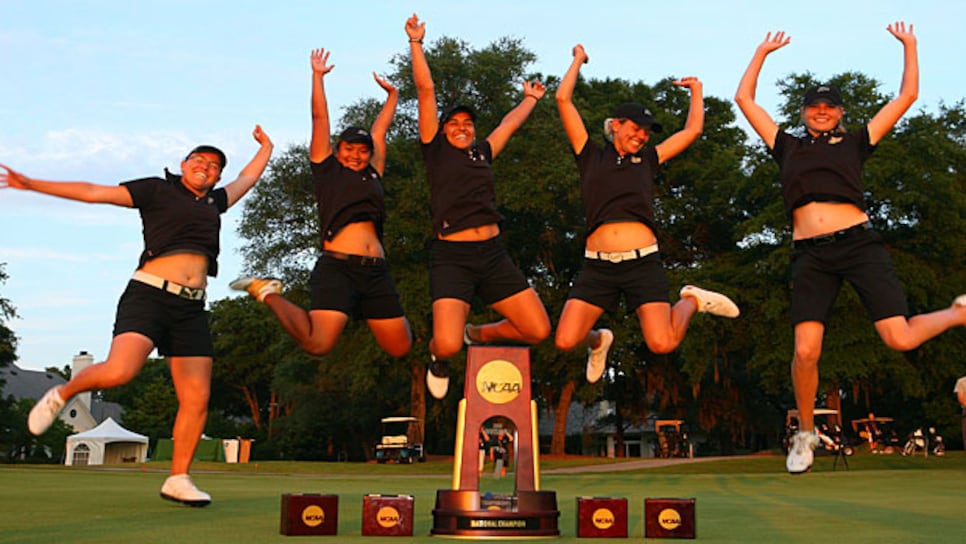 International Celebration: Hailing from five different countries, the Boilermakers enjoyed their team win in high style. From left: Gonzalez-Escallon, Gulyanamitta, Reto, Hoffmeister and LeBlanc.
If you live near West Lafayette, Ind., and happen to hear Devon Brouse complaining of a sore back, cut the man some slack. How was he to know an impromptu receiving line would descend upon him as he stood beside the 18th green at the CC of Landfall May 21, his Purdue women's golf team having just made history with a harrowing one-stroke victory over USC at the 29th NCAA Championship? The Boilermaker coach and proud alum (Class of '71) couldn't escape the steady stream of well-wishers compelled to congratulate him with a friendly slap on the shoulders, only too happy to acknowledge good things can still happen to good people.
"I didn't hit a shot," said Brouse, having learned in his 33-year coaching career -- the past 12 overseeing the women's and men's squads at his alma mater -- how to deflect praise. "It was all them."
Thanks to the efforts, then, of Maude-Aimee ­LeBlanc, Numa Gulyanamitta, Laura Gonzalez-Escallon, Thea Hoffmeister and Paula Reto -- a veritable United ­Nations living in central Indiana -- the statement "a northern school has never won an NCAA women's team title" no longer applies. The Boilermakers shot a final-round 295 for a one-over 1,153.
The victory didn't come without a bumpy landing. Starting the final round with a seven-stroke advantage over the Trojans, Purdue saw the margin drip away on the back nine. Fittingly for a noted engineering school, the golfers managed to stop the leak, regaining the lead and extending it to two strokes with the final group on the 18th hole.
As the long-hitting LeBlanc bogeyed the not-so-long par-5 finisher, the hearty crowd stood silent watching USC's Jennifer Song attempt a 10-foot birdie putt to force a playoff. When the ball burned the hole's left edge, the Boilermakers could finally exhale.
"Can you believe we did it?" asked Gulyanamitta, her joy sprinkled with a dash of relief.
Not far from Brouse, another person was accepting kudos. Oklahoma State sophomore Caroline Hedwall arrived in Wilmington, N.C., for the season finale having finished T-4 or better in seven starts since February, her win total rising to four and her stroke average falling to 71.42. After opening with a pair of 70s, the Swede closed with back-to-back 68s to become the first Cowgirl to claim the NCAA individual title (and win national player of the year) and the seventh international champ in a decade. It was a fitting conclusion to a standout career, as Hedwall will forego her final two years in Stillwater to pursue professional golf.
With a 12-under 276, four strokes better than Arizona State's Jennifer Johnson, Hedwall tied the NCAA Championship mark for lowest 72-hole score in relation to par. It was among a handful of scoring records matched or broken on the par-72, 6,368-yard Pete Dye course, including the championship's single-best round, claimed by LSU's Megan McChrystal with her final-round 64.
Don't blame the superintendent for the red numbers. The course was firm until rain during the second practice round and Day 2 of competition altered the greens from crispy to cuddly.
Not all 18 holes were pushovers. At 131 yards, the par-3 second was short in distance but long on dread, water surrounding much of a green seemingly no bigger than a coaster. For reigning NCAA champ Arizona State, No. 2 almost single-handedly dashed their bid to defend their title. In Round 2, when gusty winds made the hole the day's hardest, the Sun Devils were eight over, three players rinsing their tee shots. ASU ultimately finished fourth, eight back of Purdue and three behind third-place Alabama.
One Sun Devil, though, managed to shine. Johnson claimed a share of the individual lead with an opening 67 and followed it with a pair of 70s to match the championship's low 54-hole total (nine-under 207). The focused freshman from La Quinta, Calif., runner-up at last year's U.S. Women's Amateur, spent the previous week tweaking her driver shaft and changing her ball in hopes of lowering her shot trajectory. The switch worked, giving her an 10 extra yards off the tee.
Johnson entered the final round with a one-stroke edge over Hedwall, who started off the 10th tee roughly 50 minutes ahead of the leader. Free from the pressure of the last threesome, OSU's bomber did what she has done all spring: overpower a course with her driver. With a birdie on the 18th, her third in her first nine holes, she made the turn at 10 under. Two more birdies got her in the clubhouse at 12 under, where she waited to see if the number stuck.
"That was the worst part," said the shy 21-year-old. "I hate the waiting." At 11 under through 10 holes, Johnson's concentration slipped when she missed a short birdie try on No. 11, followed by a bogey on the par-5 12th. Two more bogeys led to a 73. "I made a few silly mistakes," Johnson said.
"Caroline may not notice it, but as a coach you can see she's a lot more relaxed out there," noted OSU's Annie Young of Hedwall's progress the past two years. "She's got a confidence about her that's pretty special."
With the individual competition settled, attention turned to the team race. After opening with rounds of 284 and 294, the Boilermakers put themselves in position to win with a tournament-best eight-under 280 on Day 3, leaping from third to first with a 69 from Gonzalez-Escallon, 70s from LeBlanc and Gulyanamitta, and a 71 from Hoffmeister.
"That's when we won the tournament," Brouse later admitted, his team making four birdies and an eagle on the 18th, to pick up three vital strokes in their last two groups.
Still USC, leaders after the first and second rounds, wouldn't go quietly. Solid final-day starts from Song, Belen Mozo and Cyna Rodriguez allowed the Trojans to regain the lead on the back nine. Yet just when they seemed to claim the momentum, they lost it on the 15th, a 330-yard par 4 where USC posted three bogeys and a double. Meanwhile, clutch up-and-downs for par on 15 and 16 from LeBlanc, who shot a 71 to finish T-3 individually, steadied things for Purdue. When Song's birdie effort on 18 failed to drop, it brought back memories of last year at Caves Valley, where she missed a putt on the 72nd hole to force an individual playoff with another Boilermaker, Maria Hernandez. "This wasn't on anybody's shoulders," said USC coach Andrea Gaston, consoling a tearful Song, who finished T-5 in her final college event. "All of us left some shots out there. We win together, and we lose together."
That this Purdue squad would carry the banner for northern programs might come as a surprise considering Hernandez, the best player in school history, graduated last May. Yet Brouse had confidence that freshmen Gonzalez-Escallon (of Belgium) and Reto (South Africa) could contribute, helping juniors Gulyanamitta (Thailand) and Hoffmeister (Germany) carrying the load.
The maturation of LeBlanc, a 6-foot-2 junior from Quebec, was one of the season's biggest storylines. Few questioned her talent, but her temper had been an ongoing source of frustration. Having had enough, Brouse took the radical step of disqualifying his own player for unsportsmanlike conduct during a tournament in March in hopes of sending a message.
"For better or for worse, I wasn't worried about whether she was mad at me," Brouse said. "I was looking out for her best interests as a player and a person." In the next three starts, LeBlanc posted three top-10s. Despite winning a third straight Big Ten title, their third victory of the season, the Boilermakers struggled at the Central Regional, losing to USC by 24 shots. Humbled, the players returned to campus and had their best week of practice all season. For five straight days they squared off against the men's squad in a medal-match competition, beating them each time to help boost their confidence.
Brouse, 61, started his coaching career at North Carolina in 1978 but returned home in 1998, helping build Purdue's Brick Boilermaker Golf Complex into one of the country's premier on-campus golf facilities. "He has great vision and always is thinking about what to do to help his players," said Nancy Cross, a senior associate athletic director at Purdue and the head of the NCAA Women's D-I Golf Committee. "And he'd come so close before at North Carolina [four top-fives] and here [second with the women in 2007], how can you not feel good for him?" "What can you say, it's special," Brouse said as the crowd began to disperse and his players posed for pictures with the trophy. "To see this is pretty neat."
Moments later he joined them, doing the thing all good coaches dream of -- celebrating a championship with his team.