News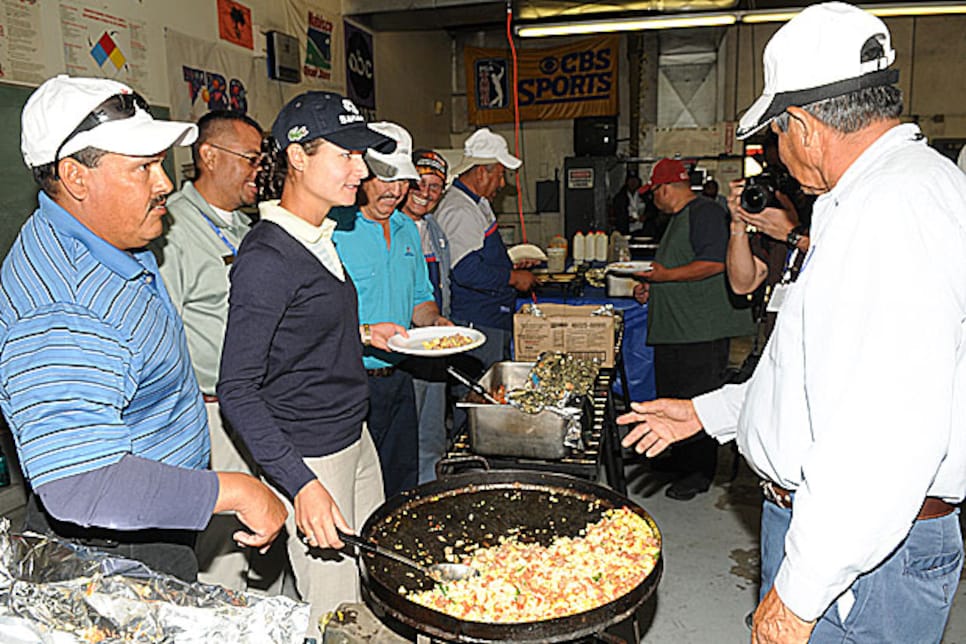 In a characteristic display, Lorena Ochoa hosted the Mission Hills maintenance staff for breakfast this week.
RANCHO MIRAGE, Calif. -- The early word from LPGA players at Mission Hills is the rough is up on the Dinah Shore Tournament Course and the greens have some giddy-up to their gait. That seems to say the first major of the year -- the Kraft Nabisco Championship -- will favor players who put the ball in play off the tee and have a steady hand on those five-foot par putts.
Think Morgan Pressel, who won here in 2007; or Anna Nordqvist, a two-time winner on tour last year, including the LPGA Championship; or Jiyai Shin, who already has six tour wins at the age of 22; or Ai Miyazato, who won the first two LPGA events this year. Of those four, Miyazato is the only one without a major championship, but she has clearly turned a confidence corner and appears ready to deliver on her potential.
Part of what makes this first major so fascinating is that is occurs just four tournaments into the new season and after only one full-field event -- the Kia Classic won Sunday at La Costa by Kyung-Hun Seo, a KLPGA star who is not an LPGA member. Seo is in the field this week.
Other question marks loom at the Kraft Nabisco. One of those involves a player who is not here. Paula Creamer has played just one competitive round this year, forced to the sidelines by an injury to her left thumb. She's on the other side of the country at her home in Orlando amid rumors her camp may announce after the Kraft Nabisco that she is having surgery.
There are also questions surrounding Michelle Wie coming into Mission Hills, a venue where she finished T-9 in 2003 as a 13-year-old and has to always be considered a threat to win. Wie had a ho-hum trip to Asia, failing to contend in either Thailand or Singapore and was T-6 at La Costa, a distant eight strokes behind Seo. But, as has been the case throughout her career, Wie made her biggest headlines for controversy, not her play.
She was penalized during the final round for grounding her club in a hazard. Remarkably, it was her fourth major rules run-in since turning pro in October 2005. What has confused most players is that, once again, instead of just saying she made a mistake, she portrayed herself as a victim of injustice.
Here's what happened: Wie hit a ball in the hazard and failed to get it out. Before she played her next shot she touched the ground with her club. She says she had lost her balance and was trying not to fall. The rule offers leniency if that is the case. The rules official on site, however, did not agree and TV seems to confirm that judgment.
"They interpreted it differently than what I felt," Wie said. "I knew that I did ground the club, that was a fact, but that was the only fact. I did call for a ruling; I knew I did that, but at the same time I knew that I felt off-balance. I closed my eyes when I hit the shot and I grounded my club so I wouldn't fall into the water. I was wearing a white skirt."
Wie was disqualified in her first tournament as a professional, the 2005 Samsung World Challenge not far from here when she took a bad drop and then signed an incorrect scorecard. She was penalized for moving a loose impediment in the bunker in the 2006 Women's British Open and was DQ'd for failing to sign her scorecard at the 2008 State Farm Classic.
Asked about the numerous rules situations, Wie said: "It's always the kind of thing, oh, it always happens to me, but I guess it's Murphy's Law, I guess." Once again, Wie comes into a tournament trying to shift the conversation away from controversy and over to competition.
Ochoa finds herself in a somewhat similar situation, though for different reasons. She has stumbled out of the gate after what for her was an off year in 2009. She closed the Kia Classic with rounds of 75, 76 and 75.
"It has been hard to get into a rhythm with the travel to Asia and the small number of tournaments," Ochoa said at Mission Hills. She is also adjusting to life as a newlywed and a stepmother to three children -- as well as moving from her birthplace in Guadalajara to Mexico City.
"I feel good and I am still working hard with my coach so things will work out," she said. One thing that doesn't change about Ochoa is the size of her heart. On Tuesday morning she went to the maintenance shed at Mission Hills and cooked scrambled eggs for the mostly Mexican work crew and the signed autographs for everyone who asked.
"I told them how much I appreciate the condition of the golf course and their work to do that, and I told them how proud I am of how well they represent our country. I am very proud to be from Mexico, and I want them to feel that way, too."
When Ochoa won here in 2007 she was joined in Poppy's Pond by the 18th green by about two dozen family and friends. It was a wonderfully joyous celebration. If she is in the hunt this Sunday she will be followed by many of those maintenance workers, she cooked for on Tuesday. And that wouldn't be a bad way for both Ochoa and the LPGA to kick the 2010 season in high gear -- and to keep the conversation on the positive.