News
My Town: Tom Watson's Kansas City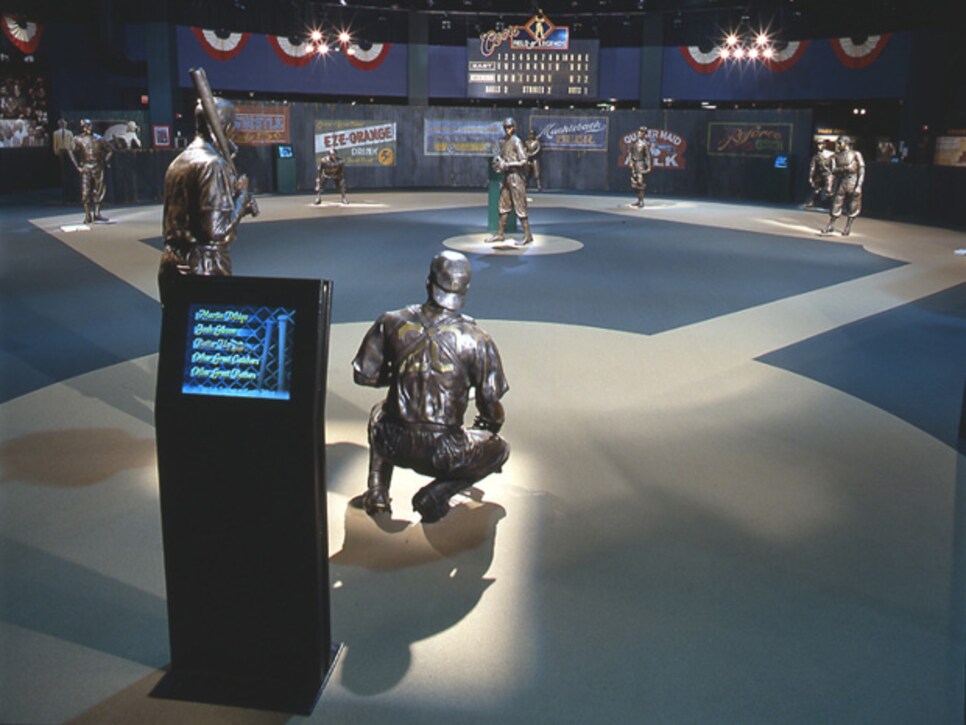 The Negro Leagues Baseball Hall of Fame is located downtown.
Tom Watson is the superstar who stayed home. Born and raised on the Kansas side of bistate Kansas City, he has moved from a residential neighborhood to a farm on the outskirts, but he's never been tempted to leave the all-seasons climate for warmer pastures.
The eight-time major champion is in the 40th year of his Hall of Fame career. Two years ago at nearly 60 years of age he came within a shot of winning a sixth British Open; last weekend, now 61, he won the Senior PGA, becoming the oldest player to win a Champions Tour major. He swings the club better than ever in the view of leading teachers and players. He is comfortable in the congenial and plain-spoken Midwestern atmosphere. Next on his agenda the day of this interview was a talk to a first-grade class taught by the wife of a good friend.
Watson enjoys giving visitors an inside guide to Kansas City's proud heritage of jazz -- Charlie (Bird) Parker, Count Basie, et al. -- and barbecue among other attractions. It's the Midwestern way.
This is a very active golf area with a lot of fine courses. I have a special feeling for Blue Hills CC
, where I won perhaps the most important tournament of my life when I was 14 -- the Kansas City Match Play Championship. It gave me a dream of becoming a professional golfer. My Children's Mercy Hospital Classic was played there for 25 straight years. And this year the Watson Challenge, an event I started to determine the best golfer in the area, is being held there, with a 48-man field of pros and amateurs.
, a spacious and challenging course near the airport that's open to the public. So is one of the last courses Tillinghast designed, Swope Memorial GC
in Swope Park, one of the largest urban parks that also includes the zoo and a wonderful outdoor summer theater. I designed a First Tee course there where we stage a junior golf festival in the spring.
I recommend The Raphael to out-of-towners. It's an elegant boutique hotel on the Plaza, a renovated apartment building with vintage European charm but modern conveniences. An alternative is the Westin Crown Center, which is connected to a three-level shopping complex and the Hallmark headquarters.
My favorite meal has always been fried chicken. Stroud's has been honored by the James Beard Foundation and other food critics and is known for generous family-style portions.
Additionally, you can't come to Kansas City without sampling the barbecue. The American Royal barbecue contest is part of a venerable eight-week livestock and horse show. Arthur Bryant's is in a plain brick building in a redeveloped part of town. The sauce is tart and spicy and slow-cooked in. Writer Calvin Trillin called it the best restaurant in the world and suggested that the airport be named for Arthur. You carry your tray cafeteria-style past the pit. Ask for some burnt ends.
Kansas City is also famous for strip steak. Jess & Jim's is an old favorite for aged steaks. The historic Savoy Grill has good steak and a lot of seafood as well. Try to sit in the Harry Truman Booth.
Two well done historical attractions are the National World War I Museum at the Liberty Memorial and the Truman Library and Museum in nearby Independence. … The American Jazz Museum and Negro Leagues Baseball Museum are close together near downtown.
The Nelson-Atkins Museum of Art's sculpture garden features a dozen Henry Moore large bronze works. Indoors you can find numerous paintings by Kansas City's own Thomas Hart Benton.