News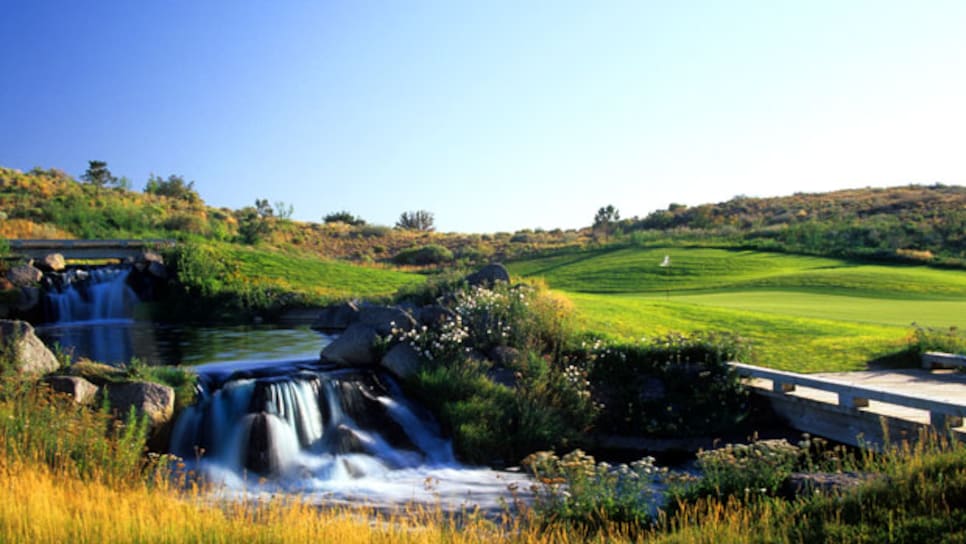 Try Twin Warriors if you're looking for a breathtaking golf course.
New Mexico native Notah Begay III shakes his head when people talk about taking golf trips and fail to mention his home state.
"It's a hidden gem," says the 38-year-old, born and raised in Albuquerque. "You've got the desert, the mountains, some of the most picturesque vistas. You have tremendous cultural heritage from the Mexican and Native American sides. The food is unique to the area with the red and green chilies. It just has a really unique feel to it."
So much so that the Stanford graduate put the headquarters for his five-year-old foundation in Albuquerque, allowing him to stay connected to his Native American roots and offer some tips on traveling to his home.
If you want to play a breathtaking golf course, you can't beat Twin Warriors
. That and Pueblo de Cochiti GC. Both have tremendous views of the Rio Grande River Valley and the Sandia Mountains. Besides the scenery, they're good courses, too. Twin Warriors hosted the PGA National Professional Championship twice since 2003. Robert Trent Jones Jr. designed Cochiti almost 30 years ago, and it stands the test of time.
Meanwhile, for price and convenience, you can't beat Albuquerque public golf. I grew up on the munys. There are four city courses -- Ladera G.C.
, Arroyo Del Oso GC, Los Altos GC and Puerto Del Sol GC. The green fees on all of them are less than $30. There's a display at Ladera that has some of my trophies, golf bags and pictures of me growing up.
At the higher end there's the Hyatt Regency Tamaya, which is next to Twin Warriors. It has some fine restaurants and live entertainment on property. Same for two other good resorts: Sandia Resort & Casino, which is also north of Albuquerque and the Hard Rock Hotel & Casino south of the city...If you want to stay in the city itself, there's an Embassy Suites downtown that's 30 minutes from every course mentioned.
To learn about the local culture, consider the Indian Pueblo Cultural Center. It gives an overview on the history of the Pueblo Indians. There's also the New Mexico Museum of Natural History & Science, which has a great dinosaur exhibit. ...Take the tram to the top of Sandia Peak, which offers panoramic views from more than 10,000 feet. There's a restaurant at the top that's a neat place to eat at sunset...Isleta Lakes has stocked ponds where you can rent equipment and spend the day fishing...Santa Fe is an hour by car. They have some of the best Native American handmade jewelry.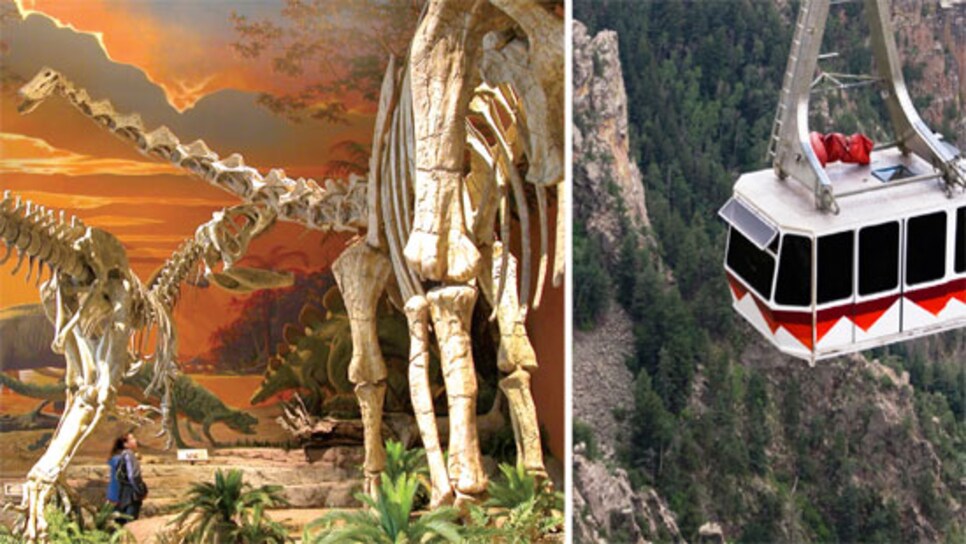 __ The New Mexico Museum of Natural History & Science (left, courtesy of New Mexico Museum of Natural History and Science) has a great dinosaur exhibit. Sandia Peak (right, iStockphoto) offers panoramic views from more than 10,000 feet. __