The Loop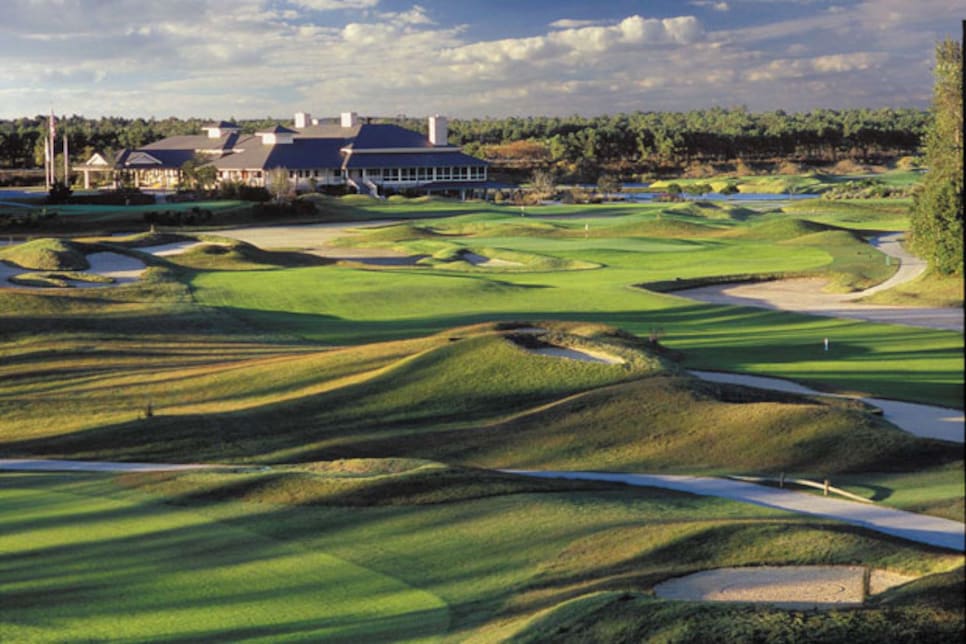 Rucker is partial to the Dye Course at Barefoot Resort, where he and his band started a celebrity Pro-Am.
Darius Rucker admits when he and other members of Hootie & the Blowfish started the "Monday After The Masters Celebrity Pro-Am" in 1995, it was basically a short-term lark for a foursome of golf-obsessed musicians. "Somehow," Rucker says, "It became a monster."
Turning 17 next April, the event is among the most popular celebrity pro-ams, having collected nearly $5 million for charity. The appeal, says Rucker, comes in part from its location in Myrtle Beach, a place close to the heart of a man born and raised in South Carolina.
"There's something for everybody there," he says. "If you want to come down with your family, you can have a great family trip. If you're single and want to come down with your boys for a crazy bachelor weekend, you can do that."
Rucker, 44, makes a point of arriving a few days early for the outing each year to sneak in a little extra golf and get some R&R.
If I'm coming in for a weekend, I usually start at the Dye Course at Barefoot Resort. We hold our tournament there each year. I've had a lot of 36-hole days on that course. It's always in incredible shape. Same with the Norman Course. They're challenging but fair.
A couple other courses I really like are Caledonia Golf & Fish Club and True Blue Plantation. They're very challenging for the low-handicapper and fair enough for the high-handicapper. And again, the courses are so well kept. When you're playing a bad round, you can stop and look around and see so much beauty, it keeps your spirits up.
My favorite place, and this is either if you're coming with your family or with your buddies, is Barefoot Resort . They've got nice houses you can stay in or big hotel rooms if that's what you're looking for. Maybe it's biggest plus, though, is its location. It's right there in the middle of everything in Myrtle Beach. You can get to everything very easily, which makes it very convenient.
I love going down to Broadway at the Beach. It's a big shopping and entertainment complex. There are plenty of restaurants to choose from. Some nights they have bands playing. It's a great place to hang out.
Another thing I can't get enough of are the waterparks [Myrtle Waves Water Park, Surfside Beach Wild Water & Wheels and Family Kingdom among others]. It's hokey, but I love sitting in an inner tube and taking it easy on a lazy river ride. I can sit there all day.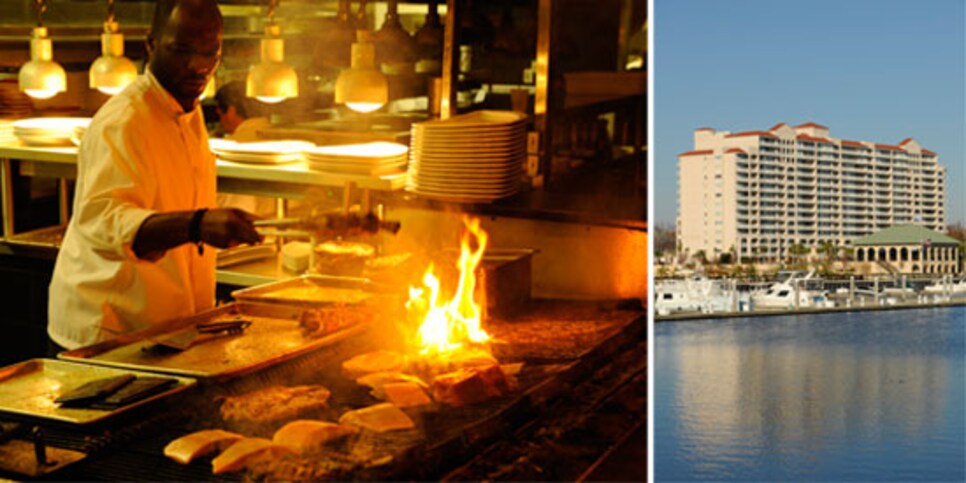 Greg Norman's Australian Grille (left, J.D. Cuban) boasts a great menu and wine list. Rucker's favorite place to stay, Barefoot Resort (right, courtesy of Barefoot Resort) is fun whether you come with friends or family.