The Loop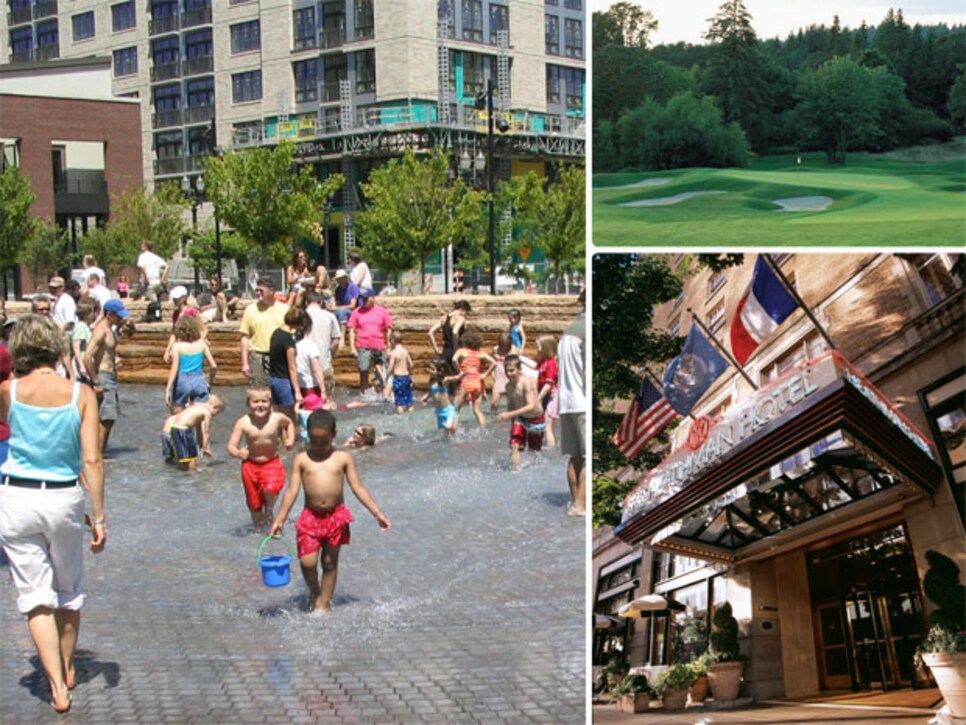 Pumpkin Ridge (top right, courtesy of Pumpkin Ridge) is a world-class facility. The Heathman Hotel (bottom right, courtesy of Heathman Hotel) is Crane's favorite place to stay.
If the Portland Covention and Visitors Bureau ever needs a new spokesperson, they should consider contacting Ben Crane. There's a good chance he'd take them up on the offer. To say Crane is mad about Portland, where he was born and raised, would be an understatement. While the University of Oregon grad currently resides in the Dallas/Fort Worth area with his wife, Heather, and their two children, his heart lives on in the City of Roses, so much so that he's looking to return to the area in the near future.
"We're in the process of building a place," Crane said, "and we could be moving back there full time in the next five or six years.
The Portland area has some fantastic golf courses. The first I'd recommend is Portland GC, which happens to be the course I grew up playing. It's really tight and puts a premium on shot placement. The Robert Trent Jones design hosted the 1947 Ryder Cup and the Fred Meyer Challenge. Although you need to know a member to play, the course is very accommodating to guests.
Pumpkin Ridge, to the west of the city, is a world-class facility. Tiger Woods won his third straight U.S. Amateur there in 1996. The Ghost Creek course is a semi-private layout that you can play. Rose City also is a great option. It's the second-oldest municipal course in Portland.
If you don't mind driving, central Oregon is 4½ hours away. I'd recommend the Crosswater Course at Sunriver Resort. And there's Bandon Dunes Resort in southwest Oregon. It's a 6½-hour drive down Highway 101 along the coast, but it's stunning.
My favorite place in the area is the Heathman Hotel. It has a really warm and inviting vibe, and I think that's why so many people keep coming back. My wife and I stayed there the night before we went on our honeymoon.
If you want a unique hotel experience, stay at the McMenamins Kennedy School. It used to be an old grade school before they turned it into a boutique hotel.
The Portland Trail Blazers are a must-see if you're in town during the season. I'm a huge fan, and my parents have season tickets. The Rose Garden is one of the loudest places to watch a game.
Jamison Square in the Pearl District is a great place to go if you're on a family vacation. The tidal pool and the architecture in the park make it a great place to spend an afternoon. They usually have some great street fairs going on nearby.