News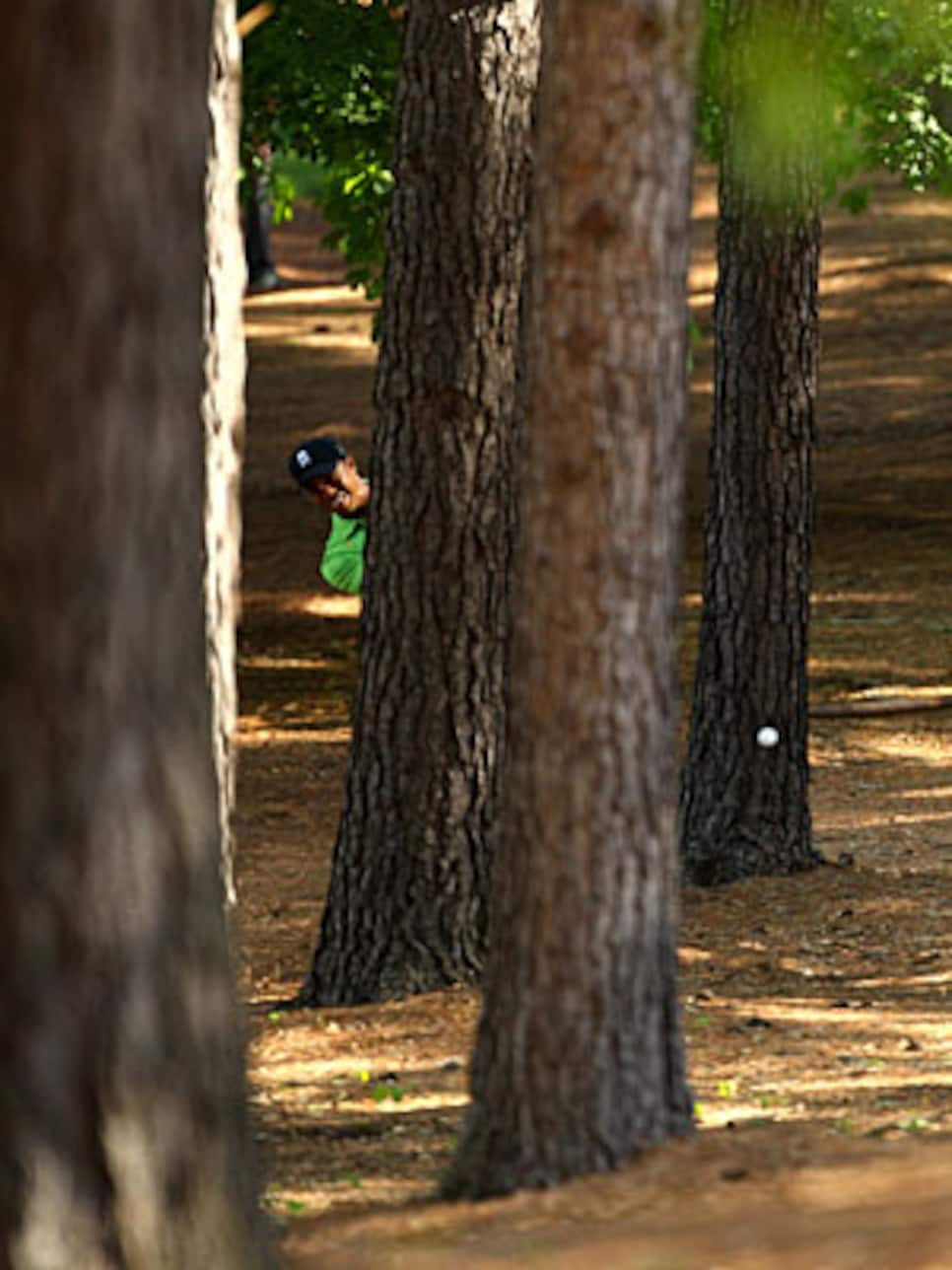 Tiger Woods had trouble finding the fairway Thursday.
CHARLOTTE, N.C. -- The Tiger Woods who was playing his fifth competitive round of 2010 on the opening day of the Quail Hollow Championship looked a lot more like a player who had taken a five month leave of absence from the game than the one who managed to finish fourth in the Masters, even if he was using his fair share of smoke and mirrors in Augusta. If anything, his left-right-left two-over-par 74 on a Quail Hollow course he both likes and has previously won on, is proof that reentry into the game is a work in progress and not a snap of the fingers like some golfing Houdini.
Augusta's generous fairways gave Woods a margin for error he simply doesn't enjoy in Charlotte. Quail Hollow has its own set of fast, contoured greens but is more demanding off the tee and exacts a steep price if you don't know where the golf ball's going.
"I didn't hit the ball very good at all today," said Woods. "I had a two-way miss with everything. Two balls in the water. Pretty much struggled all day." Woods only hit four of 14 fairways and hooked his tee shot left into the water on the par three 17th and left into the creek off the 18th tee. On the 15th he drove it way right and was effectively stymied by a bush. He blasted it straight through it, back to the fairway, to salvage a par. On the first hole, his 10th, he drove it miles right, then threaded his recovery shot through the trees and through the green but couldn't get up and down.
Asked if he was able to cut himself a little slack since he's played so little, Woods replied, "I'm trying. But when you're fighting with a miss like this and trying to piece together a round to keep myself in a tournament, it's pretty tough. I know what I can do and I'm not doing it. And it's certainly frustrating. It's just a matter of carrying it to the golf course and I just haven't done that yet."
It was frustrating enough that Woods chose to pack it in for the day following his round, rather to head to the practice range as he would normally. "Sometimes when I shoot a high round, I put the clubs away -- or break a few," he joked. "I'm just going to let it go today. I'm not going to the range. Hell with it."
In many ways, Quail Hollow is a better barometer of the state of Woods' game than Augusta National. The man who so often would insist he was "close" when he was inconsistent, made no such assertions after finishing Thursday. "The course could be had today," he said. "After seeing the pin locations, some of the spots are a little dicey. Still, the course can be had. You've got the par fives. You got a couple short par fours, you can drive it right next to the green. If you take advantage of those holes right there, you're at six under par. So, it can be had." But he also was well aware of the dangers. "Fairways are hard to hit out here," said Woods. "There's not going to be a lot of guys hitting a lot of fairways here. Never have been."
While Woods is having a hard time finding the fairways at Quail Hollow, the ones that are in the back of his mind are the ones at Pebble Beach. He knows if, over the next few days, he can find one, he'll be able to find the other come June.