News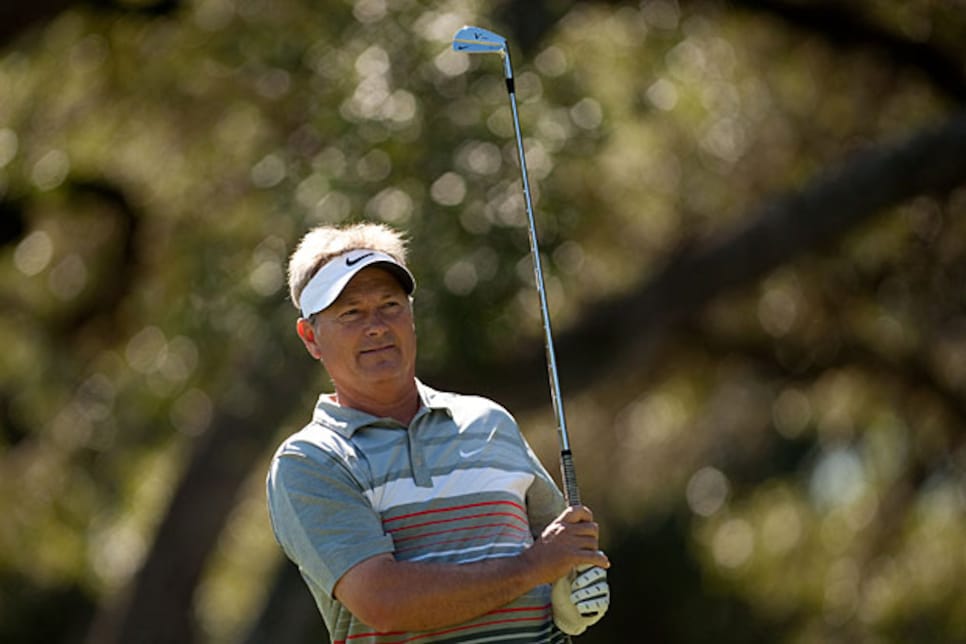 Cook shot a 30 on the back nine Sunday to earn his second straight win.
KAUPULEHU-KONA, Hawaii (AP) -- John Cook wasn't satisfied with his game even after ending 2010 with a big win.
"I love to compete. I want to get better," he said. "I felt I needed to get at least 10 percent better at everything to become the player that I really wanted to be, that's winning majors and winning championships -- just winning more."
The offseason improvements are paying off.
Cook birdied five straight holes after the turn to win the Champions Tour's season-opening Mitsubishi Electric Championship on Sunday, shooting a second straight 8-under 64 for a two-stroke victory over Tom Lehman.
The 53-year-old Cook had eight birdies in his bogey-free round for a 22-under 194 total and his second straight victory. He finished last season with a successful title defense in the Charles Schwab Cup Championship.
The last player to win the last event of a season and the first of the next on the Champions Tour was Gil Morgan in 1997-98.
"I just feel like I'm in control," Cook said. "All the things I've worked on from when I was 13 years old are still in my head with Ken (Venturi) and now with Jamie Mulligan."
After two birdies on the front side, Cook scorched the back nine, dropping putt after putt. He birdied six holes during a seven-hole stretch to take home $305,000 and the hook-shaped trophy.
"I've hit some runs of birdies but never on Sunday on the back side to win a championship," Cook said.
The win was Cook's sixth on the 50-and-over circuit and his first in the islands since the 1992 Hawaiian Open at Waialae, his fifth of his 11 PGA Tour titles.
Cook began the day three strokes behind second-round-leader Russ Cochran and surged to the top of the leaderboard with his five birdies after making the turn by aggressively firing for the pins. The run was capped by a 30-foot birdie putt on the par-5 14th.
Cook's goal for the final day was to reach 20 under.
"Once I got to 20 I went, 'Maybe that's not going to be enough. So you better keep the pedal down,'" he said.
After going up-and-down for a rare par on No. 15, he got back to the birdie clinic by sticking his 7-iron shot to 3 feet to reach 22 under at 16, which he called "the killer."
"It was one of the best iron shots I've ever hit under the gun," he said. "It never left the flag -- perfect trajectory, perfect ball flight."
Lehman, who closed with a 64, had an eagle, eight birdies and two bogeys.
"I felt I was playing real well, but John Cook just kept making birdies," Lehman said.
Defending champion Tom Watson couldn't overcome his three bogeys on the front nine and shot a 68 to finish third at 19 under, two strokes ahead of Cochran (72) and Jeff Sluman (68).
"The first nine did me in," said Watson, who at 61 was vying to become the seventh oldest winner on the Champions Tour.
Last year, Watson birdied the final two holes last year to beat senior newcomer Fred Couples in a classic duel.
Lehman made a move early with four birdies in the first seven to reach 16 under. He made back-to-back bogeys before the turn, but went birdie-par-birdie-eagle starting on No. 11 to put him back near Cook. Lehman birdied the final two holes to slip into second place.
"To shoot 20-under par and not win is tough to swallow," he said.
He wasn't as disappointed as Cochran, who looked unbeatable in the first two rounds but lost his confidence on the final day.
"I came out a little weak and timid, and that's never going to get it done," Cochran said. "It's very disappointing for sure, but for the first tournament of the year, it gives you something to build on."