News
Can't A Man Just #Dufner In Peace?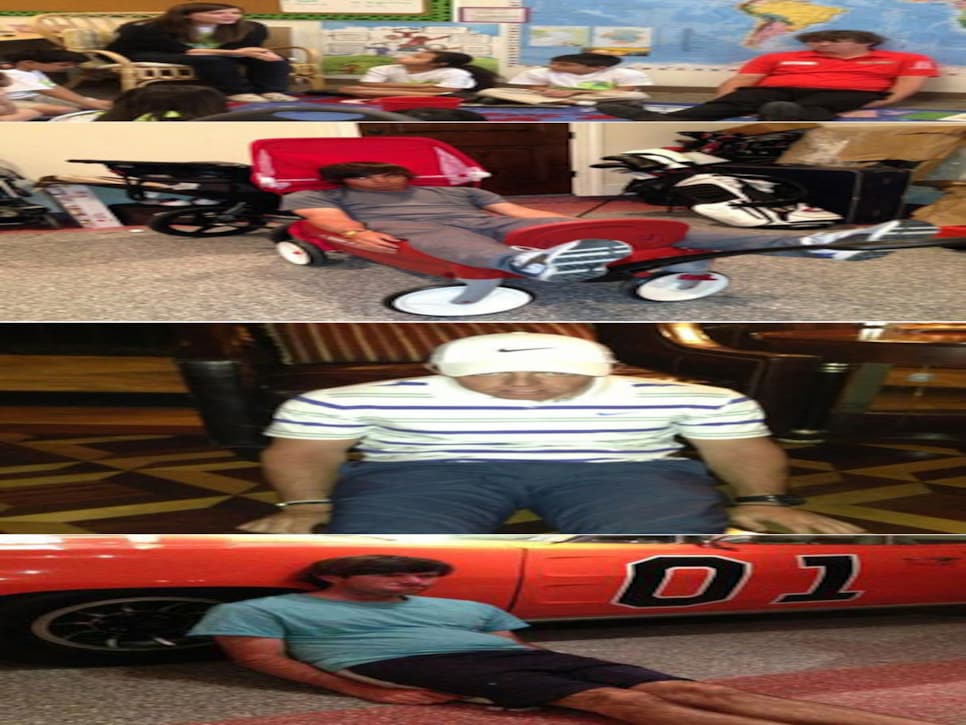 My dream for this Masters is that a mass Dufnering takes place under the live oak behind the clubhouse.
I can see it now, the golf stars of the 21st century arrayed in a circle, their backs to the great tree, their faces blank, legs extended, hands pressed under their thighs.
Until two years ago, Jason Dufner was just another guy who could play some. Now he is a star, twice a winner on the PGA Tour, a Ryder Cup sensation, and a crowd favorite about to play in his third Masters. He's such a star that in an odd, happy, silly turn of events, his name is more than a household word. It's a verb
To "dufner" is to zone out, check out, go zombie, cop a few zzzz's, as in, "Man, that last HR meeting, I totally dufnered." I believe Dufner is the first golfer whose name is in both the record books and the grammar books. No one ever heard Sam Snead say, "Sha-ZAM, I pure hoganed that 'un!"
"Dufnering," with the upper-case D, is now golf's most famous participle. It takes its name from a moment entirely representative of the player himself. While making a recent appearance in a kindergarten class -- one wonders, did Jack and Arnold do kindergarten appearances? -- Dufner did the sweetheart grown-up's thing of sitting on the floor with the kids.
The teacher told the kids to relax.
Dufner joined in, thus this picture.
Ask me, the teacher just told him, "No recess for you, Jason." Whatever happened, the photo went viral. Now everyone is Dufnering. Luke Donald stuffed a pillow under his shirt, the better to approximate our hero's pillowy look. Bubba Watson dufnered against General Lee, and Rickie Fowler did it in a Radio Flyer. Keegan Bradley, Brandt Snedeker, and Dustin Johnson dufnered as one. The man himself reprised the Dufnering in the Auburn University weight room. The craze reached even a mall concourse statue.
Dufner's good-natured explanation of the original picture came in a tweet: "What can I say, I was tired, my back hurt from sitting on the floor, and we were talking about relaxation and focusing."
I became a Dufner guy in the summer of 2011. I loved his idiosyncratic game (that waggle) and the dignity he showed after a soul-crushing playoff loss in the PGA Championship. I saw him as Everyman, only with talent. He seems to have last cut his hair in kindergarten -- check out the original photo again -- and then left it untended. Though he's from Cleveland, he still has enough Auburn University in him that he's identifiable by the chunk of dip in his lip. I count him Auburn's fourth most famous athlete, after Bo Jackson, Cam Newton, and Charles Barkley.
Besides the fact Dufner could play, I loved that on fairways awash in swagger, real and pretended, here came a guy who seemed to be awakening, one eye at a time, from a coma.
We first saw his radical impassivity during that PGA Championship. He was 34 years old and had never won a tour event. Then he had the PGA won until he lost it in a playoff with Keegan Bradley, who wasn't much back then, either. If you lost to Bradley, the wise guys in the press tent figured you might not be much more than a muni duffer.
Dufner. Duffer. See what I did there? Dufner = duffer. Back then, Dufner was a noun previously unknown that sounded kinda like a noun used to insult hackers. Still, there was this: Dufner's soul didn't seem much crushed. He was OK with being the PGA runner-up. In the press tent, he said as little as possible in a voice that never changed key. We waited for the inevitable tears of a duffer who had failed the once-in-a-lifetime chance to punch his ticket to immortality.
Instead, he flat-lined us. No tears, no smiles, no noticeable pulse. Dufner was content. He'd get a good check ($865,000) and there'd be more tournaments. Besides, a few minutes earlier, as he walked to the press tent, he had looked over his shoulder and said, "Amanda? Amanda, you with us?"
It's now clear that those words were evidence that Jason Dufner had things pretty much figured out. He'd made a life in which the putts mostly fell in -- he'd earned almost $3 million without winning -- and on this day they fell in until they didn't. No reason to get his knickers in a twist when lots of nice little guys with lip-dip busted their butts selling used pick-ups in Alabama.
Besides, Amanda was hurrying to catch up to him, Amanda a beauty, Amanda his long-time girl friend. Birds in treetops whistled in admiration of Amanda's hurrying.
At the next major, last April in Augusta, Dufner shared the 36-hole lead and yet, on ground hallowed by Hogan and Snead, Jones and Nelson, he remained the personification of indifference. Explaining himself, he said, "There's a lot more going on out there than appears. I feel like I have the same emotions and same thought processes as a lot of guys, but I seem to not show it quite as well as some other players."
A pair of 75s dropped him to 24th, but he quickly won the first tournaments of his 12-year professional career. He won in New Orleans two weeks after the Masters and won again three weeks later in Dallas. Between those victories, he married Amanda. That nice run of life extended into September when Dufner was on the winning side three times in four Ryder Cup matches.
All this, and there's the fun of his Twitter feed. No monotone there, it even carries the occasional shout of an exclamation point. Last year, President Obama stepped from the Oval Office to drill a long jump shot in a CBS piece during the NCAA basketball tournament. Dufner's tweet: "Obama going wet on the nylon in the dress shirt and tie!" This year he saw over-officious officials spoil the rhythm of a Final Four game. His snarky tweet: "Official timeout, refs gotta replace the little wooden balls in their whistles."
You'll have to excuse me now. I've been typing for a while now. Time for a dufner.