News
Tiger Returns, Watson Turns Back Clock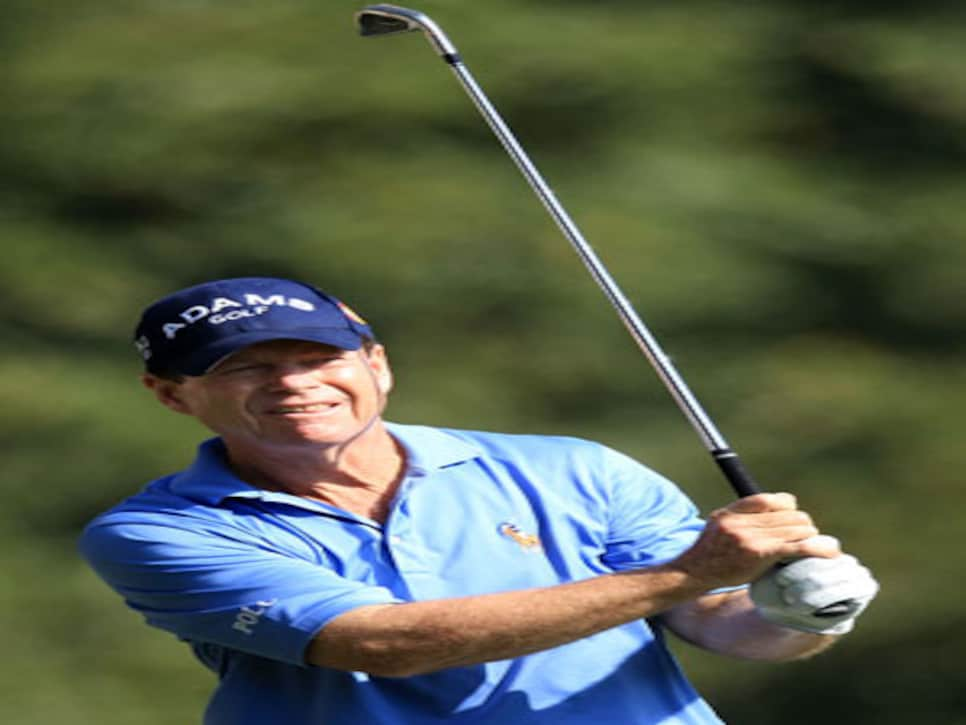 Watson didn't card a bogey in the first round.
AUGUSTA, Ga. (AP) -- The shots. The fist pumps. The roaring galleries at Augusta National.
Tiger Woods played as though he'd never been away.
Returning from a five-month layoff and trying to rebuild his reputation after a sex scandal, Woods quickly showed his game was still in good shape Thursday at the Masters.
He shot a 4-under-par 68 - his best score ever on the first day of the Masters. The round included eagles at the eighth and 15th holes, the first time he's had multiple eagles in an Augusta round.
Also, Woods had never started with a score lower than 70 until Thursday, when he put himself just two strokes behind the surprising leader, 50-year-old Fred Couples.
"Why play if you don't think you're going to win?" Woods said. "If I don't think I can win, I won't enter the event."
The world's No. 1 player is off to a good start for his fifth green jacket, and his score could have been even lower. He lipped out four putts.
Still, no complaints after being away from the game so long and enduring plenty of ridicule over his personal life, which fell apart after a Thanksgiving night car crash led to revelations of multiple extramarital affairs.
Despite his off-the-course troubles, he heard nothing but cheers from the Augusta National fans.
"It was unbelievable, the whole day," Woods said. "The people, I haven't heard them cheer this loud in all my years coming here. It certainly helped keep my spirits up."
No longer sporting the goatee he had worn during practice, Woods bounced back from his first bogey with two precise shots that set up a 10-footer for eagle at the par-5 eighth. When the ball dropped in the cup, patrons rose in unison to salute the disgraced golfer, who delivered his first fist pump of the day.
But this round likely will be remembered for a shot Woods pulled off at the next hole. He yanked his drive left of the fairway, leaving him with a treacherous 5-iron that had to be hooked around the pine trees to reach an uphill green he could barely see.
Woods ripped into the ball with a powerful swing, then ran out into the fairway to get a look as it skidded onto the green, pulling to a stop about 12 feet above the hole. He rolled in the birdie putt, which put him on the leaderboard for the first time, just two strokes behind.
After one of the lip-outs came on an eagle attempt at 13 - yes, he was that close to having THREE eagles in the round - he rolled in an 8-foot putt at the 15th.
The gallery around the first tee was sparse a half-hour before Woods was scheduled to start. By the time he arrived, it had swelled to 10 deep all the way round. Woods smiled and touched the brim of his cap, acknowledging the cheers when his name was announced.
"Make us proud!" a fan yelled.
Not that he totally escaped his personal troubles inside the gates of Augusta National.
A small plane flew over the course pulling a banner that jabbed the golfer: "Tiger: Did you mean bootyism?" - a reference to Woods' claim that part of the reason for his troubles was that he left his faith, Buddhism. Some people in the stands laughed and pulled out binoculars to get a closer look. Later, another banner said: "Sex Addict? Yeah. Right. Sure. Me Too!"
Woods largely lived up to his vow to be more responsive to the crowd and try to keep his emotions in check. He doffed his cap to the fans several times, and they were appreciative.
"I think the way he's reacting with the crowd is amazing," said Jim Moehring, who cheered on Woods in Amen Corner. "He seems to be more relaxed."
Until he got to No. 14. Woods' explosive temper let loose there after an errant iron shot. He slung down his club and let out a scream as he turned away, unwilling to even watch the flight of the ball.
Couples has won three straight times on the 50-and-over Champions Tour, and that success carried over to Augusta. He had only one bogey the entire day and shot a 32 on the back side.
"I'm driving it very long and fairly straight, and I'm putting ridiculously well out there," he said. "Today I made a bunch of 6- and 7-footers on the front nine. That was just a huge boost."
Watson, who nearly became the oldest major winner in golf history at last year's British Open, showed it wasn't a fluke. He held the lead for a while after shooting 67, tying his best round at Augusta.
The last time he did it was 20 years ago. Watson closed with a 5-foot birdie putt at the tough 18th hole, set up by a brilliant iron shot that skipped along the right side of the green, caught the ridge and turned back toward the flag.
Phil Mickelson was among five players who matched Watson's 67, joined by reigning PGA Championship winner Y.E. Yang, Woods' playing partner K.J. Choi and England's Lee Westwood, seeking his first major title.
Mickelson had a blistering eagle-birdie-birdie stretch starting at the par-5 13th, and his score could have been even lower. He missed birdie tries of about 10 feet at No. 16 and a 5-footer at the 18th, but this was still an encouraging start for a two-time Masters winner who has struggled this year.
"I do love this place," Mickelson said. "I don't have to be perfect. I can miss a shot and still recover. It relaxes me when I go down Magnolia Lane."
Woods was in the next-to-last group, playing with K.J. Choi and Matt Kuchar. It looked as though there might be a rain delay as skies darkened and the wind gusted up to 22 mph ahead of an approaching storm. There were scattered sprinkles, but the front broke up as it passed over Augusta.
Anthony Kim endured a wild back side on his way to a 68. He started with three straight bogeys, made an eagle at 13, another bogey at the 14th, then closed with three straight birdies. His only par after the turn came at No. 16. Nick Watney also shot a 68.
David Toms, who failed to qualify for the Masters a year ago, returned with a 69. Defending Masters champion Angel Cabrera got off to a strong start with a 3-under 33 at the turn, but a double-bogey 7 at the 13th sent him tumbling to a 73.
Tocha Cunningham waited along the first fairway with her 15-year-old son, Jordan Salley, who is a huge fans of Woods and was attending his first Masters
"I'm ready to watch him. He's always been my favorite player. He's always been an inspiration," Jordan said.
The mother tried to discuss the scandal with her son.
"He understood, but Jordan did not want to talk about it because Tiger is his hero," she said. "He wanted to look beyond the personal and just focus on the golf."
Officials at Augusta National insisted that no one player - not even when it's the world's best embroiled in a scandal - would overshadow their tournament. And for a few moments, at least, that was the case as Jack Nicklaus joined Arnold Palmer at the first tee shortly after sunrise for the opening shots.
"I've never been up this early at Augusta," cracked the 70-year-old Nicklaus, who won a record six green jackets and agreed to return this year to join Palmer in a ceremonial role.
Sentimentality aside, most patrons were eager to get a look at Woods in comeback mode.
Bill Campbell set up his chair along the second fairway, hoping to catch one of the golfer's early shots.
"I'm expecting him to be wild off the tee," Campbell said, "but I won't be surprised if he pulls off a great round."
Mark Felt stationed himself along the third tee, which also afforded a view of the seventh green.
"He's going to come back sometime," Felt said. "Might as well be here."