News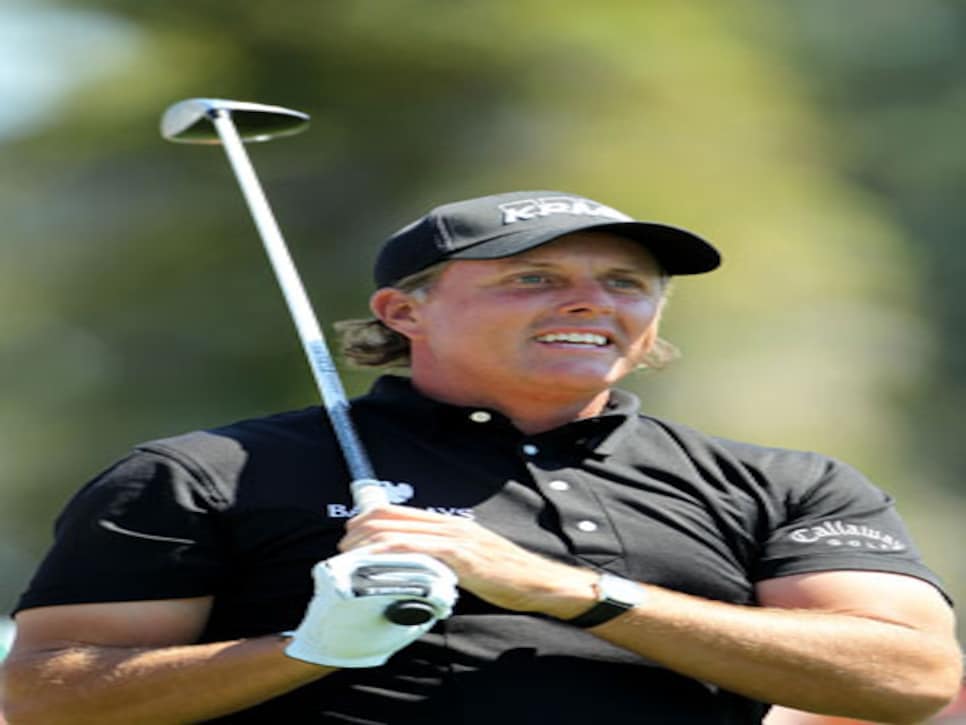 Phil Mickelson's win at Augusta was his fourth major championship overall.
AUGUSTA, Ga. (AP) -- Even sweeter than Phil Mickelson slipping into another green jacket was seeing his wife waiting for him behind the 18th green at Augusta National with tears streaming down her face.
Amy Mickelson, with her long blonde hair and easy smile, had not been at a tournament since she was diagnosed with breast cancer 11 months ago.
Her husband had not looked the same ever since.
A shattered world seemed at peace in the fading sunlight Sunday at the Masters, where Mickelson made one last birdie for a 5-under 67 to capture his third green jacket with a three-shot victory over Lee Westwood.
The outcome was never in doubt when he arrived on the 18th green. The conclusion was more emotional than anyone expected.
"I wasn't sure if she was going to be there," Mickelson said.
He shared a long embrace with his wife behind the 18th green, and as he walked to the scoring trailer to sign for the lowest score at Augusta in nine years, a single tear trickled down his cheek to his lip.
"We've been through a lot this year. It means a lot to share some joy together," Mickelson said at the green jacket ceremony, his voice cracking has he struggled to keep control. "It's been such an incredible week, an emotional week. And to cap it off with a victory is something I can't put into words.
"It's something we'll share for the rest of our lives."
Determined to win one for his family, Mickelson made two remarkable par saves from the trees, seized control with a 15-foot birdie putt in the heart of Amen Corner and then made a gutsy play with a 6-iron off the pine straw and over Rae's Creek on the par-5 13th to set up a birdie. It was a daring shot, the kind that has brought Lefty so much criticism for taking on too much.
There was simply no denying him in this Masters.
His final birdie only mattered on the scorecard, 16-under 272, the lowest by a Masters champion since Tiger Woods in 2001. Mickelson had this won as he walked up the 18th fairway to a massive ovation. He raised both arms when the putt fell, had a long embrace with caddie Jim "Bones" Mackay, then walked toward the scoring hut and into his wife's arms.
Standing behind them was Mary Mickelson, his mother, who was diagnosed with breast cancer in July.
So ended a Masters unlike any other.
It began with Woods returning from a humiliating sex scandal, which brought a sharp rebuke from Masters chairman Billy Payne and scrutiny of his behavior throughout the week. His wife was not at the Masters for the first time, although Woods performed as though his five-month hiatus never happened. He broke par all four rounds, closed with a 69 and tied for fourth with K.J. Choi, five shots behind.
For Westwood, this was his best chance at winning a major, but he failed to make putts to stay in range.
"Phil being the champion he is hit some great shots coming down the stretch," said Westwood, who closed with a 71 for his best finish ever in a major. "He's been through hard times recently, and he deserves a break or two."
Anthony Kim closed with a 65, the best score of the tournament, and finished alone in third.
Mickelson became the eighth player with at least three Masters titles, and it was the fourth major of his career, breaking out of a pack that had included Ernie Els, Padraig Harrington and Vijay Singh from his generation. Woods offset a few signature moments with some poor putting, none more shocking than a three-putt from 6 feet on the 14th hole.
"I finished fourth. It's not what I wanted," Woods said in a terse interview with CBS Sports analyst Peter Kostis. "I wanted to win this tournament. As the week went on, I kept hitting the ball worse."
Asked about his dour mood as his game got away from him, Woods said, "People are making way too much of a deal on this." He also said he did not know when he would return, saying he needed time off to evaluate.
For Mickelson, it's a celebration to remember.
During the green jacket ceremony, Mackay sat on the grass with his legs crossed, cheeks stained with tears. It was Mackay who made countless trips to San Diego to be with Mickelson as he tried to cope with the uncertainty of his wife's illness.
Mackay, whose wife stood behind the 18th green with Amy Mickelson, had a hunch the end of this Masters victory would look like the other two, with the entire Mickelson clan waiting for a hug.
"I didn't really want to look up because I knew I'd get choked up if I saw her," Mackay said. "It was great to see her there, for sure."
Mickelson was the only player among the top 10 to play without a bogey in the final round. Right when it looked like it might slip away from him, Lefty came through with two par saves from the trees on No. 9 and No. 10, then pulled away with the clutch 9-iron on the 12th to 15 feet behind the hole.
Woods teased with contention by making two eagles in one round for the second time this week. Most of the day, however, he was always too many shots back to scare anyone.
He was seven shots behind walking down the seventh fairway, then holed out for eagle to begin an eagle-birdie-birdie run that put him within three shots. Woods hit a tree from the middle of a small forest to the right of the 11th fairway, and just when it looked as though he would make a great escape, he missed a 5-foot par putt.
His hopes ended on the 14th when he missed a slick 6-foot birdie putt, then reached over to tap it in and missed that one. Even with an eagle on the 15th, his Masters was over.
Whatever doubts there are about Woods as a person, his golf doesn't appear to be suffering. It was his first competition in five months, his first time in public since he became tabloid fodder for his rampant infidelity. Yet he performed as if he had never been gone.
Choi's only consolation was going all four rounds with Woods at Augusta and matching his score. He wanted much more, and for the longest time was poised to give Asia successive majors following Y.E. Yang's win at the PGA Championship.
He unraveled on the 13th, a hole where he had made birdie the previous three rounds. From the fairway, he tugged his approach into the back bunker, leaving him a frightening shot down a steep slope toward Rae's Creek. He barely got it out of the sand, then three-putted for a bogey. Another bogey followed on the 14th.
Kim, who set a Masters record last year with 11 birdies in the second round, came out of nowhere. He played a four-hole stretch starting on the 13th in only 11 shots -- an eagle and three birdies -- and finished with two strong pars to post at 12-under 276.