News
Westwood Leads, Big Names Lurk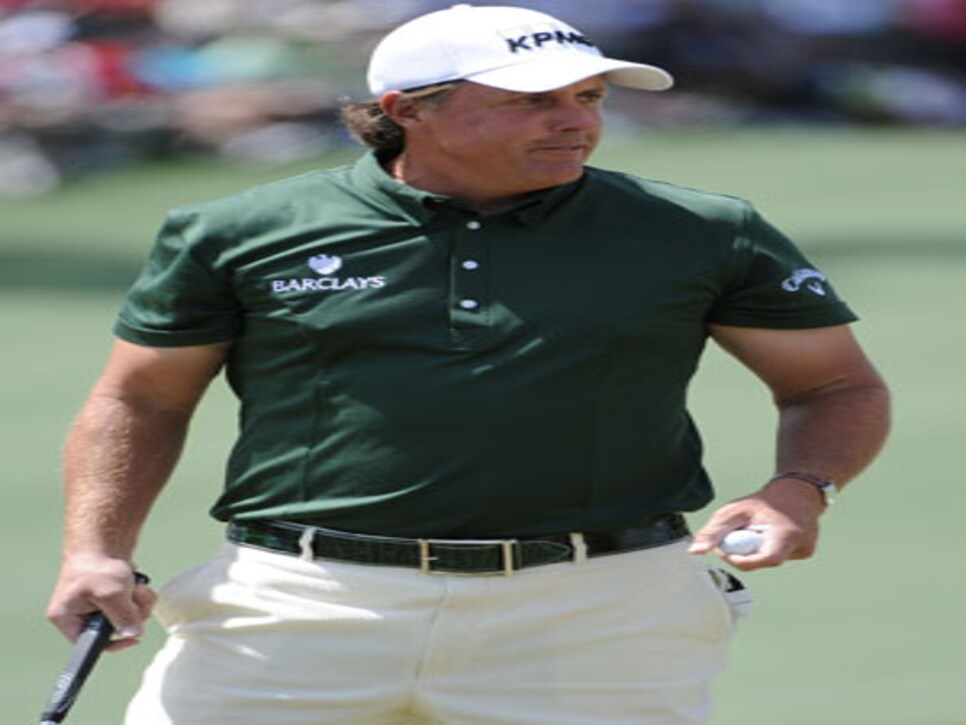 Phil Mickelson became the third player in Masters history to make back-to-back eagles.
AUGUSTA, Ga. (AP) -- Lee Westwood kept his cool even as Augusta National thundered with too many cheers to count.
Phil Mickelson made consecutive eagles with three shots. Fred Couples chipped in for eagle ahead of him. Ricky Barnes chipped in for a birdie behind him. Tiger Woods got into the act with three straight birdies to keep his name high on a star-studded leaderboard.
Saturday at the Masters sounded an awful lot like Sunday.
"You couldn't figure out who was doing what because there were roars happening simultaneously throughout the course," Mickelson said. "I thought that it was really a fun day to see the leaderboard change."
Westwood made sure there was no change at the top.
With his best chance ever to win that elusive major, Westwood made only one bogey and finished with a tough par for a 4-under 68 to take a one-shot lead over Mickelson into the final round of a Masters that keeps getting better.
"I think I'm ready," Westwood said. By the look of the names behind him, he better be.
Westwood, No. 4 in the world and among the best without a major, was at 12-under 204. He will be in the final group with Mickelson, No. 3 in the world and the sentimental favorite at Augusta given his turbulent year at home with his wife and mother battling breast cancer.
Right in front of them will be Woods, No. 1 in the world and playing as though five months of a humiliating sex scandal never happened. He finished with a 3-foot birdie on the last hole for a 2-under 70, putting him at 8-under 208 along with K.J. Choi, who also had a 70.
"I think that's what everybody wants to see," Westwood said. "Everybody has missed Tiger on the golf course the last five or six months, and he's up there. Phil is up there. You've got 4, 3 and 1 in the world. It's a good leaderboard, I think."
The Masters hasn't seen a leaderboard this strong for the final round since Woods and Mickelson -- Nos. 1 and 2 in the world -- were in the final group in 2001.
Just as exciting as the names were the endless cheers from all corners of the course, for just about everyone but Westwood. Over the final hour, his only birdie was a two-putt from 25 feet on the 15th. Ho-hum.
"The only thing I can control is what I do, where I hit it," Westwood said. "The guys up on the leaderboard there are great players. They are going to do something. You have to expect the unexpected at times."
It got so crazy at one point that in the time it took Westwood to play the 11th hole with a hard-earned par, Mickelson made up four shots on him with an 8-foot eagle putt on the 13th and holing out a wedge on the 14th.
Barnes knocked in his birdie from behind the 13th green, and even more impressive was his 60-foot birdie putt across the 14th green. The thrills never stopped.
"It was probably one of those great days in golf at a major championship," Westwood said. "I obviously wasn't privy to the things you have seen, but I was well aware somebody was making a charge, and I figured it was Phil. That's what major championships are about. They're tough ones to win because great players do great things."
Mickelson hasn't looked great all year, the first time since 2003 he has come to Augusta without a victory. Now, he goes after a third green jacket by playing in the final group at a major for the first time since his meltdown at Winged Foot in the 2006 U.S. Open.
His spirits have been lifted in part by having his family -- wife Amy and the three kids -- with him for the first time since The Players Championship nearly a year ago, right before she was diagnosed with breast cancer.
Amy Mickelson has not been to the golf course. "It's fun having them, just being together," he said. "It's been a fun week."
Fun doesn't even begin to describe Saturday.
The course was not meant to yield so many fireworks -- not one shot better than 67 -- yet the quality of the play was superb. Westwood did his work on the front nine, rolling in a bending birdie putt at the first, hitting a 4-iron just over the bunker to 10 feet on the fourth and slowly starting to pull away.
Then came the cheers and the chaos.
Couples was walking off the 14th tee when he motioned at Mickelson across the 13th fairway to get it going. Lefty obliged with a 7-iron to 8 feet, followed by his eagle from the 14th fairway that produced such volume that Westwood backed off his putt on the 11th.
"It was pretty funny because we were texting a little bit about how low I was going to have to go to catch him and maybe play with him tomorrow," said Couples, who was in the final group when Mickelson won his last Masters in 2006. "For a time, we were both playing pretty well. But then he went eagle-eagle-birdie, and that's a pretty big jump to get going.
"Once again, I just love this place."
For Woods, it was more of a love-hate relationship for most of the round. He quickly pulled within one shot of the lead with two tough birdies, from 18 feet on the first hole and a curling 35-footer on the third. Few could have guessed it would be the putter that put him behind.
It started with a bad swing and an outburst -- "Tiger, you suck!" -- from a guy who pledged to keep his temper in check. From the bottom shelf of the green, Woods ran his putt 15 feet by the hole and missed that for his first three-putt bogey of the Masters. He missed a 5-foot par on the seventh hole, then three-putted on the 10th from about 18 feet.
That's all it took for Woods to tumble seven shots out of the lead. And while he tried to peck away with birdies, Mickelson ahead of him was hammering away at eagles.
Woods two-putted the 13th, hit his approach to 3 feet on the 14th for birdie, then made an 8-foot birdie on the 15th. He was so wild at times that he played the 17th hole from the 15th fairway and almost got away with it until missing a 6-footer for par.
"After struggling just to fight back...the guys were running away from me there," Woods said. "At one point, I was seven back. So to kind of claw my way back in there where I'm only four back right now, I'm in good shape."
He has never won a major from behind. He had never lost one from in front until Y.E. Yang rallied to beat him in the PGA Championship last summer at Hazeltine. Asked about his outburst on the sixth hole, Woods said he wasn't aware: "If I did, then I'm sorry."
From the spontaneous cheer he received for the opening tee shot on Thursday, the cheers have become louder throughout the week for Woods. Only on this day, they weren't all for him.
"Those roars are Augusta roars," said 60-year-old Tom Watson, who had a 73 to fall 10 shots behind. "I'm glad they're back.''"
Ian Poulter, tied for the 36-hole lead with Westwood, shot a 74 and fell six shots behind with Barnes (72) and Hunter Mahan (68). That would seem to be too far behind at any other major.
"We have seen some strange things happen over the years," Mickelson said. "I think tomorrow is going to be another exciting day."