News
Poulter, Westwood Tied At Top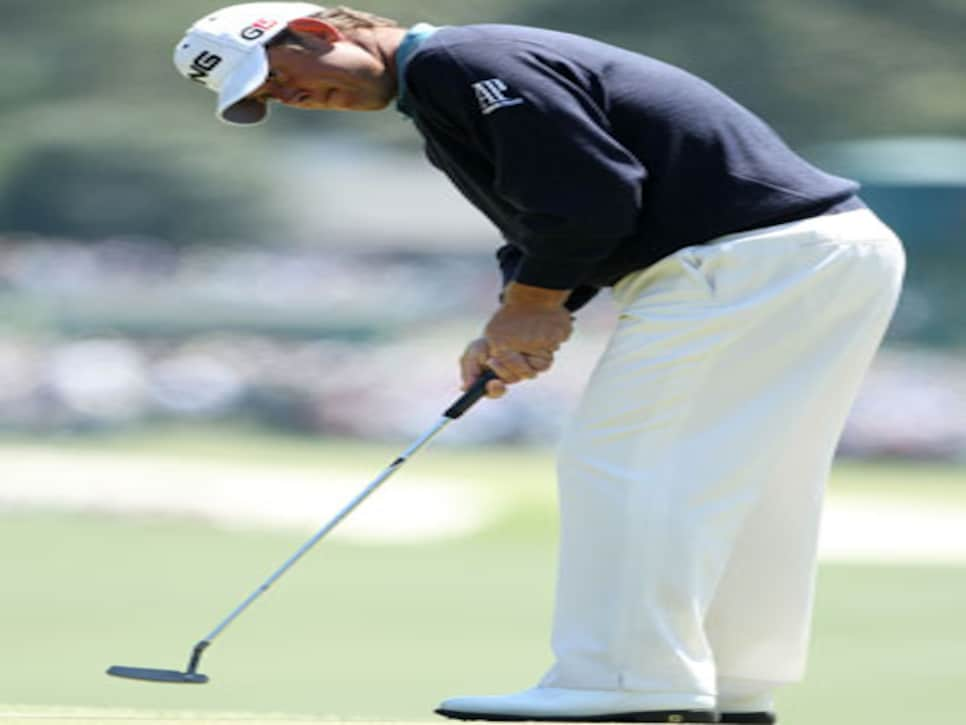 While many players struggled, Lee Westwood shot a 3-under 69 and is tied for the lead.
AUGUSTA, Ga. (AP) -- Tiger Woods still has his game. Now he finds out if his name high on the leaderboard means what it once did.
In a Masters that gets more compelling by the day, two faces of England's golf revival -- Lee Westwood and Ian Poulter -- handled a tougher Augusta National on Friday to share the lead as both chase their first major championship.
Poulter, who once boasted that it would be just him and Woods when he reached his potential, made his only bogey on the 18th hole for a second straight 68. Westwood had everything from an eagle to a double bogey in his wild round of 69.
They were at 8-under 136, the first time either of them has been in the lead in a major.
Two shots behind was Woods, a position that has surprised just about everybody except him.
"I usually put myself in contention most of the time here," Woods said after a 2-under 70. "And this year, I'm right there."
If that's not enough, Phil Mickelson is along for the ride.
Mickelson needed a birdie on the 18th hole to be paired with Woods, just as they were in the final round last year. His 65-foot putt banged off the back of the cup before spinning away, giving Lefty a 71.
Woods and Mickelson were at 138, along with K.J. Choi, Ricky Barnes and Anthony Kim, the sassy young American coming off a victory last week in the Houston Open.
Woods has captured so much attention at this Masters because of his swift and spectacular downfall from a sex scandal that kept him out of golf the last five months. He has been humbled by confessions of cheating on his wife, and one of the lingering questions was whether his personal chaos would make him seem less invincible on the golf course.
He has won the Masters all three times when going into the weekend in a tie for third or better.
Y.E. Yang, who rallied to beat Woods at the PGA Championship eight months ago, had a 72 and was at 5-under 139.
"There's a great buzz on the golf course," said Poulter, who played the first two days in front of Woods. "I was happy to tee off when I did. The crowds are 10-deep. That's always good. I think the tournament is a good one."
And it might get even better.
Westwood pulled himself out of a deep slump to regain his status as the best in Europe, and he has been closing in on an elusive major. He came within one putt of getting into a playoff in the U.S. Open in 2008 and the British Open last year.
"It makes me sort of feel that I can contend in these big events now that my game is up to this level," Westwood said. "All in all, I'm delighted the way things are going."
It was a wild ride, for sure.
Westwood moved quickly to the top of the leaderboard with a 6-iron into 18 inches for eagle on the second hole, and he had two tries at an eagle at the par 5s on the back nine. But there also was a hook into the trees on the 14th that led to double bogey, and another tee shot into the pines on the 18th that kept him from the outright lead.
Westwood didn't seem the least bit concerned that Woods was lurking.
"I played with Tiger the last round of the U.S. Open (both shot 73 at Torrey Pines), so that's not really an issue," he said. "And I learned a few things, stuff I'm not going to share, because I think if you get into these situations and learn stuff, what's the point of passing it on? That's what going through these experiences is all about."
Poulter began making his move on the par-3 12th with a shot over the bunker to about 8 feet for birdie. There was muted applause, partly because it's difficult for the fans to see the green, and partly because most of them weren't watching.
"Tiger was on the 11th green," Poulter said with a grin.
Few players are as brash as Poulter, starting with his stylish, colorful clothes. He wore all pink in the final round of the 2006 U.S. Open, a bold move before a New York gallery, and once wore Union Jack trousers at the British Open.
Asked what would go best with a green jacket, Poulter didn't hesitate.
"Absolutely anything," he said.
As for that boast about joining Woods atop the world ranking ranking one day?
"If I win this week, I'll probably go to No. 2, which would be lovely," Poulter said. "So I guess it's a work in progress. I'm working towards that. So we'll see."