MNF
What would be golf's version of a Manning "Monday Night Football" telecast?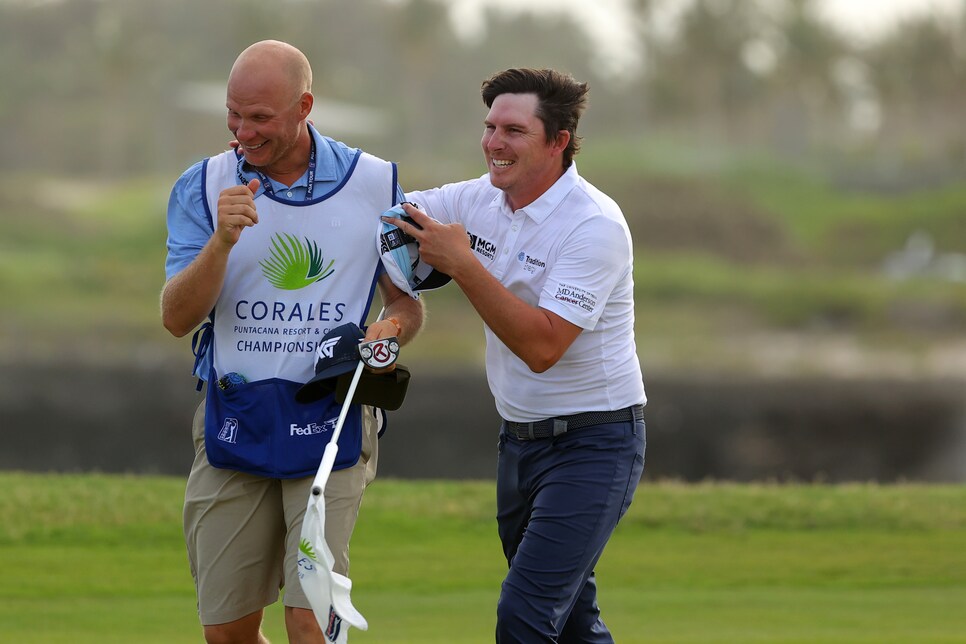 The Brothers Manning "Monday Night Football" broadcast was a success, for it did the impossible: Making a "Monday Night Football" broadcast team relevant again. It was a simple equation, really: Take two eloquent speakers, armed with unquestioned acumen and strong chemistry … and let them cook. And boy, did America love what Peyton and Eli delivered from the kitchen.
Which raises the question: How can golf replicate the Manning MNF template?
After all, the sport has long battled criticism that its broadcasts are stale, so here is a chance, albeit theoretically, to heat things up. Using the same format as ESPN rolled out Monday night, here are a few picks from the Golf Digest staff on who they'd like to see in a colorful tour simulcast.
Mike Johnson: OK, if you're going to try the golf equivalent of Peyton and Eli from this week's Monday Night Football telecast you simply can't half-ass it. Golf broadcasting is difficult enough to spice up and if you go with some of the obvious choices you're likely to be as disappointed as when the beverage cart is out of your favorite drink. With that in mind, my call is for Pat Perez. Hand this dude a mic and anything can happen. Plus he has some experience behind one, having done work for Sirius XM and playing a way-too-limited role on the broadcast team for the original Tiger/Phil "The Match" in 2018. Still, he managed to get a zinger in about Charles Barkley going missing from the broadcast searching for some action--what kind of action was left unsaid, but hey, it was in Vegas so who knows. Point is Perez knows the game from an active player's standpoint, isn't afraid to speak his mind and will go to an alternative drink if the beverage cart is out of his preference. Plus I had the pleasure of playing nine holes with the guy shortly after The Match and he had numerous ideas on how to make that broadcast better, all that made sense. Give me a dose of Double P and I'm watching, even if it's not for work.
Coleman Bentley: I'll pitch George and Wesley Bryan. Sure, they're not A-listers, but they could order some Taco Bell, throw back a couple Baja Blasts, and provide that brotherly Manning chemistry that only comes from 30-plus years of picking on each other at the dinner table. Oh, and speaking of picking on each other, Max Homa guests.
Chris Powers: The pipedream here is obviously Tiger and Phil on a Masters Sunday. Those two breaking down how they'd be playing certain shots at Augusta National, while watching from the couch, would be absolutely epic television. The problem is we're still five-plus years from those two sliding into a booth and who knows if either of them even want to do it. Mickelson does seem like a logical replacement for Nick Faldo, but CBS would have to throw a Tony Romo-like BAG at him. If Phil has his way, though, maybe he can finagle a Eli-Peyton situation where he can just talk shop from the comfort of his own home. But again, that's the pipedream. A more gettable guy, and a guy who would be phenomenal at it, is woke Golf Twitter's favorite son Geoff Ogilvy. The education you'd get from the Aussie just from watching some regular-old tour event would be otherworldly. Not the biggest name, but people do remember that he edged out Lefty at Winged Foot to win the U.S. Open, so it's not like he's some scrub. Ogilvy talking golf shots, course architecture, and whatever else popped into his brain would be must-see material.
Joel Beall: Well, damn; CP took my response. But while Phil and Ogilvy are marvelous picks, they are solo acts, and we are looking for a team. And there's no better combo in chemistry, color, entertainment and joy than Joel Dahmen and Geno Bonnalie. Both are cerebral guys who take a surgical approach to what they do, which is critical in translating what is going on inside the ropes to those watching outside them. However—and this is a sentiment that, for whatever reason, escapes networks no matter the sport—if fans are going to invest this much time in a game, there's a natural sense of "being" with the broadcasters, that they're almost sitting next to you on the couch watching what you're watching. In that vein, Joel and Geno's camaraderie and easy-going nature makes them a pair fans want to tune in—or should we say "hang out with"—on a weekly basis.
Stephen Hennessey: You want guys with perspective and who can explain to viewers what a pro is thinking over a shot. Zach Johnson is one of the most thoughtful and well-spoken guys on tour. He brings so many years of experience—and has a great way of explaining things in plain but insightful terms. He can handle some well-timed barbs, too, which would be key to excelling in this format. ZJ debuted on PGA Tour Live a few weeks ago, and when he retires, he'd have a career in whatever type of broadcasting format is offered.