News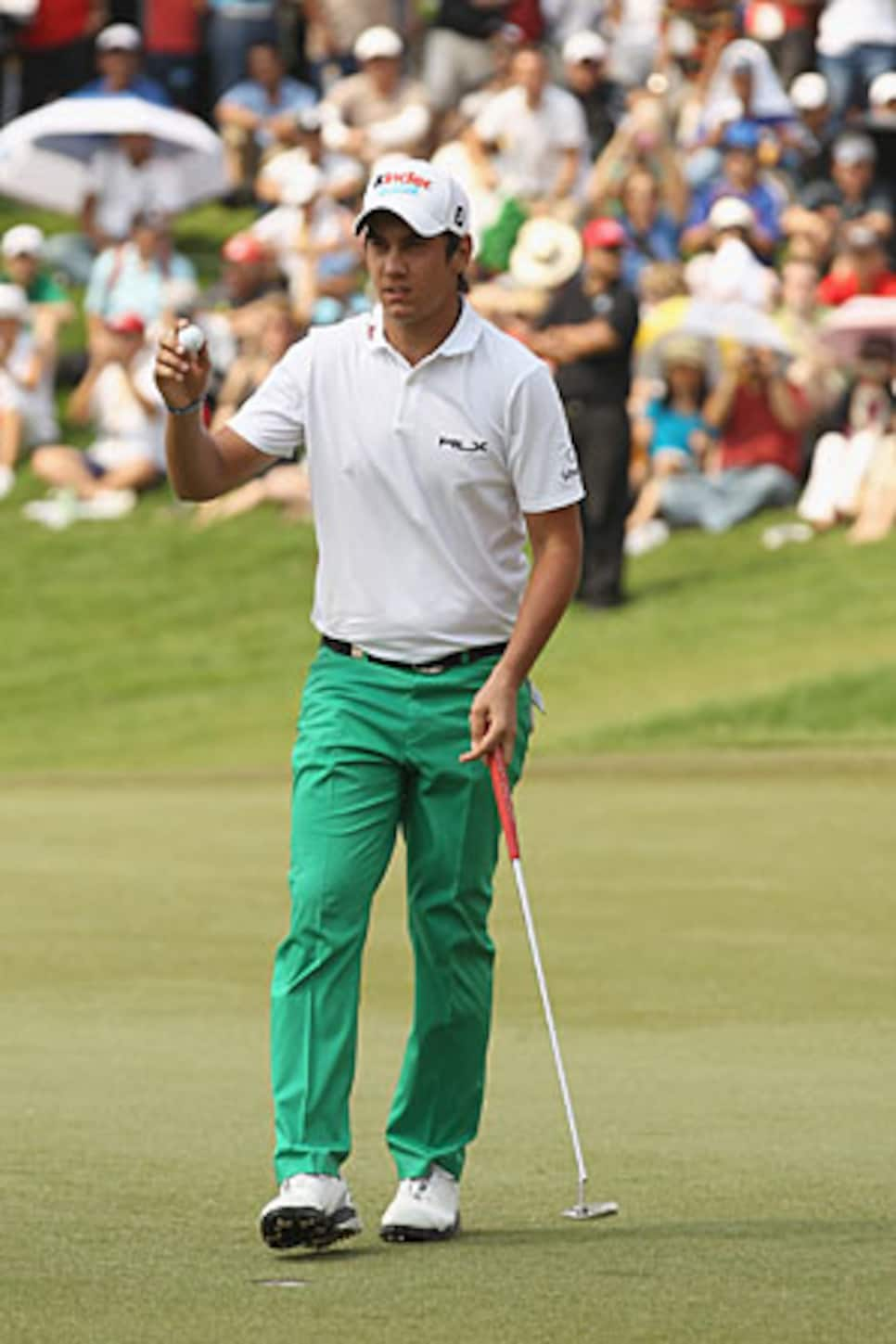 Manassero is the first player with two European Tour wins before turning 18.
KUALA LUMPUR, Malaysia (AP) -- In yet another showcase of golf's future, Italian teenager Matteo Manassero won the Malaysian Open on Sunday to capture his second European Tour title and upstage a remarkable recovery by Rory McIlroy.
Manassero, two days before his 18th birthday, began the back nine by holing his approach for eagle on the par-5 10th and making a birdie on the next hole to surge into the lead. He closed with a 4-under 68 for a one-shot victory over Gregory Bourdy of France.
McIlroy did everything except win in his first tournament after a Masters collapse.
The 21-year-old from Northern Ireland, who lost a four-shot lead last week at Augusta National and shot 80 in the final round, needed a birdie on the final hole to force a playoff with Manassero. The putt never had a chance, and McIlroy wound up three-putting for a bogey that gave him a 69 and third place alone.
McIlroy will move to No. 7 in the world, one spot behind Tiger Woods.
It capped a whirlwind week for McIlroy, who was celebrated in defeat for how graciously he handled his 43 on the back nine at the Masters. He flew from Augusta to Malaysia with Masters champion Charl Schwartzel, and even posted a photo on Twitter that showed him posing with the South African in his green jacket. "Glad one of us has a green jacket on!" said his Tweet.
McIlroy had the 36-hole lead in Malaysia, but lost ground during the 27-hole final Sunday caused by rain delays.
"Obviously at this moment I'm pretty disappointed, but it was a good week," McIlroy said. "I started out really well and to shoot the scores I did considering the traveling is a pretty good effort. ... I'm proud of myself at how I picked myself up from last week and the way I came back on the back nine today."
Martin Kaymer, the No. 1 player in the world, closed with a 72 and tied for ninth, eight shots behind. Schwartzel narrowly made the cut and closed with a 70 to tie for 11th.
Manassero last year became the youngest player to win a European Tour event when he won the Castello Masters. Now he's the first player to win twice before turning 18.
"I could never have expected to have one win before I was 18, and now I've got two," Manassero said. "I had a really good week from the beginning. I didn't miss many shots apart from the second round when I didn't play great, but I was still able to finish well and get in contention. I had a really good weekend and managed to get the win.
"It's a great achievement after just 11 months of professional golf."
If he stays in the top 50 for the next five weeks, Manassero will earn exemptions to the U.S. Open and British Open, and the PGA Championship awards spots to everyone in the top 100.
"I just missed Augusta, but playing the other three will be fantastic," Manassero said. "I'm really proud of that, and the next target will be winning another tournament, keeping the momentum going."
Bourdy had eight birdies in his round of 67 to charge up the leaderboard, but Manassero played mistake-free down the stretch.
McIlroy had four birdies and a bogey on the first 11 holes, but he three-putted for double bogey on the 12th, and his chances appeared over. Picking himself up again, McIlroy made three birdies to give himself one last shot, only to miss the 18th green well to the right with his second shot.
McIlroy, who had to take a nearly 30-hour flight to Malaysia and arrived only a day before the tournament began, looked visibly tired during the final round, despite maintaining his smile for the huge crowd swarming around him. However, his caddy ran out of patience when some spectators ignored the ban on taking photos while players were teeing off and asked officials to confiscate some of the cameras.
Manassero, who finished on 16-under 272, earned $416,660 and became the Malaysian Open's youngest winner. It was the second straight year a teenager won at Kuala Lumpur, with S.K. Noh winning a year ago.