News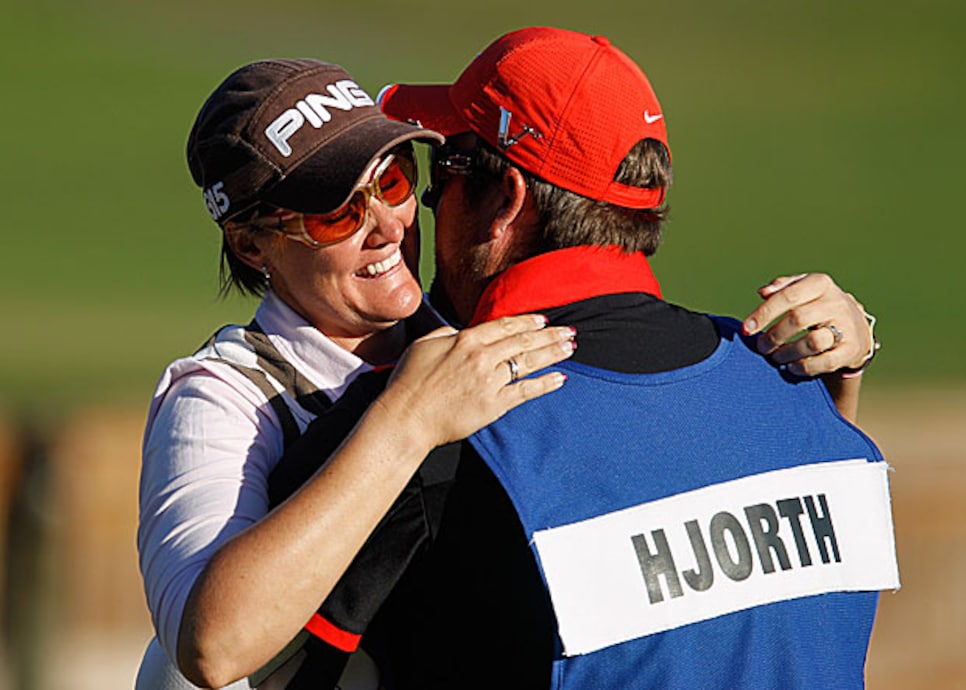 Hjorth picked up her first LPGA win since 2007.
ORLANDO, Fla. (AP) -- So much for a frantic finish at the LPGA Tour Championship. Only one person moved up the ranks this week to take home a trophy.
That was just fine for Maria Hjorth.
With every major award in play for the first time in a decade, all it took was a final-round 72 for Hjorth to claim a one-shot victory over Amy Yang and hold off a huge field that struggled to even make par. None of the annual honors, including player of the year and the No. 1 ranking, changed hands in the season finale.
"It was obvious other players had way more pressure on them," Hjorth said. "So I think in that regard, it might have been a little easier on me."
Hjorth had three birdies and three bogeys on a picture-perfect day at Grand Cypress Golf Club, where only six of 120 players finished below par for the tournament. Yang, who led after each of the first three rounds, had a quadruple-bogey on her third hole but rallied with a 74 to supply the only drama all week.
"I just thought, 'Nothing more I can lose,'" Yang said.
She made a birdie putt on the 18th from about 15 feet over a ridge, forcing Hjorth to sink an 8-foot putt slightly down hill to save par. She did. Then Hjorth dropped her putter, lifted her arms in triumph and bursts into tears as she went running to the ropes to grab her 1-year-old daughter, Emily.
"Every win is emotional for me," said Hjorth, who earned her fourth victory on tour but first since becoming a mother. "But being a mother and coming back after giving birth is definitely something that I've been hoping for.
"It's nice to prove that it's possible."
Hjorth finished at 5-under 283 for the tournament, the highest-winning score relative to par all year except for Paula Creamer's 3-under victory in the U.S. Open at Oakmont. The firm and fluctuating greens at Grand Cypress played similar to the toughest major this week, and near-freezing conditions in the first two rounds only heightened the challenges.
That was just fine for those sitting at the top.
With Lorena Ochoa and Annika Sorenstam now retired, every major award was in play for the first time in a decade but the week still ended with a thud. Each player who began the tournament on top of the award standings stayed there:
-- Yani Tseng became the first player from Taiwan to win LPGA player of the year.
-- South Korea's Na Yeon Choi won this year's money title.
-- Choi also claimed the Vare Trophy for the year's lowest scoring average.
-- Fellow South Korean Jiyai Shin, who missed the 54-hole cut and was the only one who could unseat Choi on the money list, will keep her spot atop the world ranking. She finished 12 over.
Cristie Kerr also was within striking distance to become the first American since Beth Daniel in 1994 to claim LPGA player of the year. But her final-round 73 left her at 2 under for the tournament, tied for third place.
"Maybe I put a little too much pressure on myself," Kerr said.
The final round would have only one shining star.
Hjorth was calm and cool on greens that frustrated so many in the field. She made huge putts to save par over and over, including a 10-footer on the 16th hole that gave her a two-shot cushion that proved big on the 18th.
And that was all she needed for her first LPGA victory since 2007.
"It was really amazing," she said. "I'm just overwhelmed right now."