News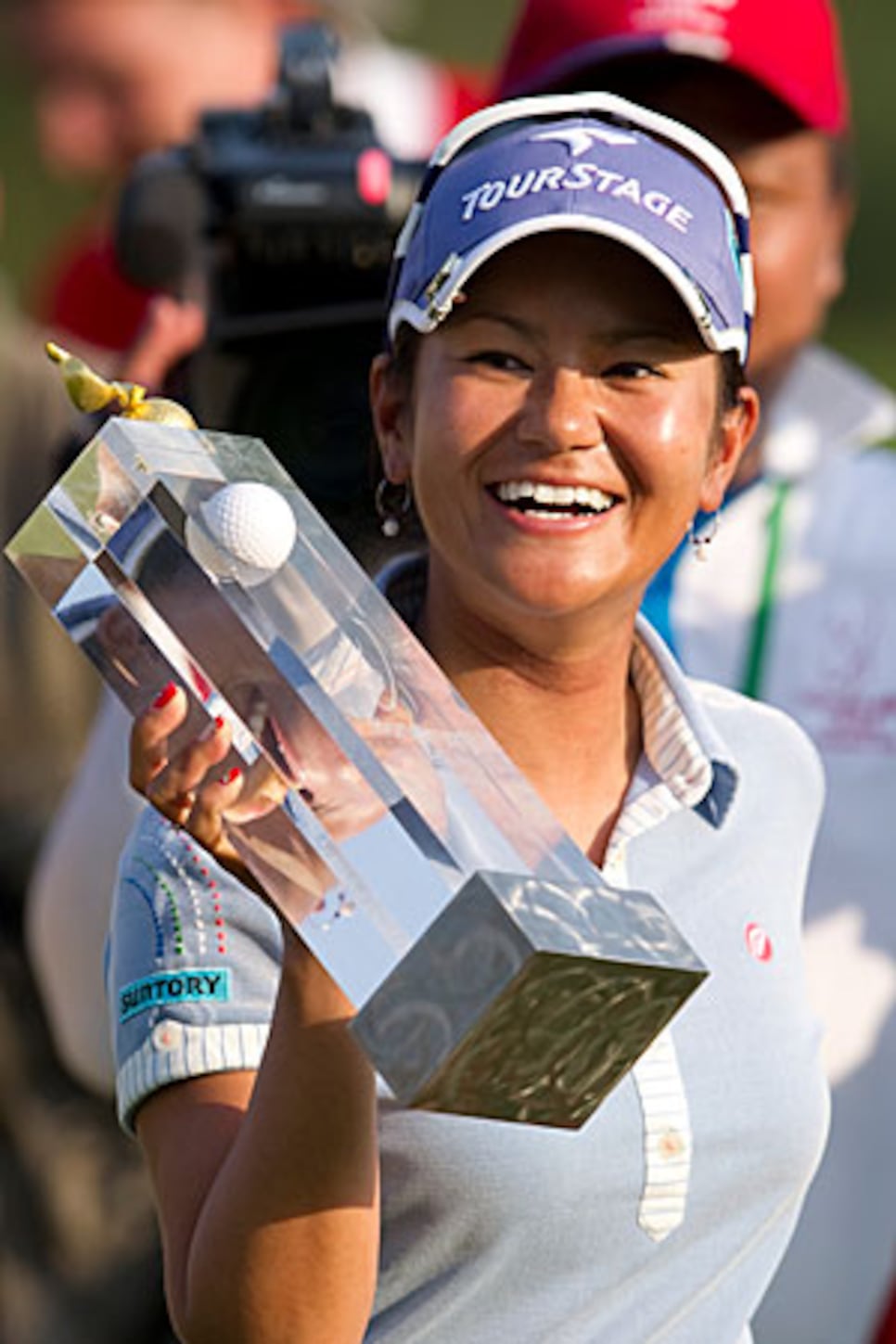 Ai Miyazato holed a 30-foot birdie putt on the 18th hole to secure the win.
PATTAYA, Thailand (AP) -- Japanese star Ai Miyazato rallied to win the season-opening Honda PTT LPGA Thailand on Sunday, holing a 30-foot birdie chip on the final hole for a 9-under 63 and a one-stroke victory over Norway's Suzann Pettersen.
Miyazato, six strokes behind Pettersen after the third round, was 6 under in a six-hole stretch midway through the round, then birdied three of the last six holes to match the tournament record of 21 under set by Pettersen in October 2007.
"I didn't think of winning. I was just focused on my game and tried to do my best in the final round," Miyazato said. "It was my lucky day as no matter what I did was right. This victory is a good start of the season for me."
Pettersen finished with a 70 Siam Country Club's Old Course. She had a chance to force a playoff on the par-5 18th, but missed a 23-foot eagle try.
"There's nothing I can do when Ai shoots 9 under," Pettersen said.
"I played pretty good golf and I don't waste much energy thinking of why I didn't win it. For me, it was a great start. ... Obviously, it's not a win. I had two bogeys this entire week, they both came today, but it's hard to play four rounds of no bogey golf. What I've been doing this winter has been a good thing."
The 24-year-old Miyazato earned $195,000 for her second LPGA Tour title.
"I was trying to focus on every single shot and not trying to win or get a low score," Miyazato said. "Just every single shot, try to hit the fairway, hit the green and make some putts. It was really simple, but under the pressure it was really difficult to do. I did it well."
Miyazato, 10 under on her final 16 holes, also won the Evian Masters last year in France and has 15 victories on the Japanese tour.
"The Evian Masters gave me good experience," she said. "There were a lot of pressure packed situations today, but I controlled myself really well. This time, I felt like I was able to get the win with my style of golf."
Taiwan's Yani Tseng (69) was third, six strokes back at 15 under. Karrie Webb (67) and Cristie Kerr (70) followed at 13 under, and Laura Davies 65), Maria Hjorth (71), Momoko Ueda (72) and Song-Hee Kim (73) were 12 under.
Top-ranked Lorena Ochoa, the winner last year, had a 72 to tie for 18th at 6 under, while Michelle Wie closed with a 69 to tie for 22nd at 5 under.
"Wish I could have made a few more putts. Hopefully I'll play better next week," said Wie, headed to Singapore for the HSBC Women's Champions.
Miyazato began her big mid-round run with a birdie on the par-4 sixth, then eagled the par-5 seventh and added birdies on Nos. 9-11 to cut Pettersen's lead to a stroke.
Pettersen dropped a stroke on the par-4 ninth with her first bogey of the tournament, but birdied the par-5 10th for the fourth straight day to push her advantage back to two strokes. Miyazato quickly countered, birdieing the 13th to again pull within one, and making another birdie on 15 to tie Pettersen at 20 under.
Pettersen fell back with a bogey on 16, missed a 6-foot birdie putt on 17, then settled for a birdie on 18 after missing her eagle try. In her 2007 victory, Pettersen beat Davies with an eagle on 18 after blowing a seven-stroke lead in the final round.
"Had my chances," Pettersen said. "I should have made the putt on 17. I played it exactly where I wanted it, but it broke a little bit more. I can't really control other players. I still shot 20-under par. I came close."