News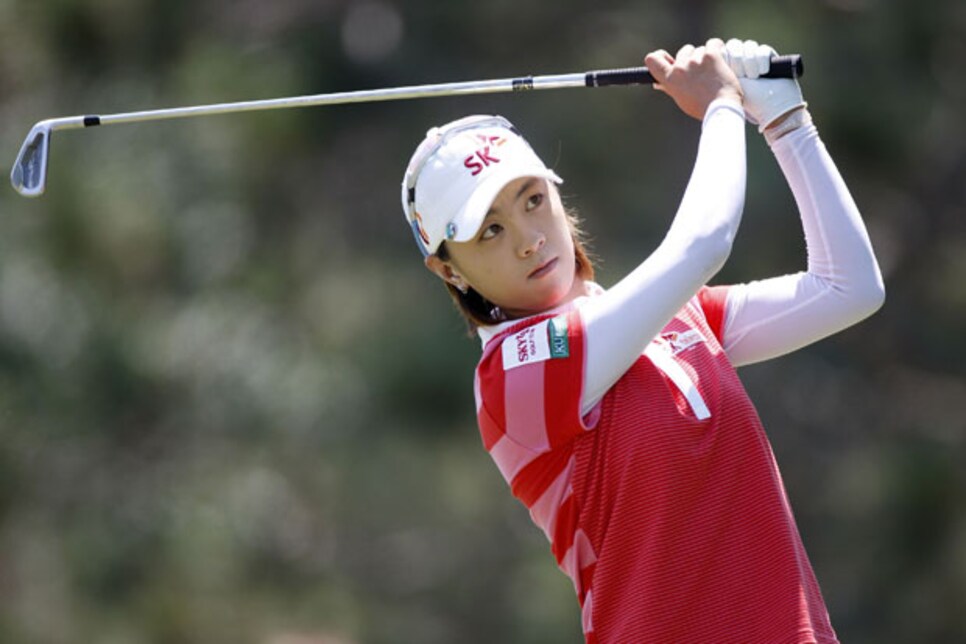 Choi birdied the last hole of regulation to get into the playoff before winning.
SYLVANIA, Ohio (AP) -- In each of her two previous LPGA Tour victories, Na Yeon Choi birdied the last hole to win.
It took a little bit longer at the Jamie Farr Owens Corning Classic, but she did it again.
Choi made a 2½-foot birdie putt on the second playoff hole Sunday to beat fellow South Koreans In-Kyung Kim and Song-Hee Kim and American Christina Kim.
"As I was walking toward the green today, I was thinking about how I had won the last two tournaments and I said to myself, 'Maybe I can do it again,'" she said through an interpreter.
Choi had rounds of 64, 67, 68 and 71 to finish at 14-under 270. It took a gutty 15-foot birdie putt on the 72nd hole to even extend her day after she had blown what had at one time been a five-stroke lead.
"It was tough out there. I was nervous at times," Choi said. "But I tried to focus on my game. Now I'm really happy, and proud that I controlled my emotions today."
Choi, who led after each of the first three rounds, was up by two strokes at the turn but bogeyed 14 and 15 to lose the lead. In-Kyung Kim, who shot a 64, had four birdies on the last seven holes to get to 14 under and slide past Choi.
Song-Hee Kim, who had a final-round 66, birdied the 17th to join In-Kyung Kim at that number
Christina Kim, who was five back of Choi after a double bogey at 10, birdied the next three holes and added another one at 17 to join the growing crowd at 14 under. Playing in the same pairing with Choi, she watched Choi nail her long birdie putt at the 72nd and then had a 12-footer for the win.
"I knew that if I wanted to win I had to at least give it a go to make it to the hole," she said. "So I said, 'Screw it.' I hit it and it's either going to go in or not."
But it missed off the right edge.
The playoff holes were 18 and 17, both par 5s. Neither is a backbreaker, but they're also not reachable in two shots.
"We were playing two par 5s, which you can make birdie on," In-Kyung Kim said. "I had my chance, and everyone had their own chance."
With thousands of people now ringing the 18th green, the drama built on the first playoff hole. All reached the green in regulation, but all four missed birdie putts of 10-18 feet. After the other three missed their birdie attempts, Song-Hee Kim failed to make a 10-footer.
"The thing is, you have to expect everybody to make their putt," Christina Kim said. "Once you get into match-play format, you have to think that someone's going to make it. I was surprised when none of the putts went in. It was a very difficult hole location -- but, still -- I thought someone was going to make it."
So the four went back to the 17th hole. Song-Hee Kim flew her third shot over the green and into a bad lie in the back bunker. She barely got her fourth shot out, dooming her chances. Christina Kim had a 20-footer for birdie, In-Kyung Kim a 12-footer and Choi's wedge nestled close.
After the first two missed their birdie attempts, Choi, who had previously won the Samsung World and Hana Bank-KOLON championships, tapped hers in.
Her caddie, Paul Fusco, had helped her control her emotions throughout the up-and-down day after three rounds in which she was always in command.
"He told me to calm down. I was nervous after those two bogeys and he said to just calm down," Choi said. "I tried to think positive. On the last (72nd) hole, I knew I had to make that putt. I tried putt it with great passion."
Jiyai Shin just missed the playoff by a shot after birdieing the final three holes in a 64.
Shin, No. 6 in the world rankings, said she and her fellow South Koreans motivate each other.
"We're really close, but on the course we're in good competition with each other," she said. "It's a really good thing, because when other Korean players play well, I'm thinking, 'Oh, I hope I do more.' It pushes me to do more. Then if my friends win, the congratulations come from heart."