News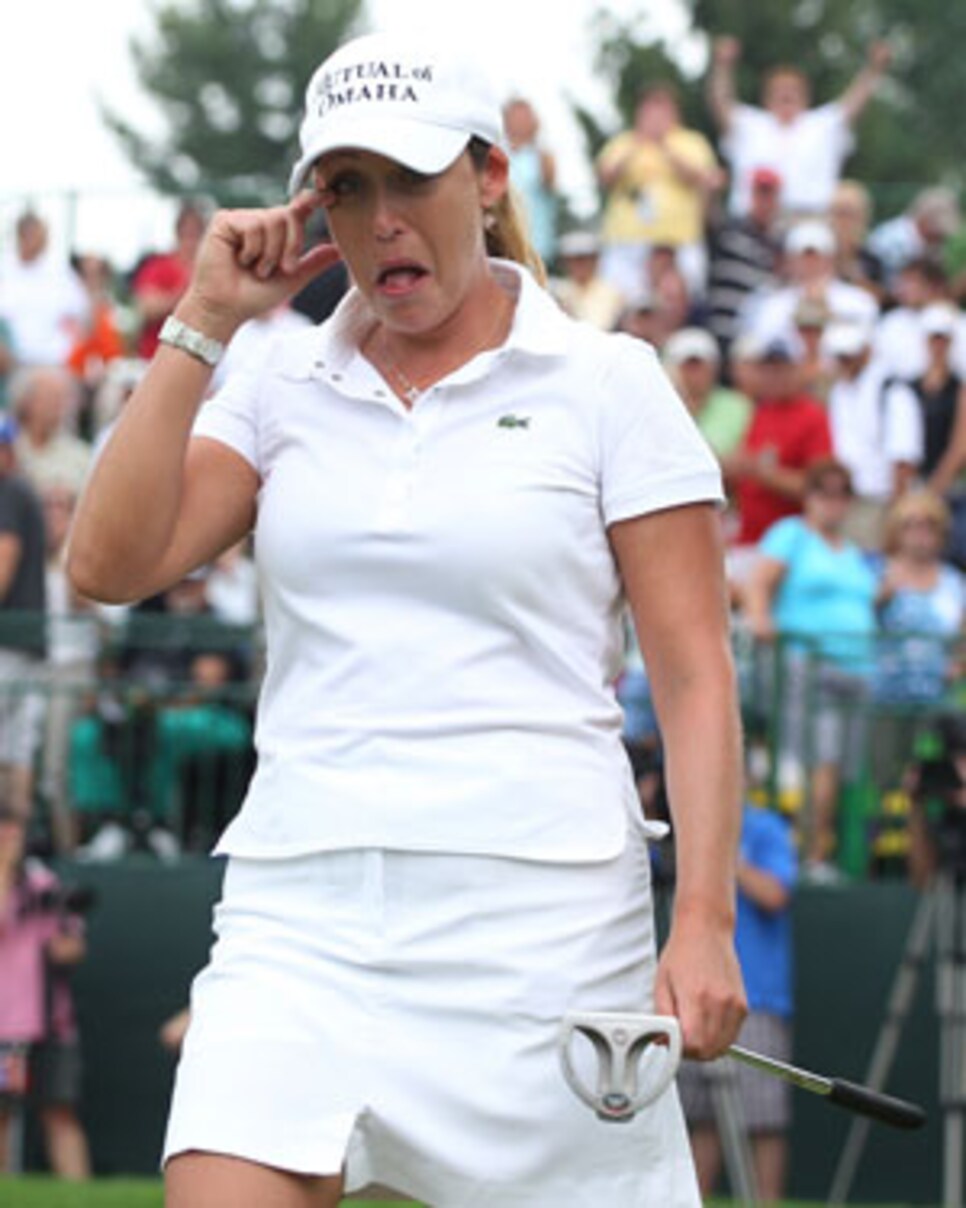 Kerr's 12-shot win ranks as one of the most lopsided in major history.
PITTSFORD, N.Y. (AP) -- Cristie Kerr soared to a 12-stroke victory at the LPGA Championship on Sunday in one of the most lopsided wins at a major, leaving her in position to become the first American ranked No. 1.
Kerr closed with a birdie for 6-under 66, finishing at 19-under 269 and leading all four rounds. This was her second major title, the other coming at the 2007 U.S. Women's Open.
"It's been such an amazing week," she said. "To play here well on a golf course this tough and to win by that many shots in a major championship — that's just unreal."
Kerr began the final round with an eight-stroke lead on a humid, overcast day at Locust Hill Country Club. She opened with six straight pars before birdieing three of her next four holes.
By winning the $337,500 purse at the $2.25 million tournament, Kerr was projected by the LPGA to overtake Japan's Ai Miyazato when the world rankings are released Monday. Miyazato needed to finish second to remain No. 1.
Kerr is the first American to win the LPGA Championship since Juli Inkster in 2000. She becomes only the fifth player to hold the No. 1 spot since the rankings were introduced in 2006.
"There are no words," Kerr said.
Miyazato opened the day at 1 over. She mounted a big rally with seven birdies before closing with a bogey-5 after hitting her tee shot into the rough. The four-time winner on the LPGA tour this season shot 66 to finish at 5 under in a tie for third with Jiyai Shin (71), the world's No. 2 player. Song-Hee Kim (69) finished second.
Kerr's margin of victory beat the previous LPGA Championship record by one stroke set by Betsy King in 1992. Among all LPGA majors, the 12-stroke advantage is tied for second on the list with Babe Zaharias' victory at the 1954 U.S. Open. Louise Suggs holds the record with a 14-stroke victory at the 1949 U.S. Women's Open.
Kerr began celebrating while walking up the 18th fairway, having stuck her approach shot within 5 feet. She raised her arms, broke into a wide smile and hugged playing partner Jimin Kang.
After sinking her birdie putt, Kerr pumped her fist and raised her arms before breaking into tears. She was then doused by champagne by friend and fellow LPGA Tour player Natalie Gulbis.
This was Kerr's 14th win in 14 years on the tour. It's also her second victory -- and fourth top-three finish -- this season after winning the State Farm Classic two weeks ago.
Kerr opened her final round with flawless efficiency, hitting most of her fairways and shooting for the middle of the greens to protect her lead. Then came her run of birdies, which she began by sinking an uphill 18-foot putt on the par-3 seventh. As a big cheer arose from the gallery, Kerr punched the air and flashed her first big smile of the day.
Emboldened by her birdie, Kerr went for the green off the fairway on the uphill par-5 eighth and two-putted from 30 feet to go to 15 under. After a par on the par-3 ninth, she closed with four birdies on the back nine in her second bogey-free round of the week..
Kerr opened with a 68 to sit in a three-way tie for the lead Thursday. She then took control with a 6 under in the second round to open a five-stroke margin. With a 69 Saturday, she extended her lead to eight to set the LPGA Championship record for largest 54-hole lead.
The only question was whether she would be pass Miyazato in the rankings. Miyazato matched Kerr in carding the day's low round despite the bogey on No. 18.
"It was a little disappointing on the last hole, but I played really good, and didn't expect I could shoot like 6 or 7 under," Miyazato said. "I did my job, so it makes me feel good."
What blew her away was Kerr's dominance.
"That's almost too good," Miyazato said, figuring 8 under would be good enough to win the tournament. "She's just amazing. I played really good, too, but she is just better than me."
Kerr's rise comes with women's golf going through a changing of the guard. In April, Lorena Ochoa followed Annika Sorenstam into retirement, leaving a vacuum at the top.
Kerr will become the third player at No. 1 in the past three weeks. Miyazato supplanted Shin last week by winning the ShopRite LPGA Classic, her fourth victory of the year.
Americans have won only four of the past 14 majors, with Kerr winning two of them. Americans also have won only six of the past 34 LPGA Tour events, with Kerr winning three times.