News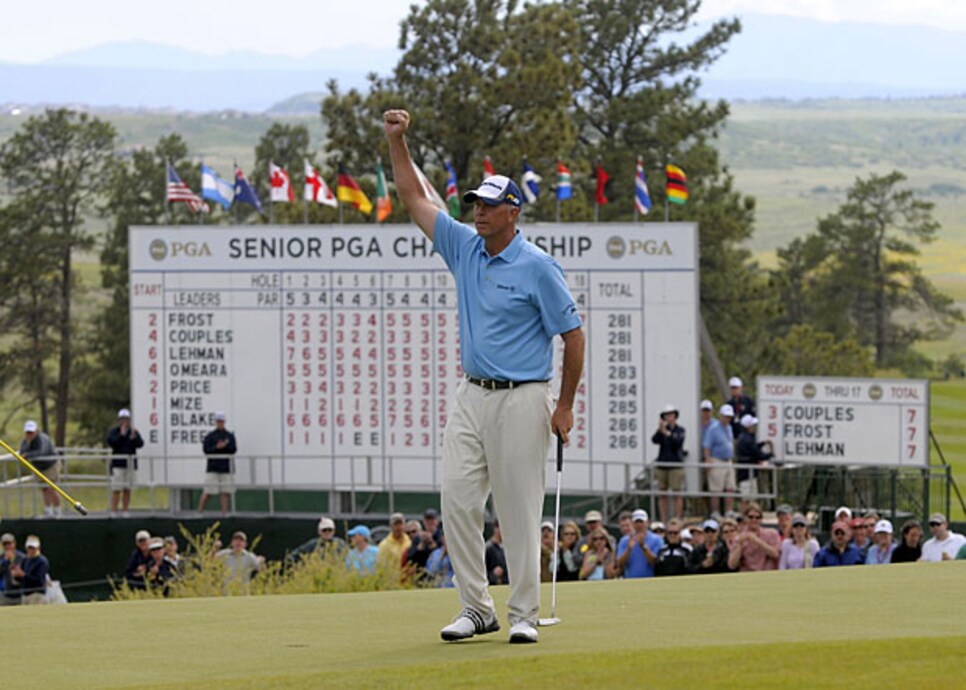 Lehman defeated Fred Couples and David Frost in a playoff to win the Senior PGA Championship.
Minnesota's Tom Lehman once told me a story about the time he was driving from Amarillo, Texas, to his home in California, trying to cover 1,000 miles of Interstate 10 in 12 hours after a Nationwide Tour event. In Gallup, N.M., he pulled into the parking lot behind a Holiday Inn, reached into his shaving kit for a tube of shampoo and a bar of soap, and showered in the rain. He was 31 years old at the time and at a point in his career where he preferred not to spend 30 bucks on a hotel room.
Iowa's Zach Johnson achieved success as a pro golfer in a quicker fashion, perhaps, but off the same dusty highway, playing the Prairie Golf Tour before becoming a dominant force on the Hooters Tour and winning for the first time on the PGA Tour at 28. But like Lehman, who was a football player in high school, Johnson was a jock too, playing soccer and using that competitive nature he honed in team sports to sharpen his golf.
Their swings would both be described more as "athletic" than "artistic," but these two Midwesterners have figured out a way to win in the big moments, as they did this past weekend in the Senior PGA Championship and Crowne Plaza Invitational at Colonial. Lehman's victories have come at such venerable layouts as Muirfield Village, Royal Lytham, Southern Hills and, coincidentally, Colonial, where Johnson shot a pair of 64s on the weekend for a tournament record 259 at the course revered as "Hogan's Alley." Next to his triumph at the 2007 Masters, this was Johnson's highest-quality win, in an atmosphere that was like one of the old Colonials, with a star-powered field that produced a Texas shootout on Sunday.
The knock on Lehman when he was named captain of the 2006 U.S. Ryder Cup team was that he hadn't won enough (he has just five PGA Tour titles), but any of the young guys who have flown across golf's radar screen this year would take his career in a heartbeat, with a major, the 1996 British Open; a PGA Tour Player of the Year award (also in 1996); and a one-week reign at the top of the World Ranking as his legacy before Sunday's playoff win over Fred Couples and a game David Frost. Lehman's win at Colorado GC was a reminder not only of how well he closed, but also of how close he was to winning a green jacket in 1994 and the U.S. Opens of 1995, '96 and '97.
While he hasn't contended in as many majors as Lehman, Johnson has already won two more tournaments, and while a majority of his seven victories have come in middle-tier events, he has enough of them that his 2007 Masters victory has long been validated. As an acknowledged leader on the tour -- he's a PGA Tour policy board member and one of the most thoughtful interviews among his peers -- Johnson is tracking toward a Ryder Cup captaincy of his own someday. Jordan Spieth, Jason Day or Rickie Fowler -- to name just three of the young stars who have shot across the golf sky so far this season -- would take Zach's career right now and call it sweet.
And while they aren't exactly old school, the victories by Lehman and Johnson this weekend come with a reminder: Don't get carried away the next time a kid makes the cut in a major, like 16-year-old Matteo Mannasero did at Augusta; or shoots 58 like Ryo Ishikawa did in Japan; or goes 128 on the weekend like Rory McIlroy did at Quail Hollow. Golf's next great player could be driving across the heartland at this moment.