News
Green: "Golf Saved My Life"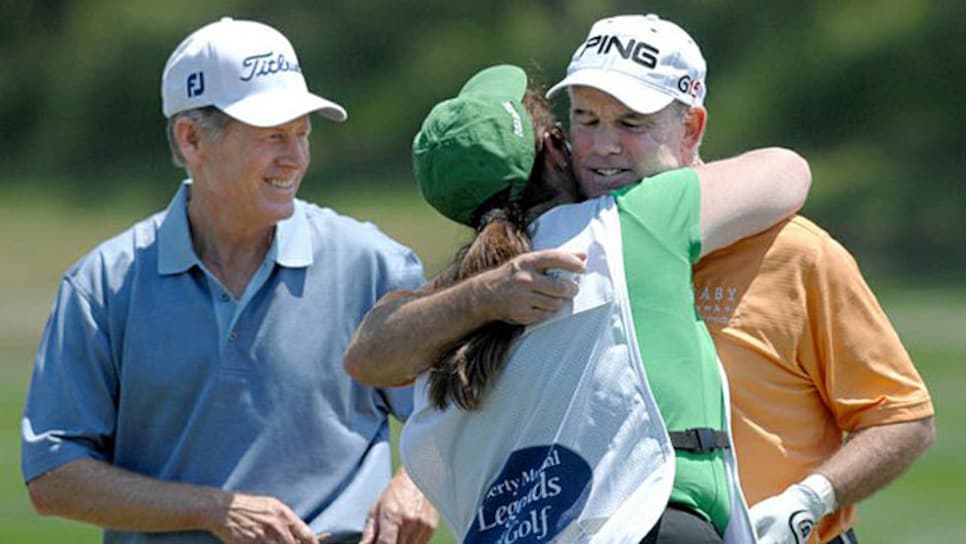 Ken Green's play in his return to golf already has him thinking about adding events to his schedule.
SAVANNAH, Ga. -- Ken Green may not be quite ready to bear the full weight of his game on his own just yet, but with the help of the not-so-broad shoulders of Mike Reid, he was able to find solid footing in his first competitive round on the Champions Tour since a horrific accident took the lives of his loved ones and most of his right leg last June. Though the numbers are squishy because the venerable Liberty Mutual Legends of Golf is, of course, a team event, Green went out in a nervous 39, hit his first green on the ninth for a stomach-settling par, then played the back nine one under with birdies on the 11th and 15th. It left Green/Reid five back of the leaders John Cook/Joey Sindelar and Mark O'Meara/Nick Price, with whom they played the opening round at the Westin Savannah Harbor Golf Resort and Spa.
In what was probably the only time in recorded history more people came out to watch Ken Green tee off than Tom Watson, Green, who always favored his namesake color, showed up in orange. The golf shoe on his left foot is a nine and a half. The shoe on his prosthetic right leg is a six. It was an innovation he came up with because a longer shoe kept getting stuck. The shiny white size six is covered with names written mostly in blue Sharpie. Jeanne. Brother Bill. Nip. Hunter. Bravo 6. Shelley. Jr. Missi. "I hate to say it, the way it's about to sound, I did my dead people on the right," he said of the names on the outside of the foot. His girlfriend. His brother. His dog. "On the left I just did the people I still kind of have. Shelley (his sister, who caddied for him), Jr., my son, and Missi is just to always remember Mississippi." The name Hunter was on top and the only one in red. It was for his son who passed away in his dorm room at Southern Methodist University in January.
Green's left wrist was taped, as was his left ankle. On the fourth hole he paused to pump up his prosthetic leg. Anybody in the field could mis-club, Green was the only guy who could mis-sock. "I made the mistake of putting the wrong sock on so my leg is going too far down," he said. "When you're nervous you never do what your supposed to do. I put on one short. Tomorrow I won't do that. You air vacuum, try to get it as tight as you can."
His sister, Shelley, helped him in an out a fairway bunker on the first hole. O'Meara did the same at the green on the 13th. After he hit 6-iron to 15 feet and made the birdie on the 172-yard 15th, Reid took the ball out of the cup. Shelley hugged him.
"To be honest, and he'll probably admit it, he was a little apprehensive the front nine," said Price. "First four or five holes, I think he felt a little nervous, and certainly looked like it. But we were pulling hard for him and to see the way he played the back nine, he really played beautifully."
Shortly after the accident, Reid, who played with Green in the Legends last year, sent him a text message. "I said, we can beat most of these teams on three legs, so get your game ready," recalled Reid. "I thought I would be a little more of the Lone Ranger today but he carried me on the back nine. It was really fun. I could tell the juices were flowing for both of us. The back nine, for a moment there, with the quality of shots he was hitting, you could almost forget about what's transpired in his life in the last year. I think he was getting a feel for his swing by the end." Green's swing, which was never very long, is even shorter now. Because he has trouble transferring his weight, he kind of flips the club at the bottom. Timing issues led to a lot of hooked drives and iron shots hung out to the right during his shaky opening holes.
But, really, what Green was getting a feel for was his future. "I've been playing some golf but most of my golf has been up and down and up and down and up down up and down," said Green. "There wasn't like legitimate birdie chances. Today on the backside, I keep going back to that the dream is attainable. That just gives me so much more fight and desire. It's a wonderful thing. I don't know how else I can describe it. It's just such a high that I know I can do this. Golf saved my life. Without golf I would never have handled what's come down the road for me. The thought of being inside the ropes has just kept me going. This last nine, is like, 'Huh, I think I can do this, maybe I can pull this off.' I can't tell you what that does for my spirit. It would have been a tough pill to swallow if I couldn't pull it off or if I just played like a normal, every day golfer. I would have felt awful.
"I want to help the game of golf the best I can. I'm not known for inspiring people throughout my career so that's a wonderful feeling that I've got potentially that chance to do something nice and unique whether it's for the game of golf, the disabled, maybe other people who have had accidents, the war guys. Doing something good is a good thing. You don't always have that opportunity and maybe I do."