News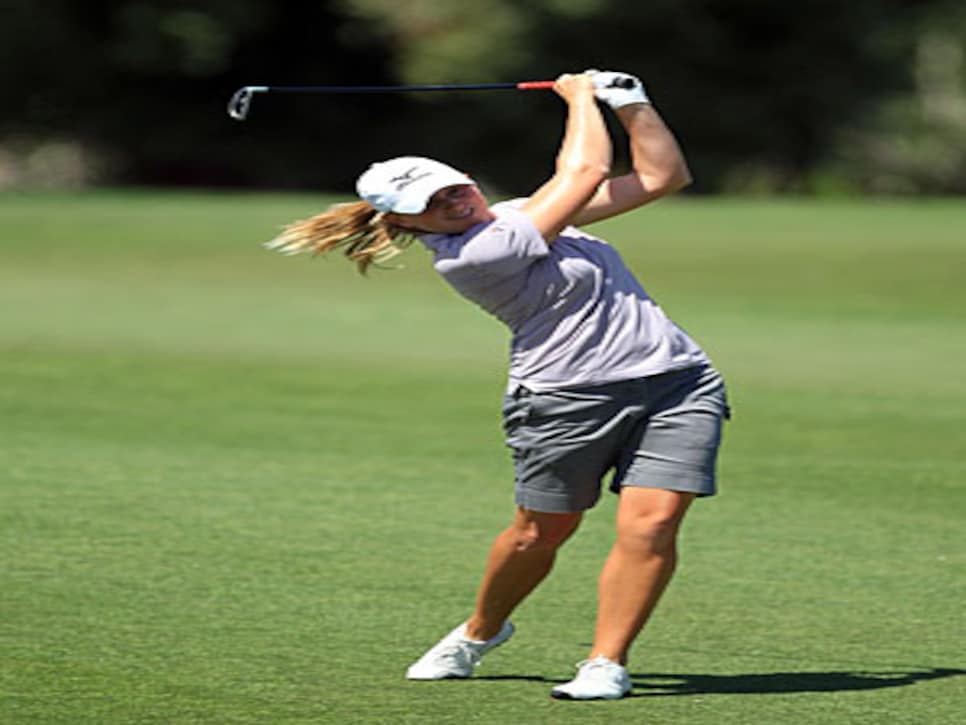 The win was Lewis' first on the LPGA Tour.
RANCHO MIRAGE, Calif. (AP) -- Stacy Lewis held off defending champion Yani Tseng to win the Kraft Nabisco Championship by three strokes Sunday, earning her first LPGA Tour title in the year's first major.
Lewis shot a 3-under 69 to finish at 13-under 275, rallying from an early two-stroke deficit while going head-to-head with the world's top-ranked player.
She punctuated a tenacious back nine in gusty wind at Mission Hills with an improbable 20-foot par putt from the fringe on the 17th hole, prompting a celebration in the raucous gallery.
Tseng shot a 74 with four bogeys, losing focus in her quest for her fifth worldwide title already this year. Lewis bogeyed the 15th hole to allow Tseng to pull within one stroke, but Tseng bogeyed the next two holes.
"I can't even believe it," said Lewis, who overcame scoliosis to become an elite golfer. "I've felt like I'm going to throw up all day. It's awesome. ... I just couldn't believe I made it (on the 17th hole). I thought I had a good shot from there, but I just tried to stay calm."
Lewis' putt on the 17th broke abruptly to the left and dropped straight home, with Lewis raising her fist in celebration. The 26-year-old from Texas with her alma mater's Arkansas Razorbacks head cover on her driver then stood staring at the green, hands on her knees in exhaustion, while Tseng missed an 18-foot par putt that essentially clinched it.
After sinking her final 3-foot putt on the 18th, Lewis raised her arms in disbelief before hugging Tseng and her caddie, and several players quickly doused her with beer in the LPGA tradition for a first-time winner.
Lewis and her family then took the Kraft Nabisco's traditional winner's leap into Poppie's Pond, holding hands while running to the water, where Lewis and her caddie did modified cannonballs.
Morgan Pressel, Katie Futcher and Angela Stanford finished nine strokes behind Lewis in a third-place tie. Michelle Wie (75) and 2007 Kraft Nabisco champion Pressel (76) both faltered badly in their final rounds after starting the day within striking distance of Tseng and Lewis, with Wie falling into sixth place - still the former child prodigy's best finish in a major since 2006.
Lewis led going into the final round of the 2008 U.S. Women's Open, finishing third in her first pro tournament. She established herself as a solid pro in the 2½ years since, but still hadn't won.
After honing her swing and refining her approach over the past year, she came into the seeason with high expectations. After blowing a second-round lead against Tseng in the Australian Masters seven weeks ago, Lewis was by far the cooler pro on the final day at Mission Hills.
The famed Palm Springs winds finally kicked up during the coolest day of the tournament, and the strong gusts might have been reflected in the scores. Lewis' 69 matched Futcher and Julieta Granada for the day's low round.
Lewis shared the first-round lead with road roommate Brittany Lincicome and opened a three-stroke lead after two rounds, but Tseng blitzed past her playing partner Saturday with a bogey-free 66 when temperatures finally cooled after two days of stifling heat. Lewis struggled to a third-round 71.
A night off clearly refreshed Lewis, who came out in the final round with all the aggression and confidence she lacked as the leader Saturday. She birdied the second and third holes, and Tseng's bogey on the fourth hole allowed Lewis to pull even.
Tseng took the lead with a birdie putt on the eighth hole, but Lewis immediately pulled back ahead with a long birdie putt on the ninth before Tseng missed a short par putt. Lewis went two strokes up with a 12-foot par putt on the 12th, punctuated by a confident fist-bump with her caddy.
Pressel birdied the fifth hole to move within two strokes of the leaders, but never got closer.