News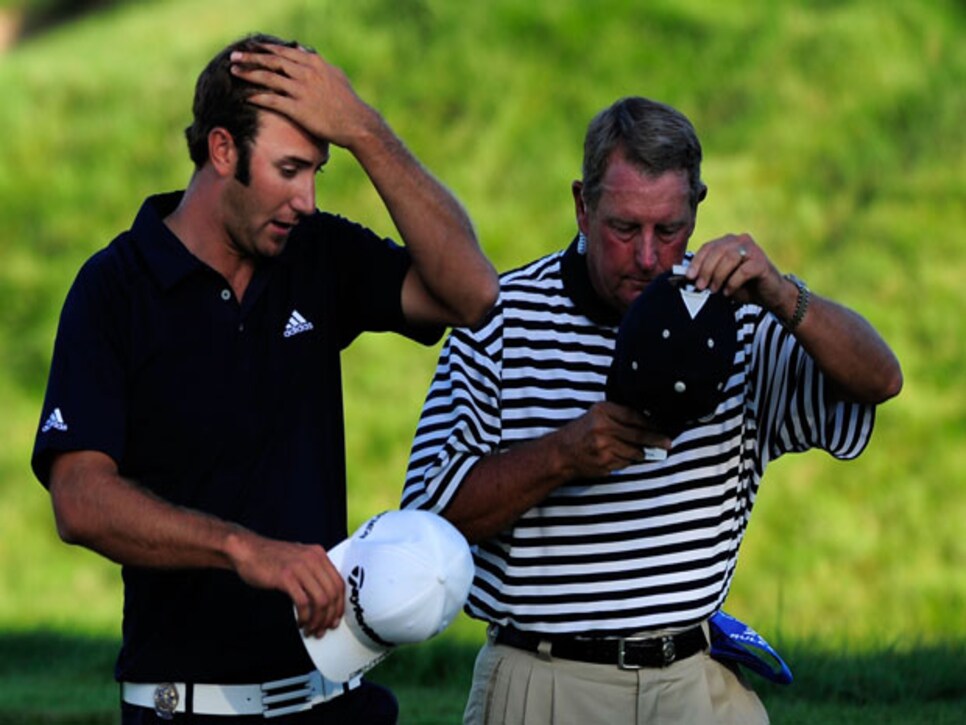 Shortly after missing a putt he thought was for the victory, Johnson was approached by a rules official.
HAVEN, Wis. -- Dustin Johnson blew the U.S. Open with his fast-twitch muscles. The PGA he lost with his rock of a head.
At Pebble Beach a couple months ago, he turned a three-shot Sunday lead into a sneak-out-of-town 82.
This time, at Whistling Straits, he came to the 72nd hole with a one-shot lead that he turned into the dumbest triple-bogey ever.
Harsh word, dumbest. But what else fits?
"Heartbreaking," Bubba Watson said.
"I feel for him," Nick Watney said.
The winner, Martin Kaymer, said, "I don't know if sad is the right word. But I was a little bit shocked."
Fans were angry. From the thousands gathered in the great ampitheater around the 18th green came a chant, "Let. Him. Play. Let. Him. Play." Word of Johnson's two-shot penalty had moved through the crowd. Instead of being the third man in a playoff for the PGA Championship, Johnson walked into the Whistling Straits clubhouse and into a shower. Outside, another chant. "Dustin. Dustin. Dustin." And there was heard a sound heard every day and night in baseball, basketball, and football arenas -- but never, not even by ears older than mine, heard on a golf course. That sound was, "Booooooo." And then, as people realized the news was real, the sound became, "BOOOOOOOOOOOO."
Certainly, sympathy is due. The man lost a chance at a major championship by being penalized two shots when he seemed to have done nothing wrong. He'd hit a terrible drive on the 18th, maybe 40 yards off-line. It came to rest high on a hillside in the rough. The lie was good. The ball sat up on a patch of earth that seemed equal parts sand, dirt, and gallery debris. Johnson addressed the ball with a 4-iron, only to back away when, he said, a shadow moved into his sight. Back over the shot, he sent it into a swale short left of the green. From there, he needed to get up-and-down to win. But he missed an eight-foot putt and believed he was in a playoff with Bubba Watson and Martin Kaymer.
Then he felt a tap on his shoulder.
He said his group's rules official, David Price, said, "Hey, Dustin, come here. I think we've got an issue. I think you grounded your club in the bunker." Johnson said he replied, "What bunker? What hole?"
The bunker in question looked little like a bunker as most golfers know them. But at Whistling Straits, by the count of Golf Digest's Ron Whitten's there are 967 bunkers. Many are truly the devil's traps designed to frighten a player before testing his skill at escape. But maybe 900 of them are nowhere near the action, seemingly dropped willy-nilly into the landscape, perhaps because Pete Dye, the architect, wanted to recreate the Sahara in Wisconsin. The bunker in the Dustin Johnson incident was one of those with no apparent purpose, so far out of the way of ordinary play that it looked more like a small child's sandbox than anything to do with professional golf at the highest level.
But there it was, under Dustin Johnson's feet.
And he should have known better than to touch it with that 4-iron.
Of course, he knows you can't ground a club in a bunker. Johnson, to his credit, looked at the CBS videotape and agreed he had grounded his club not only once, but twice. The PGA rules officials said Johnson accepted their ruling without debate or rancor. Mark Wilson, co-chairman of the PGA of America rules committee said, "I didn't expect him to be happy, but I will certainly say that he was a gentleman. He handled himself very well."
What Johnson never knew was that he was in a bunker.
This mess is a bunker? This garbage? Frozen lemonade wrappers? Grass beaten down, it's a bunker? Up here, on a hillside, 40 yards off anybody's line, this junk is a bunker?
"I just thought I was on a piece of dirt," Johnson said.
Fact is, every piece of sand at Whistling Straits is a bunker. With 967 of the things, PGA rules officials long ago -- even before the 2004 PGA Championship here -- decided they could not distinguish between in-play bunkers and Dye's Sahara-fetish bunkers. So they said, simply enough, all sandy areas will be played as bunkers. That ruling should not have come as a surprise to any professional golfer -- primarily because the PGA officials made it the first rule on a sheet of tournament rules, and they posted it in 24-point type on paper taped to the locker room mirrors. That reminder began:
"BUNKERS: All areas of the course that were designed and built as sand bunkers will be played as bunkers (hazards), whether or not they have been raked. This will mean that many bunkers positioned outside of the ropes, as well as some areas of bunkers inside the ropes, close to the rope line, will likely include numerous footprints, heel prints and tire tracks during the play of the Championship. Such irregularities are a part of the game and no free relief will be available from these conditions."
All you have to do is read it.
Now, maybe in the Sunday heat of a major, a guy can be forgiven for forgetting a rule.
But Dustin Johnson, after a quick shower, stood in a scrum of journalists and said he'd never read the local rule.
"I only look at it if I have a reason to," he said, meaning a rules sheet, "and I didn't see I had a reason to."
This is willful ignorance, which is a high-sounding way to say, Wow, what a rockhead.
In 1968 at the Masters, Roberto de Vicenzo signed for a 4 when he'd made 3 at the 71st hole.
The extra shot kept him out of a playoff with Bob Goalby.
De Vicenzo said, "What a stupid I am."