News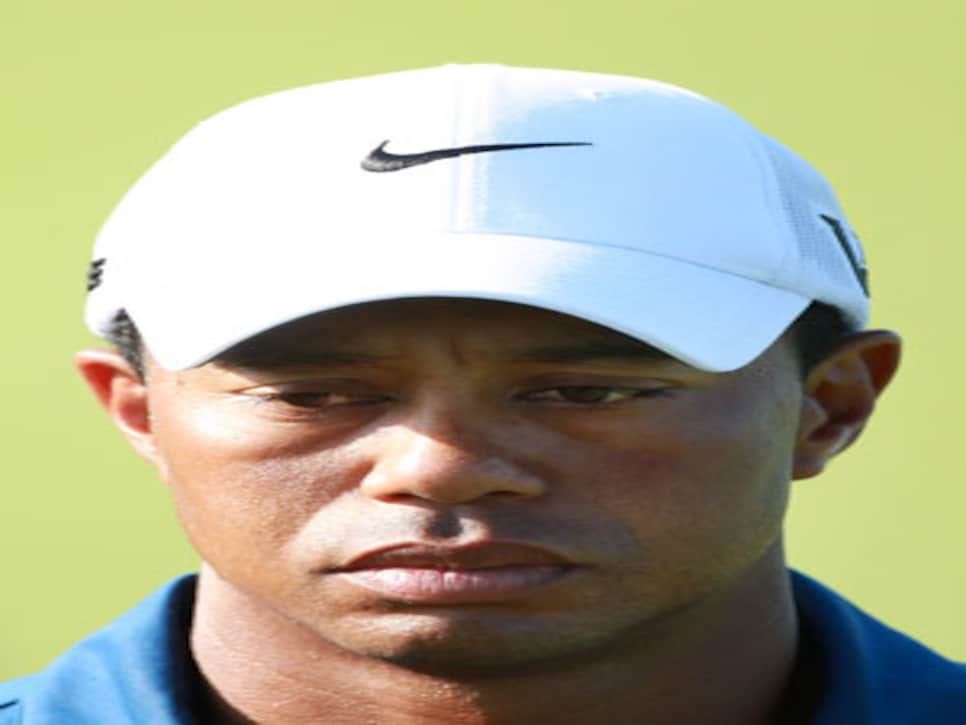 Woods could not build momentum in his third round.
HAVEN, Wis. -- Five hours earlier, Tiger Woods could feel it.
At the 17th, he'd sent a 4-iron rocket to a flagstick barely hanging on to this world. Ten feet. Birdie.
Last hole, a 5-wood bunker shot from 188 yards, carved around the bunker's fearsome lip, done astonishingly, giving him a putt from Lord knows how far, a hundred feet maybe, the thing breaking north before turning south with a last twist north toward the cup, slowing now, ready to fall in, Woods hopping and spinning, hoping. Stopped two inches short.
For a dead man, this was the stuff of resurrection.
He could feel it coming back. Playing 12 holes to finish his second round Saturday morning, he'd added a 70 to his first-day 71 and was only five shots off the leader. He said, "With the dots where they are for this afternoon," meaning the dots on graphs of the afternoon's third-round hole locations, "there's some really tough pins, but there's some pretty accessible pins. Pins that you can be pretty aggressive at. And you'll probably see some pretty good scores this afternoon."
Yes. Wenchong Liang, 64. Nick Watney, Stewart Cink, and Jason Day, 66. A crowd at 67. Of the 72 players, 40 broke par this day.
For those who hear Nick Watney takes a three-shot lead into the last round of the PGA Championship and ask, "Nick Who-ney?" the answer is he can play more than a little bit. He's one of those tall flat bellies out of California, 29 years old, twice a winner on the PGA Tour, and, more to the point here, good enough this year to have finished seventh in both the Masters and the British Open. Though he's never been in the Sunday heat with a major championship his to win -- or lose -- he believes he's ready. He even has a plan.
"At this point, it's just another golf tournament," he said. "I think that's the best way to look at it. Obviously, it's not, but I just need to go out there and keep doing what I'm doing."
What he did Saturday was surround flagsticks with wedge shots. There was virtually no wind. Rain, fog and humidity of the week had left the Whistling Straits course soft and vulnerable. It was there for the taking, as Woods knew, and here's how Watney made birdies from around 100 yards: Lob wedge to 6 feet. Pitching wedge, 3 feet. Sand wedge, 15 feet. Sand wedge, 18 feet. Lob wedge, 12 feet. "I was spot-on with those," he said. Long bedeviled by patchy putting, Watney made 'em all Saturday. "I wish I could putt like I did today consistently," he said. "But I think it's more about just trusting it as opposed to anything physical ... So I'm trying to do that and it's working great this week."
Trust comes easier earlier in the week, of course, and the first question at Watney's press conference after his round was a vivid reminder of that truth. A scribbler asked, "You have seen what happens to other guys, like Dustin Johnson, in the final round of a major that haven't been there before." Johnson had a three-shot lead going to Sunday at the U.S. Open -- and shot 82 to finish seventh. "How do you avoid having that happen to you?"
Watney is a laid-back guy who always seems happy for no reason other than it's a good way to get through the day. So he took the will-you-be-a-choking-dog-too question with a smile and said, "Well, I can only control what I do. And I'm going to go out tomorrow, put the tee in the ground on No. 1 and just try to focus on that shot. It's going to be a long day, it's going to be a tough day, but I'm really looking forward to it."
As it happens, Watney's playing partner in the final twosome Sunday is ... Dustin Johnson. Not only has Johnson declared the Pebble Beach debacle to be a thing of the distant past, he actually seems to believe it. Otherwise, how could he have shot 67 Saturday and again put himself in position to implode in a major? The fact they have company at the top of the leader board -- the first six players have a combined total of zero major championships -- could be of some comfort to Watney and Johnson. But Watney isn't buying that, for one good reason: "The nature of this golf course is there's train wrecks everywhere."
Yes, if the weather forecast for windy conditions holds, there could be locomotives strewn all over the place. If Saturday's benign conditions prevail, it'll be a shootout -- as the man from China suggested with his 64. Perfectly enough, as Wenchong Liang, of Guandong, China, pitched from a greenside swale at the 9th hole, needing a par for the course record, Tiger Woods stood on the 18th fairway looking down on the green.
The 9th and 18th greens are maybe a hundred yards apart. They are wonders of Pete Dye's architecture, set in a valley far below a gorgeous plateau. While Woods waited up there to hit his second, Liang rolled in a 20-footer. Maybe five minutes later, Woods made a putt of his own from 20 feet. Nice birdie. Still, 10 shots behind Watney, six behind Liang.
So, Tiger, what about Sunday?
"Well," he said, "people have shot 50s before this year."
And he smiled as best a dead man can smile.