News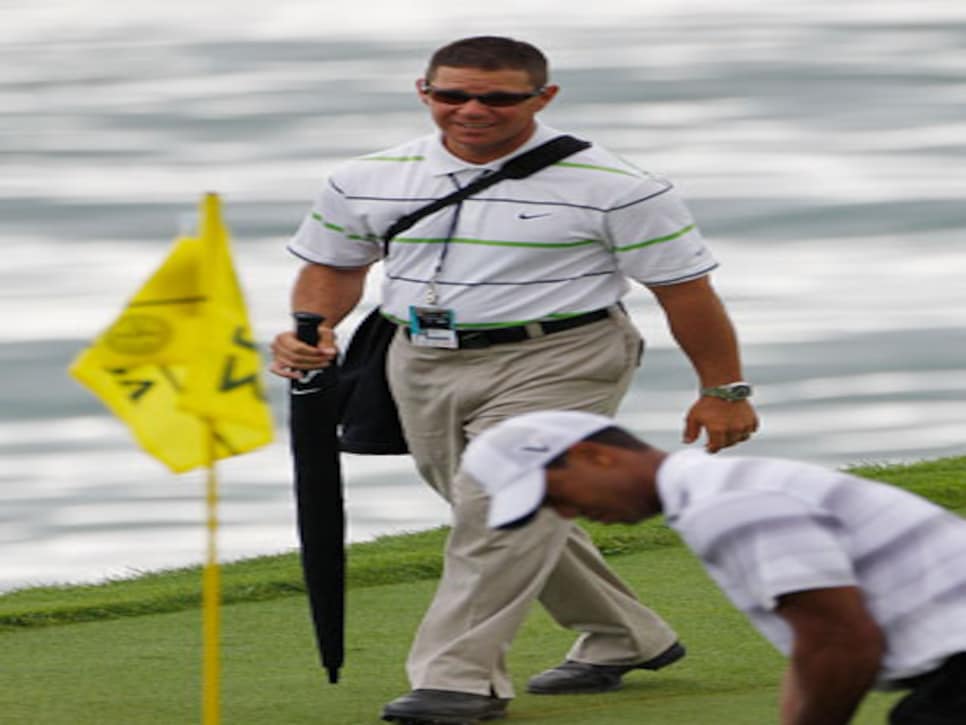 Swing coach Sean Foley has spent time with Tiger Woods this week.
HAVEN, Wi. -- In Bubba Watson's idiosyncratic world, swing coaches do not exist. He believes they're not only unnecessary but counter-productive. I hasten to say that Watson's view is accepted in few places outside his immediate temporal lobe. He is, after all, a grown man -- 31 years old, a professional golfer, a contender in this PGA Championship -- who told the literati assembled here that he uses his iPhone to play "Angry Birds" video games.
Yes, I asked the same question: Angry Birds? Turns out, to quote a user's online review, "Angry Birds is a wacky castle-destruction physics game where you fire birds through a slingshot in order to kill piggies." Here's the plot: "A bunch of evil pigs have stolen the Angry Birds' eggs. Naturally, the birds decide that the best way to take revenge is -- not to get the eggs back, oh no -- but to jump into a slingshot and hurl themselves at the pigs' fortified castles ..."
Such is our weird world that someone's getting rich for thinking that up. And Bubba's doing just fine hurling his ownself against the walls of orthodoxy. The tall, lean left-hander comes with a swing that, like him, has a loose screw or two. But he hits it a mile and has found it often enough to win at Hartford this year and earn almost $8 million in five seasons on tour -- all without a coach, guru, shrink, tarot card reader, or even a Leadbetter bobblehead doll. He is golf's noble savage, proud to say he has never had a golf lesson and has never been tempted.
"The game comes natural to me," Watson said. "It's fun. And I don't want to make it a job. I do this because I love it ... if I get a lesson, that means it's a job and that means I think I'm not good enough anymore, and so ..."
His antipathy for instruction may have been hardened at the University of Georgia when Chris Haack coached the Bulldogs' golf team. His senior year, Watson didn't play, per the coach's decision. "He didn't like the way I did things," Watson said. For one thing, hed refused to address the coach as Coach. "I called him Mr. Haack. Because he's not my coach. He's what they call Coach at the school. But he wasn't my coach. And so we didn't get along. We butted heads."
Which is to say, Watson thinks thinking gets in the way.
He thinks that way about thinking today because he thought that way a long time ago. As a kid 10, 12 years old, he said, you're dreaming about pro golf. "But then when you get to high school and you get to college, you start talking about coaches and swing thoughts and this and that. But really it's not what got you there. What got you there is because you were a good player. That's why the college coach came to you. You can have a chance to play on the PGA Tour because we were good players and not mental cases.
"So if you look at that, and look at what you did as a kid -- as a kid you won golf tournaments and didn't need any help. So why do you need it as an adult? Mental help, I can see, but not swing. I mean, if you're the No. 1 player in the world, you really don't need a swing coach, I think. You just keep doing what you're doing. It's pretty good. Seventy-something wins is pretty good."
Still, there's Tiger with Earl, with Butch, with Hank, now sort of with Sean, the greatest golfer of his time sweating under the unblinking gaze of taskmasters studying every move, videotaping, measuring, bringing in doctors with magic potions. Talk about all work and no play. Small wonder Tiger took a break now and then, eh? As I watched caddie Stevie Williams hold a golf club alongside Tiger's noggin the other day -- a reminder to keep his head still -- I remembered Ben Crenshaw explaining why he would never use the stovepipe putters suddenly in vogue: "I never saw Hogan use one." Nor did we ever seen Ben Hogan with a guru, not Hogan, who said that if you wanted to know the secret, "Dig it out of the dirt."
Hogan's friend, Claude Harmon, did repairs on swings when the suffering fellows came to him at Seminole. Did it for free, a professional courtesy. Maybe the evolution to today's coaching industry began with Jack Grout. He was the pro at Scioto Country Club when a junior named Jack Nicklaus showed up for lessons. Occasionally across two more decades, Grout flew from Ohio to look at Nicklaus' swing. If that made Grout the first coach on Tour, it's yet true he was never attached to Nicklaus' hip in the David Leadbetter/Nick Faldo way. Nowadays, the range is littered with advisors, each dispensing wisdom of the sort that I once tried to pass on to pal Tom Callahan.
Certain I had found The Secret, I started to show him the move.
Callahan barked, "Don't bring that syphilis near me."