News
Kim Looking To Get Back On Track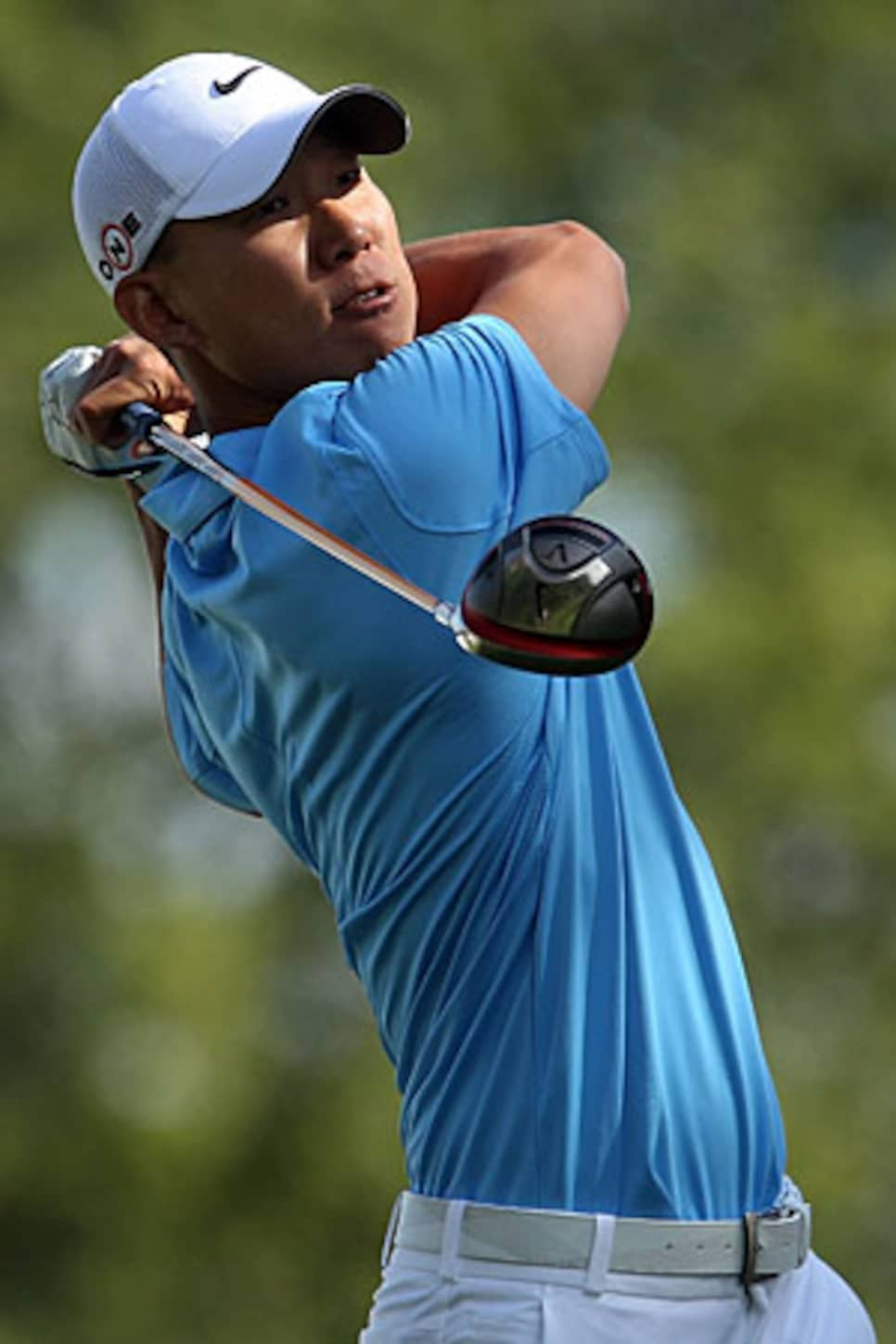 Thumb surgery derailed Kim's strong start in 2010.
KAPALUA, Hawaii (AP) -- Anthony Kim wants 2011 to be a season that changes his career.
He hopes it might be enough to change his reputation, too.
One of the most dynamic young talents in golf? That's what people were saying two years ago, when Kim blew away the field with a record score at Quail Hollow, then shot 65 in the final round at Congressional to win the AT&T National. It made him the youngest American since Tiger Woods to win twice in one year.
If that wasn't enough, he brought energy and attitude to the Ryder Cup and was the catalyst of a rare U.S. victory.
That now seems like a long time ago.
It's not that the 25-year-old Californian has disappeared. He is still among the elite at No. 31 in the world, having reached as high as No. 6 toward the end of 2008. And only PGA Tour winners enjoy the oceanfront room that Kim has at Kapalua, where the Tournament of Champions kicks off a new season Thursday.
But he has a bitter taste about how last year ended.
He won the Houston Open in a playoff, then closed with a 65 at Augusta National to finish third. Thumb surgery a month later kept him out of golf for three months, and he failed to make the Ryder Cup team when he couldn't make a cut upon his return.
Kim still managed to make news, or at least gossip columns.
He has a zest for living, which first came to life with tales from his Ryder Cup celebration at Valhalla and carried on through Twitter and blog reports from a night in the Las Vegas casinos in October.
Is he closer to being like Tiger Woods or John Daly?
"That's a hell of a question," Kim said, smiling at first before pausing to contemplate.
Daly makes more news off the course these days, so it's easy to overlook an amazing talent that brought him a PGA Championship title as a 25-year-old rookie in 1991 and a British Open victory at St. Andrews. Kim found it coincidental that after headlines he made in Las Vegas in October, Daly was the only tour player who reached out to him in a text message.
"Both have majors," Kim said. "I think I'm closer to Tiger because I love putting in the time. Now, I've gotten away from this. But I definitely feel like I'm closer as far as the values of the Asian culture and putting in time, not worrying about tough times. In a lot of ways, I think people see me as a guy who likes to have fun, and that's it. But I care about a lot of things."
Kim is careful not to be motivated for the wrong reasons.
He has trimmed the number of his traveling party and has heard from enough people whom he trusts that playing with the purpose of proving people wrong is the wrong route. Even so, he feels as though fans, the media and players are questioning his devotion to his sport.
"I have a lot of people doubting me, which I like," he said.
When asked why they are skeptical of his future, Kim first mentioned the arrival of so many players in his age group. Indeed, that's what makes golf more intriguing than it has been in years. Martin Kaymer, who just turned 26, last year became the youngest major champion since Woods in 2001. Rory McIlroy won at Quail Hollow at age 20. Ryo Ishikawa was still 18 when he shot 58 to win in Japan. Jason Day won in Dallas, and at 23 is the youngest player at Kapalua.
Slightly older than Kim, and still very young, are the likes of Dustin Johnson and Hunter Mahan.
"A lot of guys played well who are younger, and they're overlooking me, which is fine," Kim said. "It's not that I have something to prove. I know I'm capable of winning golf tournaments."
But it's more than the youth movement bugging Kim.
When asked whether he was troubled about players doubting him because of his activity off the course, Kim's eyes widened and he turned in his chair away from the Orange Bowl game on television.
"One hundred percent. Couldn't have said it any better," he said. "I feel that is a major reason why people doubt me. They don't think I care about golf. It's hard for people who don't know me to say, 'He's 25, having a good time with his friends.' If anyone knows me, they know I'm willing to admit to my mistakes. But when I do something, I want to be the best at it. I'm going to scratch and claw my way up the ladder. People around me see that."
Kim doesn't see the need to explain what happened in Las Vegas. If there was a lesson that came out of that, it was understanding that it's better to be the center of attention inside the ropes than under a neon sign.
"I feel obligated to my sponsors to do a better job of not even letting some of these stories come out," he said. "I don't want to be a player no one can relate to. Sure, I've made some mistakes. I know that I was brought up well by two very great people, people that everyone respects. I'm not the type of person to stray off course. Maybe I did for a minute, but I've realized that I've got to have a game plan - not for my next round, but for my life."
Leave it to Kim to draw an analogy from George St. Pierre, who said the Ultimate Fighting Championship was a lot like golf. He didn't get the sense the UFC welterweight knew much about golf, but his words stuck with Kim.
"He said once you make the golf swing and hit the shot, you can't control it. You have to do everything before the shot to control the outcome," Kim said. "I'm going to do whatever I can to control what I can."
That starts this week at Kapalua, and his hope is to carry that through this year and beyond to get his name back in the conversation for all the right reasons.