News
My Town: Kay Cockerill's San Francisco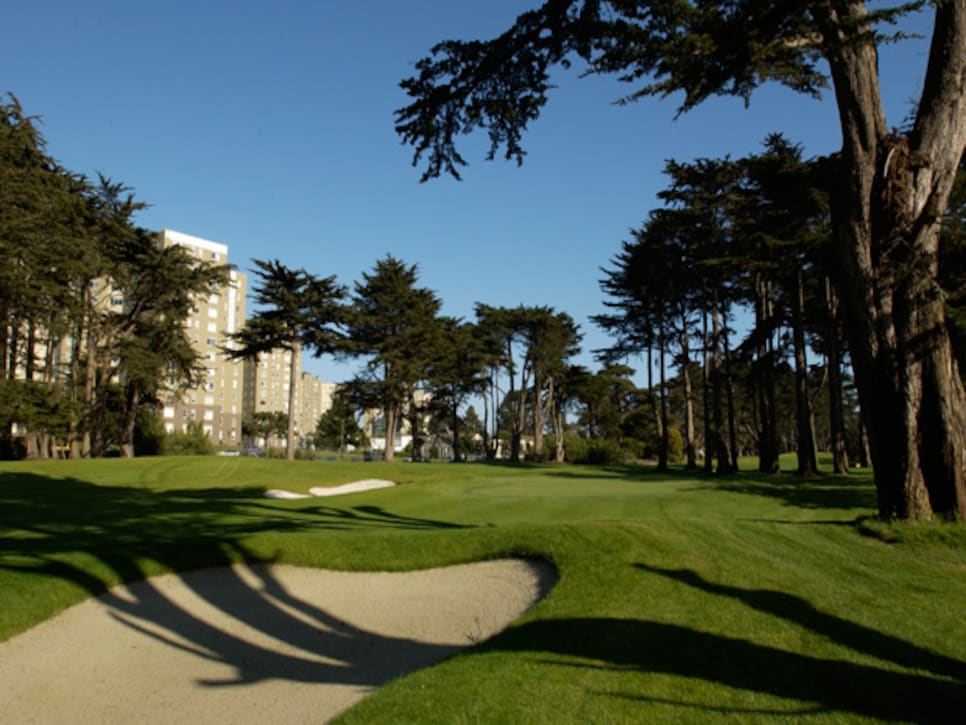 TPC Harding Park is a championship layout bordered on three sides by Lake Merced.
Retired from the LPGA Tour since 1997, Kay Cockerill has had plenty of time to enjoy the embarrassment of riches --golf and otherwise --in and around San Francisco. Cockerill was born in San Jose but grew up in Los Gatos, about 60 minutes south of the city by the bay. A two-time All-American after walking on at UCLA --a school with a program known for producing strong female players --Cockerill won six collegiate events and placed fourth in the 1986 NCAA Championship.
For the past two years Cockerill has lived in San Francisco with her husband, Danny Dann, and knows the area is a popular destination for tourists and golfers alike. Besides the elite private clubs, San Francisco has a number of enjoyable public courses that can challenge even the best player's game. "Not many cities have public courses capable of hosting events like the Presidents Cup and Schwab Cup," Cockerill says. "Plus there are the views of the Golden Gate Bridge."
San Francisco has three really great private clubs and a public course all within a two-mile area. The Olympic Club
, where I'm a member, will host its fifth U.S. Open next year and is my favorite to play, especially the nine-hole, Par-3 Cliffs Course
. It is well worth playing if you know someone who can host you.
If not, there is plenty of good public golf in the area, such as Lincoln Park GC
, a 95-year-old executive course with amazing views of the Golden Gate Bridge. There's also TPC Harding Park
, a championship layout bordered on three sides by Lake Merced. Another good public layout is Presidio GC
. It used to be private and Army-owned, but now it's open to the public. There's also the Alister Mackenzie designed Sharp Park GC
. The beautiful views of the Pacific Ocean there help offset any bad shots.
The Clift Hotel near Union Square Park is a great option. It has been around for more than 100 years but was recently refurbished. Although it still has a lot of its original character --especially its old-fashioned bar called the Redwood Room that really takes you back in time --it is now a trendy, fun place as well. There's a great boutique hotel down by the Embarcadero called Hotel Vitale. I've only been there for dinner, but a lot of people have told me they really like it. It's a good spot in a neat area that has plenty of great restaurants, shops and other attractions.
Boulevard Restaurant, one of my favorites, is located in the historic Audiffred building on the waterfront. It's a great place for a really nice dinner or a special occasion. The food has a bit of a French flair, and the chef, Nancy Oakes, is very well known.
I frequently go to a place near my home in the Haight-Ashbury area called Park Chow. They have a variety of things on their menu including great pasta and salads. It's nothing too fancy, but everything is well prepared, and they have great desserts.
There's a neat bar called Kezar Pub right across the street from Kezar Stadium where the 49ers used to play. It is known for showing soccer games at all hours.
Alcatraz is a must-see. The ferryboat to "the Rock" is really neat, and the audio tour of the prison is amazing.
Going to Fisherman's Wharf and Ghirardelli Square is something fun to do, especially if you like seafood. There are a lot of seals and sea lions down by the wharf; it's a good spot to take the family.
One of my favorite things to do is the mile-and-a-half walk at Crissy Field. It takes you out under the Golden Gate Bridge to Fort Point, the first fort built to protect the Bay Area. It's stunning to look up and see the Golden Gate right above you.