News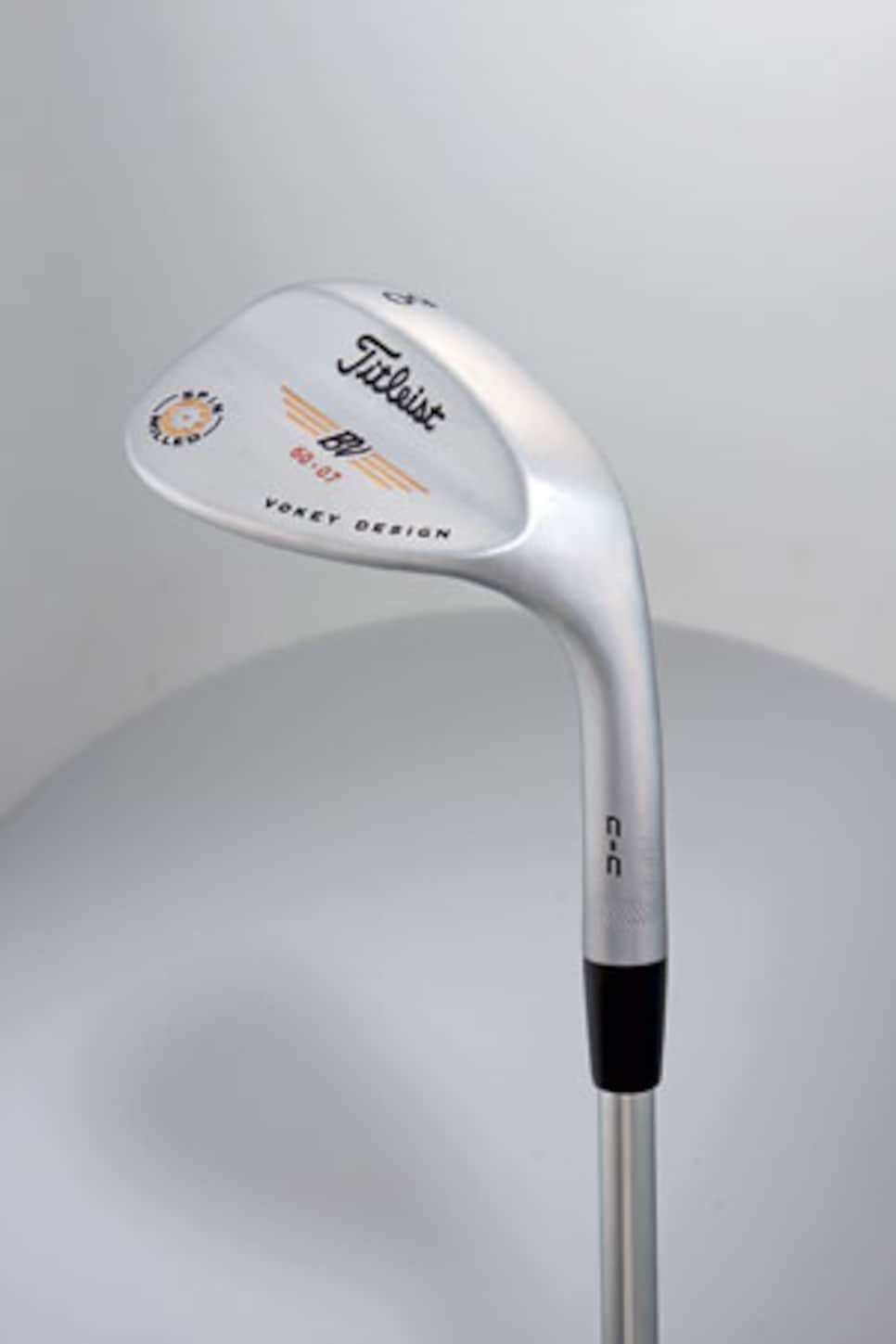 Titleist Vokey Spin Milled C-C Wedge:
Ben Crane used two of these wedges with the 2010 condition of competition conforming groove.
To be called a cheater is the harshest tag a golfer can have attached to him. But that's just what Scott McCarron did when he told the San Francisco Chronicle of Phil Mickelson's use of a Ping Eye 2 lob wedge with square grooves, "It's cheating, and I'm appalled Phil put it in play."
To McCarron and any other player who says or infers that using a pre-1990 Ping Eye 2 wedge with square grooves is "cheating" or even "not within the spirit of the rules," I have two words: Zip. It.
This has nothing to do with whether this is a good rule or even a fair rule. It has to do with facts. The fact is this is not cheating. The Ping Eye 2 clubs (irons and wedges) were grandfathered for life as part of a settlement in 1993 of a suit Ping filed against the USGA. In short, any Ping Eye 2 manufactured prior to March 31, 1990, is within the rules as long as the USGA governs the game. More importantly, this fact was there for everyone to see in August. Of 2008 that is. That was when the USGA announced it was implementing the condition of competition in 2010.
In that notice -- which has been and still is on the USGA's website -- are the following words: "In accordance with previous agreements, clubs manufactured before March 31, 1990, that meet the criteria of USGA Decision USGA/4-1/100, such as the Ping Eye 2, will be treated by the USGA as conforming to the Rules of Golf and will continue to be acceptable for all USGA competitions."
That was 17 months ago and not one player made a fuss. How can players come forth now with this kind of complaint when no one raised their hand -- at least publicly -- about this during the past 17 months?
"A line was crossed," said Mickelson after the third round at Torrey Pines. "I was publicly slandered." I agree. A Google search of "Mickelson cheating" yielded 685,000 hits. Not the kind of publicity you want if you're Lefty -- who has done nothing wrong -- or the other two players (Tim Herron, Hunter Mahan) using pre-1990 Eye 2 wedges in San Diego (nine players had Eye 2s in play, but six of those were post-1990 clubs with the new grooves).
The uproar resulted in the PGA Tour issuing a statement that included, "Because the use of pre-1990 Ping Eye 2 irons is permitted for play, public comments or criticisms characterizing their use as a violation of the Rules of Golf as promulgated by the USGA are inappropriate at best."
And in case anyone was wondering if the rule could be rescinded, Ping chairman and CEO John A. Solheim made his position clear. "Our 1993 Settlement Agreement with the PGA Tour precludes them from adopting a local rule banning Eye 2s made prior to April 1, 1990," said Solheim. "In fact, I warned the tour and the USGA that this very situation would occur if they went ahead and adopted these new groove specifications. … I expect them to honor their agreements."
Golf is a game with a solid set of rules, yet often they are nuanced and open to interpretation. But the bottom line stays the same: As long as you are playing within the rules, you are abiding by them. The rules say the Ping Eye 2 clubs are OK. It's right there. In print. Every bit as legible and enforceable as any other rule or condition of competition. It's not cheating. It is very much playing within the rules.
Whether using such clubs are useful or not, however, is open to discussion. During the final round at Torrey Pines, Mickelson missed the first green to the right, leaving his ball in a swale with a tight lie. He hit the Eye 2 wedge (a club he had bent to 64 degrees) and the ball landed six feet short of the pin, bounced, refused to check and rolled 16 feet past. He made bogey.
Paul Lawrie, who won the 1999 British Open in a playoff with Jean Van De Velde and Justin Leonard using Wilson clubs, is back with the company. Prior to the Commercialbank Qatar Masters, Lawrie signed with Wilson (he originally endorsed the company's products as far back as 1993) and put Wilson Staff FG Tour irons and Tw9 wedges in his bag. Lawrie missed the cut at Doha CC.
When TaylorMade launches a new driver on tour, it usually garners attention. Such was the case at the Farmers Insurance Open as the company's R9 SuperTri driver was the No. 1 model in play with 25 players putting it in the bag. D.A. Points (T-9) was the highest finisher of those going with the adjustable 460cc club, but it was '09 distance king Robert Garrigus who put on the best display. A tournament official became nervous when several balls landed perilously close to players on his end of a dual range. Using a rangefinder, Justin Rose spotted Garrigus, who was hitting drives with a carry of more than 300 yards. Has all the furor surrounding Scott McCarron referring to the use of Ping Eye 2 wedges with square grooves as "cheating" given players cause for pause? If the talk on the range Monday of the Northern Trust Open at Riviera CC is any indication, not quite. Tour reps reported several players expressing interest in how to acquire the wedges, while Padraig Harrington spent much time practicing with two Ping Eye 2s.
Ping Eye 2 Wedges: The new market
The firestorm over the pre-1990 Ping Eye 2 wedge Phil Mickelson and others are using may be one big headache for the PGA Tour, but it has proven to be a nice profit center for those who may have banished such clubs to their basement or garage. A look at Internet auction site eBay on Feb. 1 revealed 181 offerings for Ping Eye 2 wedges, up from 24 just two weeks ago.
The bidding was spirited. More than 20 of the auctions had received more than 10 bids, and one club -- a Ping Eye 2 BeCu Copper Black Dot sand wedge with the words "SQUARE GROOVE" in all caps -- had 29 bids, raising the price to $129. That price level, however, isn't good enough for some. Fourteen enterprising souls have listed clubs for $200 or more, with one asking $499 for a single club and another trying to squeeze $1,000 for a 54- and 58-degree Beryllium Copper combo. Not bad when you consider the value for a Ping Eye 2 wedge is $23.15 according to the PGA.com Value Guide, which bases its prices on eBay sales of the product.
Are sellers dreaming or is there a real opportunity out there? Most likely the latter, at least in the short term. One PGA Tour player recently purchased six Eye 2 wedges at a cool $250 each. When the seller told him he could always sell any he didn't use, the player responded that he wouldn't give that kind of advantage to his competitors.
While tour pros may be scouring the Internet for the clubs, there needs to be a little caveat emptor. Ping continued to make Eye 2s after 1990. Potential purchasers should get the serial number of the club and call Ping to make sure the clubs are the ones grandfathered prior to finalizing any deal. Or they could just call Lee Westwood. "I could do it more than anybody else because I have thousands of Ping wedges," said the Englishman, who has played Ping since he was a youngster. "I have the opportunity to [use them], but I don't."