News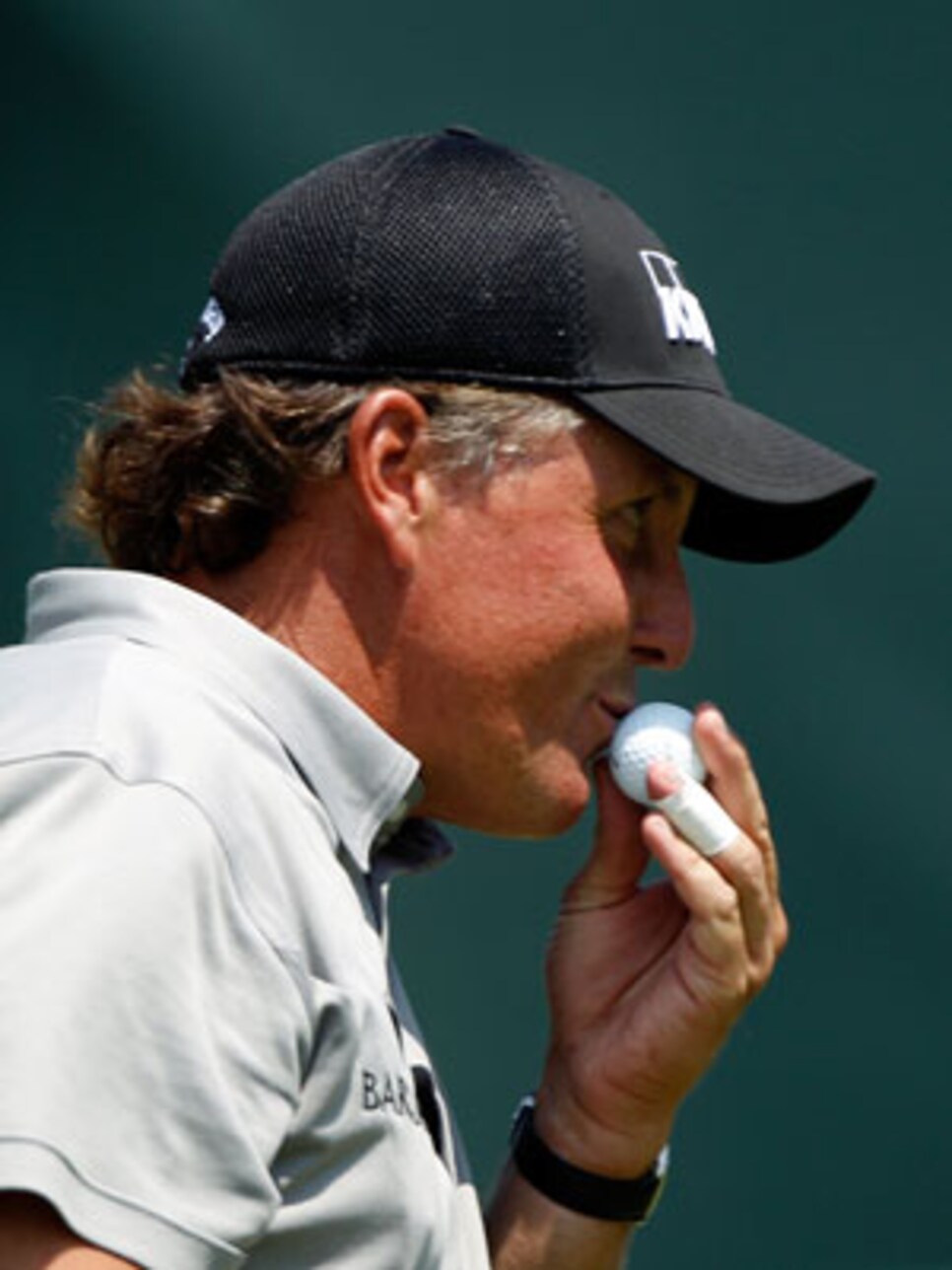 Mickelson switched from Titleist to Callaway just before the 2004 Ryder Cup.
Somehow equipment always finds a way to sneak into the conversation at the Ryder Cup
switch from Titleist to Callaway just before the 2004 matches at Oakland Hills CC? Then there was this year's U.S. squad's raingear debacle that dominated the first-day discussion in Wales. Over the years, however, the most talked-about equipment stories at the Ryder Cup typically have involved what golf ball partners would use in foursomes as the alternate-shot format required some golfers to play different brands and construction than normal.
This year, however, there was hardly a word about the impact of differing models of balls or strategizing to pair players who use identical balls. In fact, a look at the transcripts from this year's Ryder Cup reveals the topic was not brought up a single time.
A rules change in 2006 partly explains the reduced angst. Instead of having to play one make and model of ball the entire round, teammates now can switch balls on each hole, providing a different kind of strategy.
At the 2008 matches at Valhalla, Phil Mickelson summed up the players' approach given the opportunity to play a different ball on each hole. "I tee off with their ball, and they tee off with my ball," said Mickelson. "Off the tee it's not going to make too much of a difference. It's the distance control and how it comes off the irons and the trajectory and so forth [that is important]. And we will be hitting our own balls with our iron approach shots."
The opportunity to switch balls got a workout in Wales as only six of the 16 foursomes pairs played the same model (three on each side, with each of those teams using Titleist's Pro V1x). It also puts forth the importance of finding the right ball for one's game, not just the one that allows you to bust it as far as humanly possible off the tee.
Most ballmakers are trying to help, providing a myriad of ball-fitting options ranging from online questionnaires to banging balls in a cage or on a range with a launch monitor to assist. Titleist has a web-based program that asks a few questions and recommends two balls while Wilson and Srixon also offer a question-and-answer-based online recommendation. Bridgestone, meanwhile, has conducted its Ball Fitting Challenge for four years, using launch-monitor data derived from mostly driver swings.
What should you look for in a ball? A preferred feel or trajectory is a good place to start, but the answer is truly different for everyone. If you're unsure, it is hard to go wrong by starting your ball-selection process from the green and working your way back. Eventually, you should be able to narrow the choices. That said, do not ignore the tee shot. Slow swingers, for example, likely need a model that spins more off the driver in order to keep it in the air for additional carry.
How important is finding the right ball? Well, consider that at this year's Ryder Cup those foursomes pairs using the same ball won four times (including all three such pairings for the Europeans) while losing just twice. A small sample, to be sure, but there's no discounting the comfort that comes with playing a ball that you know is right for you.
Although the Ryder Cup is not a place to change equipment, the late-season events on the PGA Tour provide a rich environment for tour reps trying to get their company's latest offerings into players' hands. At the Viking Classic, Callaway's new Diablo Octane driver made its tour debut as Shaun Micheel put the club in play. Micheel averaged 292.1 yards off the tee at Annandale...New offerings were plentiful at the Nationwide Tour's Soboba Classic. David Branshaw played Ping's new K15 driver (a club generally considered to be "game-improvement"), while Kyle Reifers used Callaway's new RAZR blade irons. Jonathan Kaye, meanwhile, had a set of Cleveland's new CG16 Tour irons in the bag at the Nationwide Tour event...Also doing well with an iron change was Jerry Kelly, who finished T-11 in Mississippi after switching to Cleveland's CG 1 Tour irons. Kelly also went back to the Cleveland Classic 3 putter (a club that retails for $70) that he used to win in New Orleans last year. The T-11 was Kelly's second-best showing of the season.
Quietly, David Duval and Nike have parted ways. Duval, whose payout from Nike was extended over several extra years after his game hit the skids, played the Viking Classic using a Titleist Pro V1x ball, irons from Scratch Golf and Mizuno MP T11 wedges for the first time. The only Nike club in Duval's bag at Annandale GC was an 18-degree VR hybrid.