News
It's Time To Pounce On Bounce
The Great Escape: Haas' wedge with 7 degrees of bounce was just right for the unusual lie.
After studying his shot from a muddy, watery lie on East Lake GC's 17th hole -- the second extra hole in a playoff with Hunter Mahan for the Tour Championship and FedEx Cup titles -- Bill Haas pulled his Titleist Vokey 60-degree wedge and expertly extricated the ball to within two feet of the hole.
From an equipment standpoint, the bounce on Haas' wedge mattered every bit as much as the loft. Haas' 60-degree wedge (bent to 59 degrees) has 7 degrees of bounce -- just enough to cut into the muck.
Unlike putters, where some players will try model after model until they find one that works, most golfers simply stuff a couple of wedges in their bag without much thought.
This approach means everyday players give little consideration to bounce, instead basing their wedge choices primarily on looks and loft. Such behavior baffles the experts. Understanding the subtleties of wedge play and having the right bounce based on swing type and course conditions, they say, can help shave more strokes off one's game than anything else.
"We've found there are three main swing types that people have with the wedge," said Ari Techner, president of Scratch Golf. "There's the digger-driver who is real steep and aggressive, somebody who takes a real big divot. This player needs something with a lot of bounce even on a higher degree wedge like a 60 or 64 degree. The sweeper-slider -- somebody who picks or sweeps the ball off the turf -- needs a wedge with a low-bounce angle as it allows the club to get down into the ball and allow that person to make better contact. The driver-slider is right in between the two. That golfer takes more of a dollar bill-type divot. That person needs more of a moderate bounce angle."
Conditions also play a role. Players who play on lush or wet courses require more bounce in their wedges; less bounce is desirable for those playing on firm terrain.
Everyday golfers often struggle with the concept of bounce, with most believing it has to do with the width of the sole. That's incorrect. A wide-soled club can have very little bounce (in fact, the old Hogan Sure-Out wedge had almost zero bounce). Or it can have a lot.
Titleist's website describes bounce as "the angle created between the sole line of the golf club (the line from the leading edge to the trailing edge) and the ground line at address. Bounce serves to help reduce digging as the wedge interacts with the turf or sand at impact by elevating the leading edge slightly off the ground."
Although pros are generally reluctant to change their wedges, preferring to stay with what they're comfortable with, some weeks present conditions that are simply too different to ignore. The Masters and British Open, in particular, are weeks where players will alter or change their wedges. "The conditions during those weeks are firm and tight," said Bob Vokey, VP of wedge development for Titleist. "Courses such as those require less bounce and the players know that."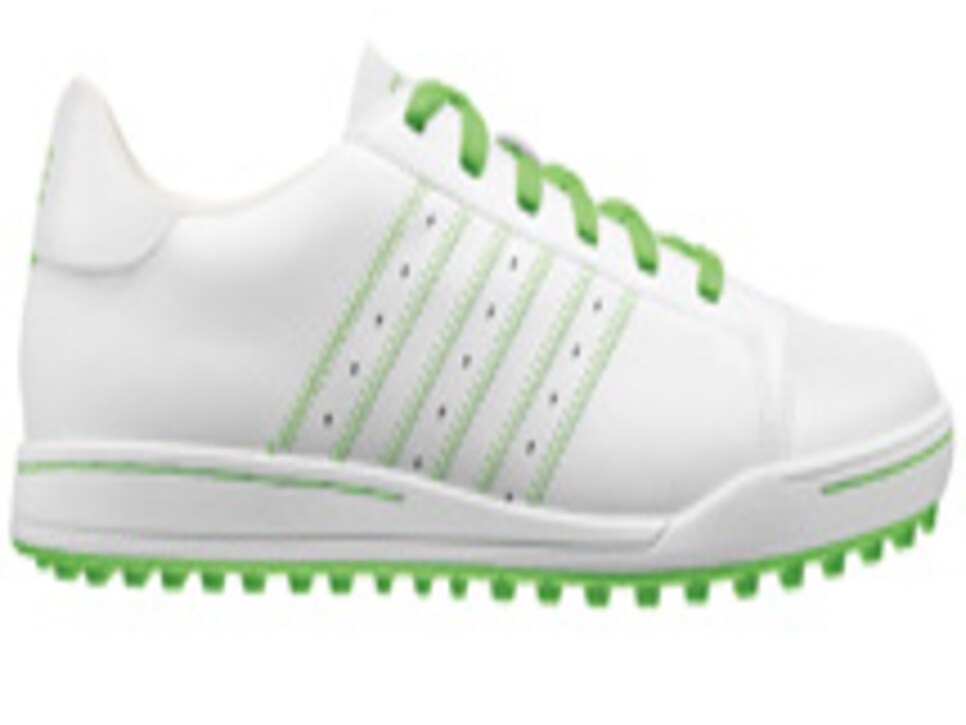 Although not available in stores until Nov. 1, the adiStreet shoe from Adidas has been worn by Justin Rose on the PGA Tour. The shoe is a combination of an athletic running shoe and golf shoe that promotes the natural movement of the foot. Five colors available.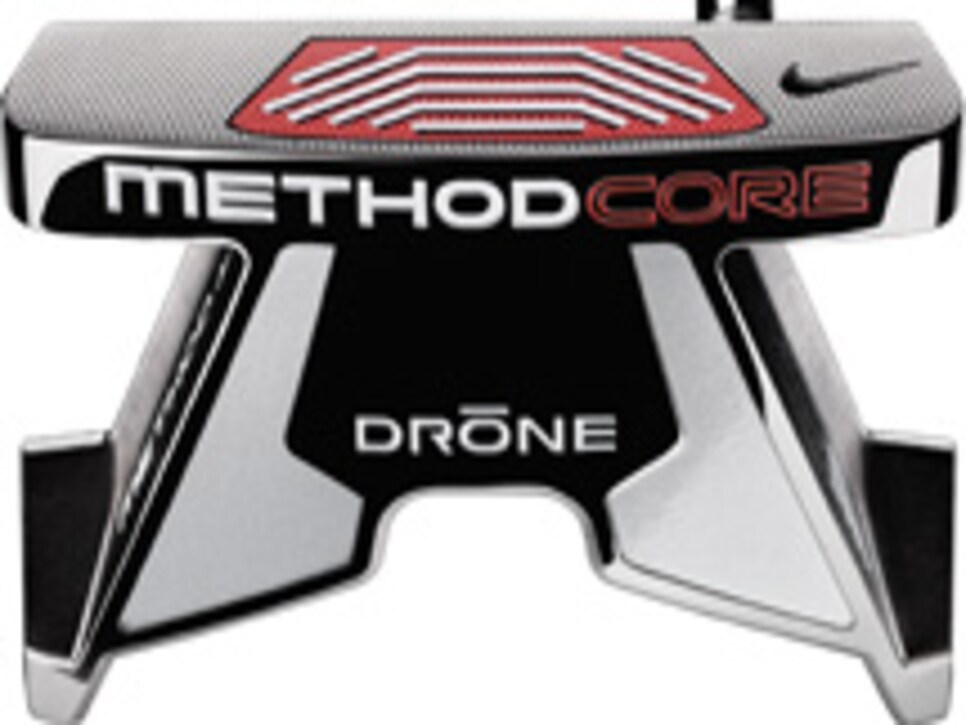 Price: $204 (Lengths: 33, 34, 35 inches for right- and left-handed; Belly model of 41 inches available in right-handed only.)
Although the most noticeable aspect of Nike's Method Core Drone putter is its shape (an extreme mallet design with wings to assist in keeping the clubhead on its path through higher moment of inertia and reduced twisting), the club has plenty of technology inside and out. The putter boasts a red insert with polymetal (polymer and aluminum) grooves designed to reduce skidding and promote forward roll sooner. Opti-mass weighting in the club's center helps stability.
Justin Rose practiced prior to the Tour Championship with a belly putter but opted to stay with his regulation-length flat stick...Dustin Johnson re-upped with TaylorMade-Adidas Golf, signing a deal that will keep him playing the company's ball, clubs, shoes and have the company's logo on his headwear and staff bag. A five-time PGA Tour winner, Johnson is currently fifth on the World Ranking...K.J. Choi has used plenty of hybrids in 2011 and for the Tour Championship added a pair of TaylorMade Rescue TP hybrids (21 and 23.5 degrees). Choi also put a Matrix Ozik Rule 6 shaft in his TaylorMade R11 driver...Charles Howell III had a new Ping G20 driver in play at East Lake GC. Howell's driver had 9.5 degrees of loft with a Mitsubishi Fubuki K70 shaft...Adams Golf's prototype a12 hybrid (20 degrees) was in the bag of Brandt Snedeker in Atlanta. … David Toms changed drivers at East Lake, going back to the Cleveland Launcher DST (10.5 degrees) he used earlier this season...On the last day of practice before the last tournament of the FedEx Cup Series, Jonathan Byrd worked on dialing in his driver at East Lake. Although he remained with a 9.5-degree TaylorMade Burner SuperFast 2.0, Byrd was searching for more launch, spin and right-to-left flight. Byrd had techs build him a driver with an extra half degree of loft, the shaft tipped one-half inch and the center of gravity moved towards the heel. Byrd was T-16 in driving accuracy and 17th in distance.