News
Theirs Is A Gripping Tale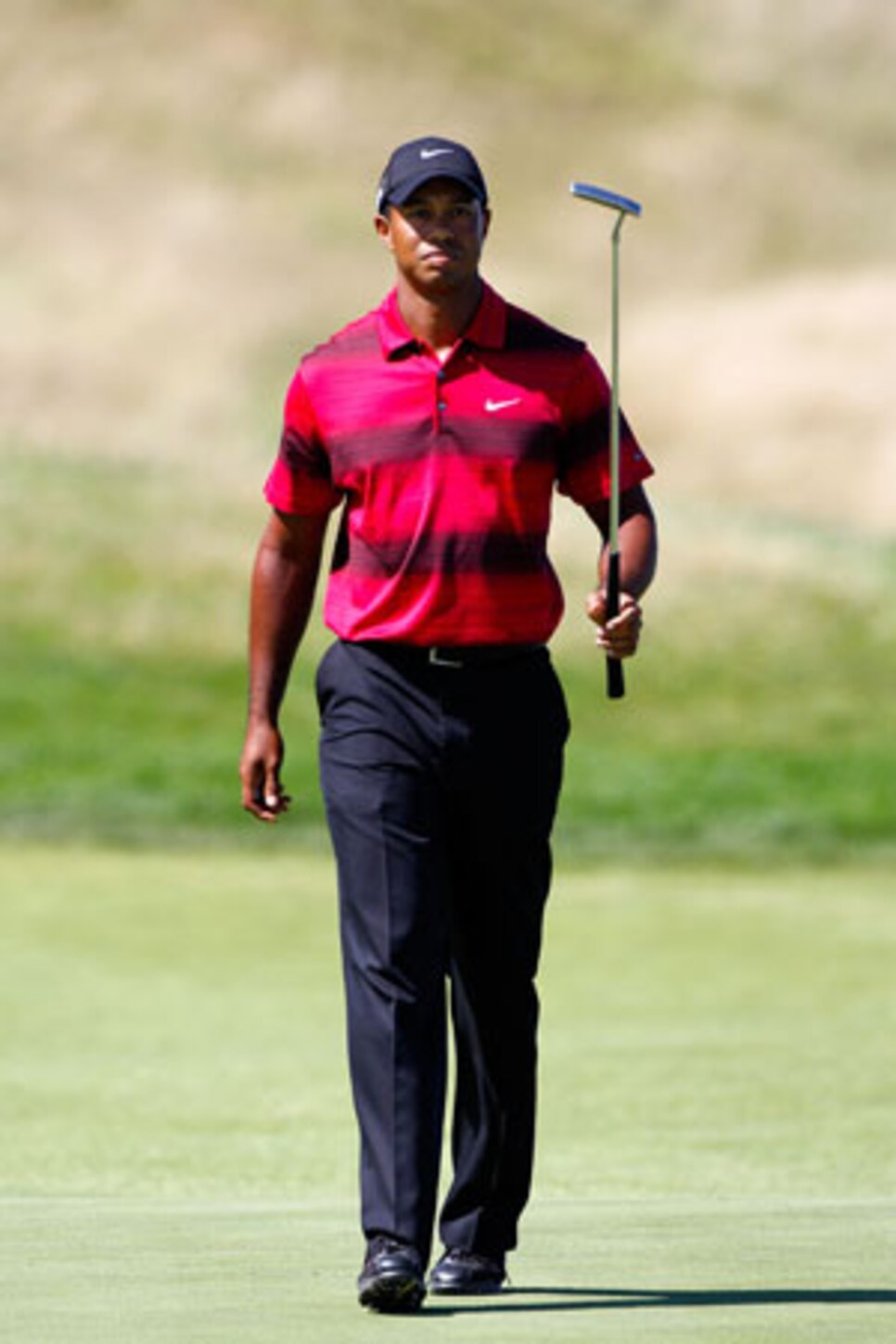 Woods used a putter with a red grip three days before the PGA, but stuck with his usual putter for the tournament.
Any time Tiger Woods does something different with his equipment, it causes a stir. And when Woods was spotted three days before the PGA Championship using a red grip on his putter instead of the usual Ping grip (with the word, "Ping" blacked out), well, the equipment world was all over it.
Problem was, Woods hadn't changed grips at all. Woods' caddie, Steve Williams, had placed one of Woods' practice putters in the bag, and the pair didn't realize it until they were out on the course.
"We were too lazy to drive back and get the putter, so I went with it," said Woods at his Tuesday press conference. "Don't read too much into that."
Still, Woods' desire to stay with his old putter grip underscores how important -- and overlooked -- putter grips can be. Although most recreational golfers stick with the grip that comes with their putters, that isn't the case with the pros, who are far more selective about what grip they use when trying to climb leader boards.
"Once a player gets a certain 'great' feel in his hands, it's tough to change," said Jeff Opheim, PGA Tour rep for Odyssey. "Most players are very particular when it comes to putter grips. Many use a very small putter grip so they can grip it lightly. It also has to be on absolutely dead square. Players of this caliber notice the smallest deviation in their grips."
Woods is among those who prefer a smallish putter grip, but some players like a little bulk. John Daly adds three wraps of tape under his grip. The result gives Daly a grip size he prefers and delivers the right feel. That's because Daly normally adds about 40 grams of weight to his putterhead, and the light grip makes the head seem even heavier. Bubba Watson also likes an oversize grip, adding four layers of tape under his Ping grip.
Chris DiMarco and Jeff Maggert also go oversize. "DiMarco has a standard-size Ping grip on his putter, but then we wrap a Neumann Leather wrap over it to make it very big and extremely tacky," said Ping PGA Tour rep Matt Rollins. "Maggert does something very similar to Chris, but he takes the putt-er grip and then wraps a tennis grip over it. He likes how tacky it feels, and it gets a bit big so that he feels like his hands are taken out of the stroke."
Taking the hands out of the stroke also explains the recent run toward the jumbo SuperStroke and Tiger Shark grips by some players such as K.J. Choi, Y.E. Yang, Matt Bettencourt and Mark Calcavecchia, who recently changed his putter grip to a lightweight jumbo grip. Before that, Calc went the other way, having his putter grip stretched one to two inches to make it feel smaller.
Then there are the grips on putters players have had in the bag for ages. Scott Verplank has used a Ping Anser almost exclusively since he took it from his college coach more than 20 years ago. But Verplank didn't want to change the grip. His answer: wrap gauze tape around it because it provides a tackiness he can't get with regular putter grips.
Some pros even get turned upside down, such as Jim Furyk. Although he's now back to a conventional putter grip, Furyk earlier this year cut the top out of his putt-er grip and put it on upside down. Furyk is a left-hand low putter, and he decided to use an Odyssey DFX grip and put the bigger part on the bottom instead of at the top. Furyk won the Transitions Championship using that grip a few weeks later.
Unfortunately for Furyk, he isn't Woods, so the equipment world wasn't all over that one.
Once again, golf-patents.com has come across an intriguing design from a major manufacturer. This time it's a TaylorMade patent for a "Golf Club Head with Vertical Center of Gravity Adjustment." The patent -- which has now been issued -- is for a driver where "one, two, or more weight ports can be located above the club face center in a club crown or other portion of a club body." That means players can adjust the vertical center of gravity of their clubs, thereby adding or subtracting dynamic loft depending on their trajectory.
Even bomber Alvaro Quiros looks for more distance once in a while. At Whistling Straits Quiros sought to keep the ball below the wind and get more roll on the firm fairways by dropping a degree of loft on his Callaway FT-5 driver, going from 9.5 degrees to 8.5 degrees...Angel Cabrera changed putters again at the PGA, this time trying Ping's new Scottsdale Anser 2...Dustin Johnson also changed putters, using a prototype Scotty Cameron by Titleist Newport...The PGA brought a change at both ends of the bag for Ryan Moore, who switched to Adams Golf's Speedline 9064 LS driver and Scratch Golf's CS putter. Moore had tried the handmade putter earlier in the year before.