News
Pros Dust Off 5-Woods To Handle Atlanta AC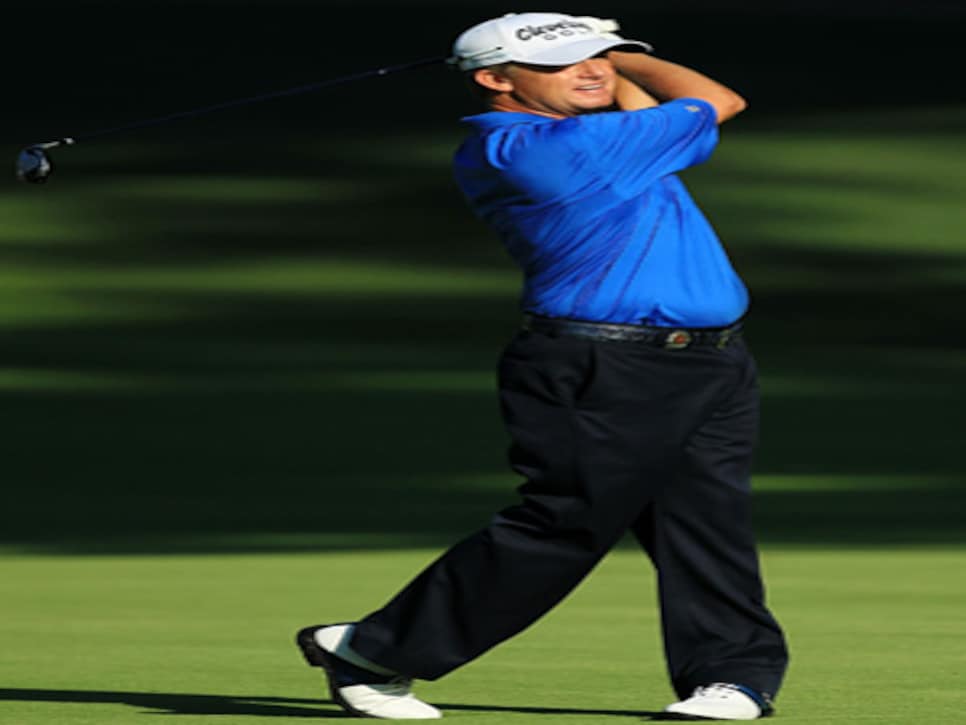 Fifty players had 5-woods in their bags for the PGA, but Toms, unlike 2001, wasn't one of them.
When David Toms won the 2001 PGA Championship at Atlanta AC, he aced the 243-yard, par-3 15th hole using his Cleveland QuadPro 5-wood. During his pre-tournament press conference for this year's PGA, Toms was asked about the hole having been lengthened to 260 yards.
"First of all, 5-wood is not going to be enough club for me," he quipped. Maybe not for Toms, but for many in this year's PGA Championship field, 5-wood was the club of choice for that hole -- and other shots -- leading several of them to add that stick to their arsenals.
Although 5-woods can still be found in many players' bags, they've taken on a more limited role the last 10 years. Atlanta AC's Highlands course, however, caused a change in thinking. To achieve a higher, softer trajectory demanded by the track's firm putting surfaces and forced carries over water, particularly on the par 3s, 50 players (approximately one-third of the field) had a 5-wood in their bags. And they weren't the only high-lofted woods in play. Hybrids and 7-woods accounted for another 157 sticks. That's 207 high-lofted, wood-like clubs -- more than one per player in the 156-man field.
Such clubs are a necessity on championship courses that are long and the greens firm. Players need something they can hit high and land soft from 210 to 240 yards.
Dustin Johnson and Martin Laird added 5-woods in Akron at the WGC-Bridgestone Invitational in advance of the PGA, and at Atlanta AC another nine players supplemented their line-ups with 5-woods, including Angel Cabrera (Ping i15, 17 degrees), K.J. Choi (Callaway Diablo Octane Tour, 18 degrees) and Jason Dufner (Titleist 906F2, 18 degrees). Others carrying 5-woods at the PGA included Tiger Woods, Lee Westwood and Scott Verplank, who relied on his trusty 17-degree TaylorMade 200 Tour. It was not unusual for players to say they used these clubs 10 or more times during the week. They came in handy.
Interestingly, Toms didn't carry a 5-wood last week, using a pair of Cleveland Launcher hybrids (18 and 20.5 degrees) instead. That, however, did not stop him from recalling the club's value 10 years earlier. "I used that club a fair amount that week, not just for the shot on 15," he said. "It was my go-to club that week." Many players were saying the same thing during this year's PGA, too.
Keegan Bradley's PGA Championship win at Atlanta AC marked the first time a player has won one of golf's Grand Slam events using a long putter (Angel Cabrera won the 2009 Masters using a mid-length putter). Bradley's Odyssey White Hot XG Sabertooth is 46.75 inches long with 3 degrees of loft and a lie angle of 67.5 degrees. The club weighs a hefty 762 grams and has a double-bend ski pole shaft with a Winn Flat Top Mid grip. According to Odyssey tour rep Johnny Thompson, Bradley has the loft and lie on his putter checked at least twice each week...Rory McIlroy not only hurt his right arm and wrist when he struck a root on the third hole in the opening round, he also damaged his Titleist MB 7-iron. With the tour vans gone, Titleist made a replacement at its Oceanside, Calif., facility and had it flown overnight to Atlanta. The club was placed in McIlroy's locker at 7:25 a.m. Friday...Tiger Woods has used both a Scotty Cameron by Titleist Tiger blade and a Nike Method 003 mid-mallet this season. At the PGA, Woods split the difference, using a Nike Method 001 blade putter... Frustrated with his putting, Phil Mickelson benched his Odyssey Black Series #9 putter Sunday at Atlanta AC and replaced it with his Odyssey PM prototype blade. Mickelson had 30 putts Sunday during a final-round 70 after taking 93 putts during the first three rounds.