News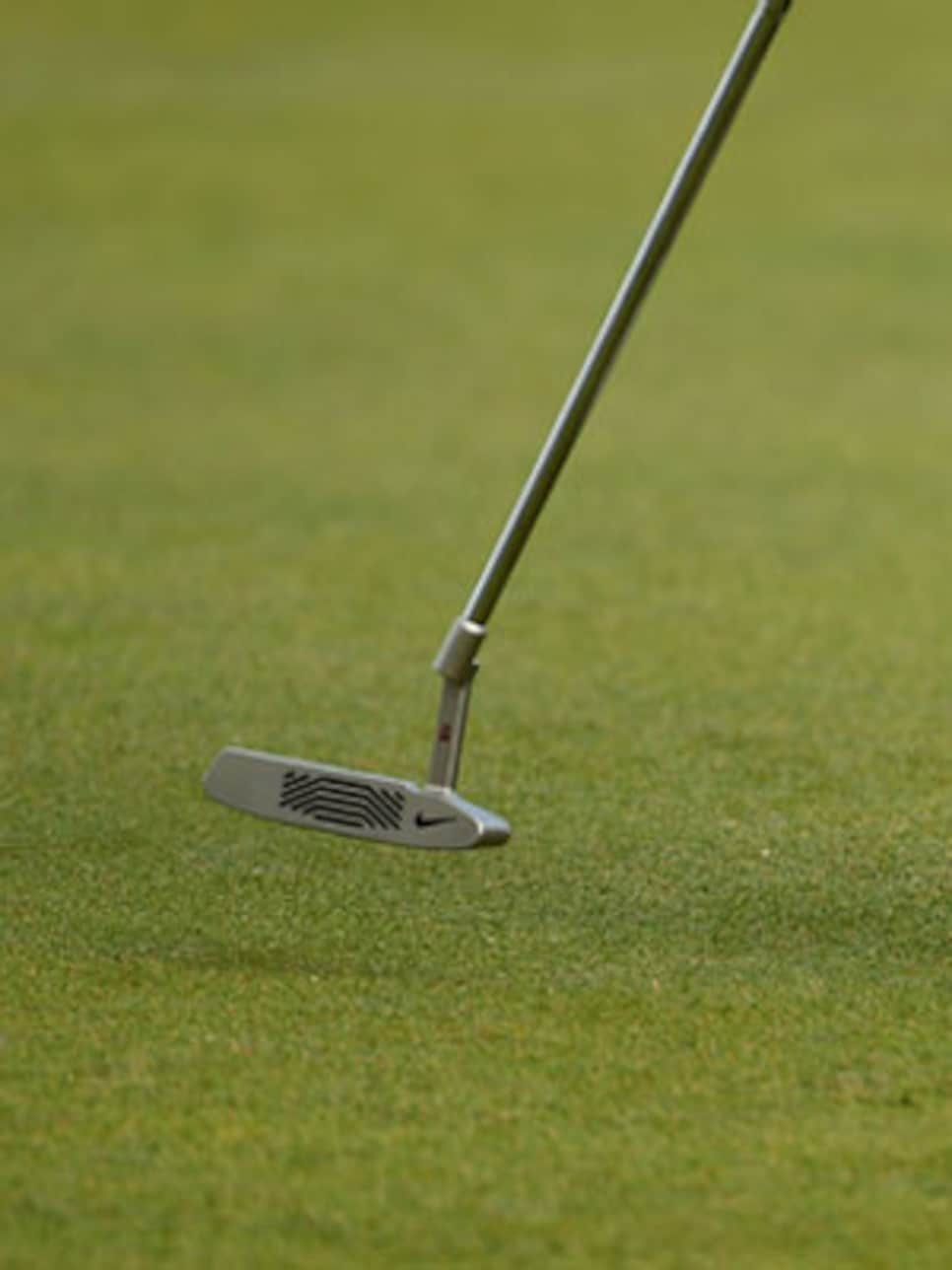 Face Of Change: Woods' new putter featured polymer-filled grooves.
At the British Open, 50 players used a putter that was different from the one they used in their last start -- but only one switch rated headlines. That would be Tiger Woods' benching of the putter he had used to win 13 of his 14 majors.
Recently, Woods has been unhappy with his work on the greens, sometimes blaming the putting surfaces for his struggles. The Old Course's greens were part of Woods' explanation for his move to Nike's Method 001 putter.
"I've always struggled on slower greens," said Woods. "I haven't had to make that much of an adjustment because the ball is coming off a little bit quicker." Woods was referring to the Method's polymer-filled grooves on the face. Although all putts have backspin, the Method is designed to get the ball rolling forward sooner after impact. Unknown to most golfers, when the ball comes to rest on the green it sits in a depression. The key is getting the ball out of that hole and rolling forward. Grooves on putters are designed to help lift the ball out of that depression.
Grooves on putters, however, are hardly a new idea. The 1000 Putter, developed by Robert Blake Wilson in 1901, had 17 scorelines across the middle of the face. More recently putters from Yes!, Guerin Rife and TaylorMade have all featured groove technology.
Although the timing of Woods' switch might appear odd, changing to a new putter for a major isn't unique -- or without success. To the contrary, Jack Nicklaus won the 1986 Masters after switching to a MacGregor ZT Response, and more recently Jim Furyk won the 2003 U.S. Open having changed earlier that week to a Bettinardi Baby Ben. The Method was used by two major winners in 2009 (Lucas Glover, U.S. Open and Stewart Cink, British).
Woods has struggled with his putt-ing all year, ranking T-150 on tour in overall putting average and T-162 in three-putt avoidance, with 19 three-putts already. Last year Woods had a total of 23 three-putts. In 2007 (his last full season before that) he had only 20.
Still, adjusting to not using the Scotty Cameron by Titleist Tiger (a version of Cameron's Newport) wouldn't be easy because Woods has had a history of success with it. Woods put the putter in play at the 1999 GTE Byron Nelson Classic and won eight of his next 11 starts. In the nine full seasons he has used the putter (not counting 1999 and 2008 when he was ranked fourth before leaving the tour because of a knee injury), Woods ranked in the top 10 in putting average five times.
Other than the grooves, however, the Method was similar to Woods' Cameron at 35¼ inches long with a standard lie angle and 4 degrees of loft. The club had Tiger's initials engraved on the hosel and had a plain (no logo) sole.
Unfortunately for Woods, after a solid first round that had ESPN's Paul Azinger proclaiming, "flat-faced putters will be obsolete," Woods struggled, needing 99 putts through three rounds, including 35 in round three. Come Sunday, the Cameron was back in the bag.
Which, not surprisingly, also made news.
Two-time British Open champion Padraig Harrington pulled a Phil Mickelson and used two drivers last week -- a 9.5-degree TaylorMade R9 SuperTri and a TaylorMade Burner SuperFast (10.5 degrees). To make room for the extra driver, Harrington removed his 4-iron. In addition to using the higher-lofted club on downwind holes, the SuperTri was set up for a draw and the SuperFast -- which was a half-inch longer -- was set up for a fade. The experiment, however, didn't work as Harrington missed the cut.
Paul Casey's iron set at the British Open featured three different models of Nike irons. A Pro Combo 3-iron was followed by VR Split-Cavity 4- through 6-irons, and the set was rounded out with VR Blade 7-iron through pitching wedge. Casey prefers the blade clubs in the short irons to help control their trajectory. … On any given week as many as 10 players may use a 64-degree wedge on the PGA Tour, but at St. Andrews only three players -- Phil Mickelson, Kenny Perry and Vijay Singh -- carried one. Likely part of the reason was the firm turf at St. Andrews, making such a club difficult to control. Another explanation could be the added use of 2-irons for the Open. Fifty-three players had a 2-iron in the bag.