News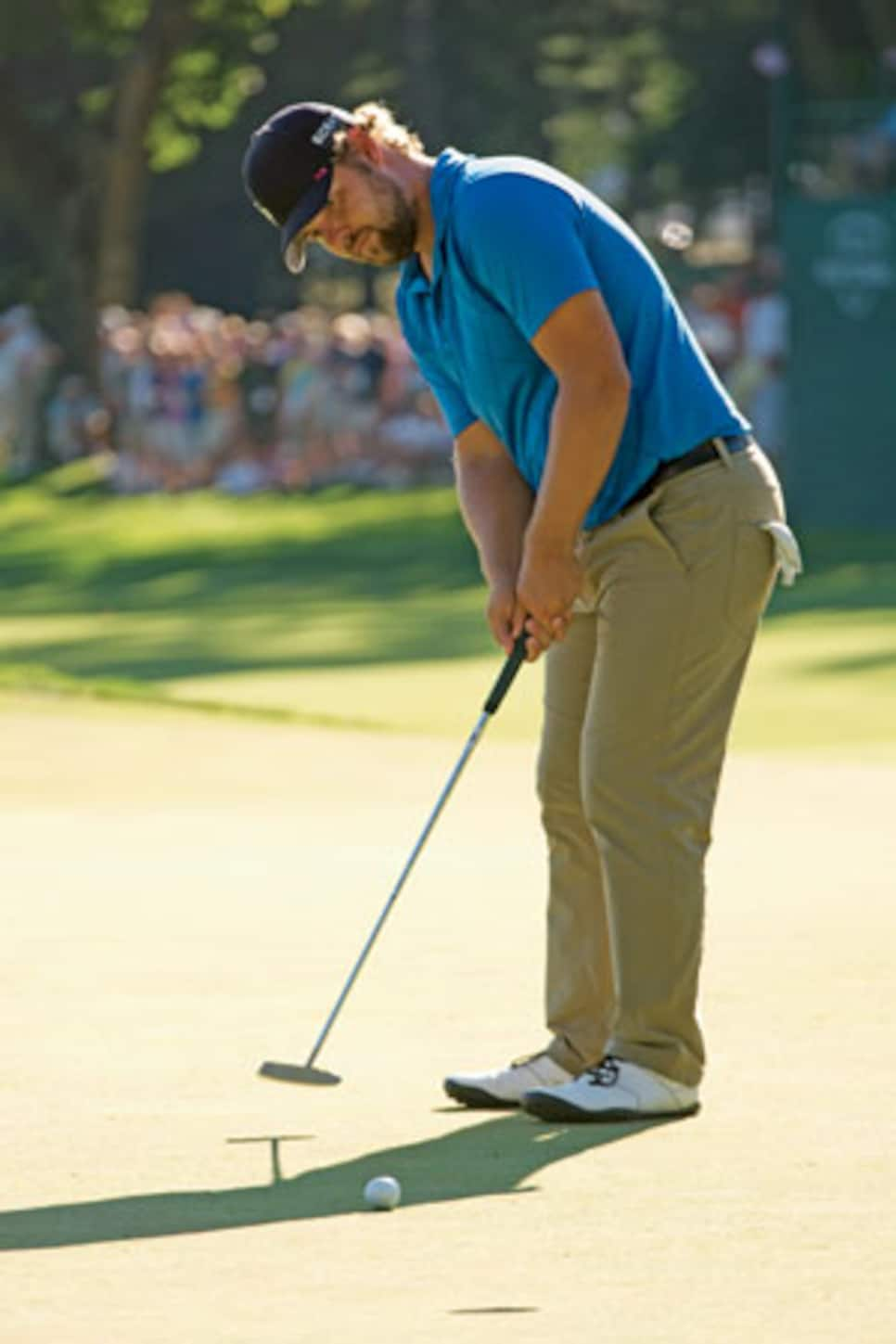 Moore was back to a center-shafted blade putter at the AT&T National.
Although fans of the PGA Tour can easily identify most players whose names crop up on leader boards, those following the PGA Professional National Championship (formerly known as the Club Pro Championship) might look down the agate in the newspaper and wonder, "Who's that?"
Similarly, out on the course, some of these professionals' playing companions might take a peek into their bags and wonder, "What's that?"
While brands such as Titleist, TaylorMade, Callaway, Ping, Nike, Cleveland and Srixon remained highly visible at French Lick (Ind.) Resort, there were enough oddball clubs and quirky set configurations among the 312 contenstants to make it clear these were not players with multimillion-dollar endorsement deals, but rather pros playing what they wanted to.
Take Jon Corliss, for example. A professional at Heron Ridge GC in Virginia Beach, Va., Corliss would have had the folks at any major company in a tizzy if he had been a full-line staff player. Corliss' bag sported an 18-degree Bang Golf Bang-O-Matic 4-wood and a Reds putter. Bang Golf at least can be found on the Internet. Reds putters? Still searching.
Others played clubs rarely, if ever, seen on the PGA Tour. Bob Ackerman, who has his own golf academy in West Bloomfield, Mich., had four Henry-Griffits wedges, while David von Hoffman of Escondido Golf and Lake Club in Horseshoe Bay, Texas, went to the tee wielding an 8-degree Nicklaus Dual Point driver. Alliance (Ohio) CC head pro Ron Dejacimo didn't have a Dual Point driver, but he did have dual drivers, forcing decisions between the TaylorMade Burner SuperFast and Ping Rapture V2 drivers he carried.
Fairway woods and putters were two areas where no-name and past-name clubs popped up frequently. David Engram (head professional at Barrington GC in Aurora, Ohio) and John Allen (head pro at Sunnybrook GC in Plymouth Meeting, Pa.) each used 19-degree Kasco K2K hybrids while Stan Cooke, director of golf at World Woods GC in Brooksville, Fla., had a Bobby Jones 3-wood in play. Not to be outdone, no fewer than five players carried an Orlimar TriMetal fairway wood.
On the greens former tour player turned club pro Brett Upper putted with an old Zebra model; Cleve Coldwater of Glenmaura National GC in Moosic, Pa., used a Kirk Currie Brazos; and Dennis Miller, director of golf at Mill Creek GC in Youngstown, Ohio, putted with a Maxfli Tad Moore model. Although rarely seen on the PGA Tour, Edel putters were used by three players, including Merion (Pa.) GC teaching pro Mark Sheftic, who finished third.
Then there was Blayne Hobbs, a teaching pro from Wildfire GC in Phoenix. Hobbs' bag featured a Titleist 983E driver (a 350cc driver first introduced in 2003) and a Precept 2EZ hybrid from the same period. Of course, these pros aren't putting these clubs in play just to be contrarian. They truly believe these sticks work best for them.
Unfortunately for many of these players, their clubs didn't work well enough at French Lick to get them into the top 20 and earn a trip to the PGA Championship next month at Whistling Straits. That means no one there will be wondering, "What's that?"
Ryan Moore led the field in putting at the Masters using a center-shafted putter, but he went away from that style because "it's not a very natural thing for me to look at."
Natural or not, Moore was back to a center-shafted blade putter from Machine Golf (part of Dogleg Right) at the AT&T National. "I thought maybe I should re-think things and try another center-shafted putter," said Moore. "I was on the putting green, saw a bag with some in there, picked one up and it looked good and I threw it in. That's how I go. Something about the alignment of it just helps me see my lines a lot better." For the week Moore ranked second in both putts per round and putts per GIR while finishing second.
Fifteen of the 27 Titleist drivers in play at the AT&T National were the new 910. Eight players used the D2 version, seven the D3. Best showing was by Marc Leishman, who finished T-7 while ranking 12th in driving distance at 305.6 yards...Miguel Angel Jiménez added Ping's G15 driver and yet-to-be released S56 irons in winning the French Open...Callaway is putting the finishing touches on a couple of two-sided putters for Notah Begay III, which Begay will receive this week. Begay often putts from both sides of the ball.