News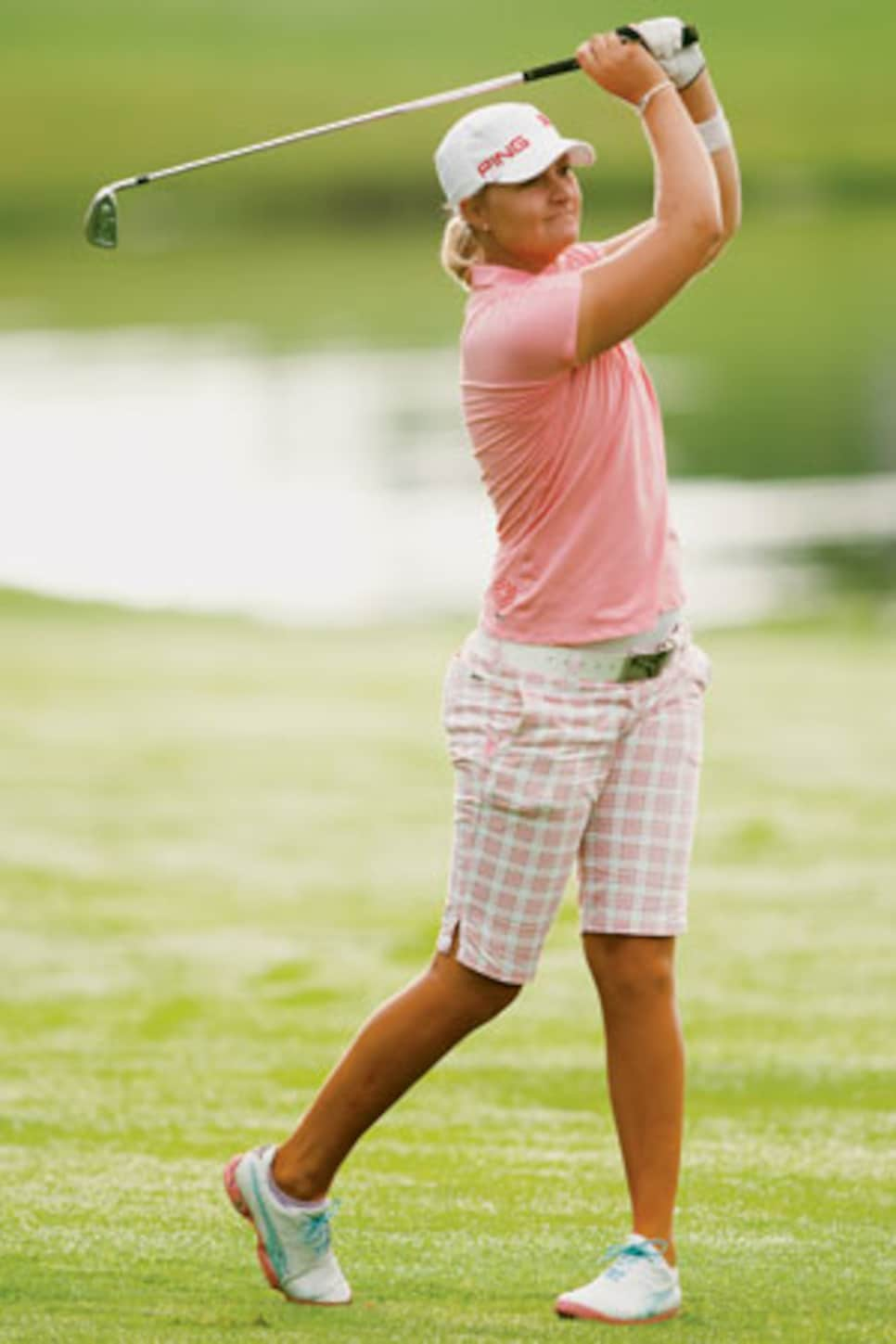 Anna Nordqvist used Anser irons for her 4-PW in finishing T-2 at the State Farm Classic.
As surprising as Robert Garrigus', playoff loss was at the St. Jude Classic (he only had three top-10s since the start of 2008 and none this year), it was his 29½-inch Scotty Cameron Kombi putter that really stood out in Memphis.
Garrigus used the petite putter (standard length for a putter is 35 inches) to rank T-13 in putts per GIR for the week. But while effective, the shortstick also brought questions, such as why would a man who stands 5-feet-11 use such a short club on the greens?
"When I get over it, everything is out and extended," said Garrigus. "I've been tucking my left elbow in to my side so my shoulders rock more. [The putter] is face-balanced. That thing rolls good. It's kind of nice to have something I can trust."
Over the years several tour players have trusted short putters. The European Tour's David Howell used a 32-inch putter in 2006 when he was briefly in the top 10 on the World Ranking. "I decided I needed a shorter putter, a wider stance, and that would keep the putter on a lot straighter line," said Howell at the time. "It's been working nicely, even if I do look a bit strange."
If Howell's 32-inch putter looked strange, then the 25-inch model Ken Green once employed qualified as positively bizarre. Still, there's a method to the madness. Most players using short putters tend to have one thing in common with players who use long putters: Both types want to get their eyes directly over the ball.
Although now a convert to the long putter, Jay Williamson used to go short. In fact, Williamson had five putters ranging in length from 31 to 33 inches. Which one he chose on a given week was determined by which putting method he used (conventional, cross-handed or claw). Body type, too, can play a role in what putter length to use. Many players with longer arms wield shorter-than-standard putters because they feel their arms can hang more freely, thus eliminating tension in the stroke.
But for all the technical reasons a player may opt for a Lilliputian-like putter, some have done so simply to try something different, such as Charles Coody at the 1998 NFL Golf Classic on the senior tour. Coody had been using a long putter and had battled an alignment problem for more than a year. During that slump, he had switched to a regular putter five or six times with little success. Finally Coody tried a 32-inch Bobby Grace model. "The reason I was messing around was I wasn't confident," said Coody. "I mean, how much worse could it get?"
Not all players using a wee wand, however, do so out of desperation. Lee Janzen won both his U.S. Opens wielding a 33-inch Ping Pal, and Ian Woosnam won the 1991 Masters using a 30-inch Tad Moore flat stick. Woosnam, of course, had reason to use a shorter club, standing just 5 feet, 4½ inches tall.
Dave Stockton also won a major with a diminutive putter, capturing the 1996 U.S. Senior Open a month after borrowing a 32½-inch Odyssey Rossie II from LPGA player Donna Caponi. "[That putter was] about an inch and a half shorter than any putter I had used," said Stockton. "So I had to crouch down a little more. But it put a really good roll on the ball."
Just as Garrigus did in Memphis. Yet one of the more intriguing aspects of Garrigus' flat stick is that he added length to an already-petite putter. For several years Garrigus used a 28-inch putter, but he felt the need to go slightly longer. "It stood me up just a little bit more and made it comfortable, got my eyes over the ball," he said. "I felt like I was getting down over it too much and having too many arms-y putts. When I can roll it with my shoulders, it makes a big, big difference."
Even if it is a short putter.
Ping's yet-to-be-released forged Anser irons have made their way to the LPGA Tour. At the State Farm Classic in Springfield, Ill., Anna Nordqvist used Anser irons for her 4-PW in finishing T-2. Nordqvist came into the State Farm having hit 68.8 percent of the greens in regulation on the season but hit 55 of 72 at Panther Creek CC (76.39 percent).
To say that Bob Estes is a notorious putter-changer is an understatement. In 13 events this year, Estes has changed putters 10 times, using nine different models (only twice has Estes used the same flat stick in consecutive weeks). At the St. Jude Classic, Estes changed once again, to Odyssey's TriForce blade (his sixth Odyssey model this season), but this time the switch proved beneficial as Estes finished T-8 for his first top-10 of 2010...Woody Austin, who finished T-15 at TPC Southwind, added a 17-degree Adams Super Hybrid to his bag. Austin used the club, which features a slightly larger head and longer shaft than most hybrids, as a driving club on several holes...Josh Teater changed to a Scotty Cameron Studio Select Newport at St. Jude and needed only 27 putts during each of his weekend rounds. He finished T-15...In three prior PGA Tour starts, Kirk Triplett had only hit 50 percent of the fairways. The man in the bucket hat, however, changed to TaylorMade's R9 SuperDeep driver at Memphis and hit 75 percent of his fairways for the week, ranking T-7.