News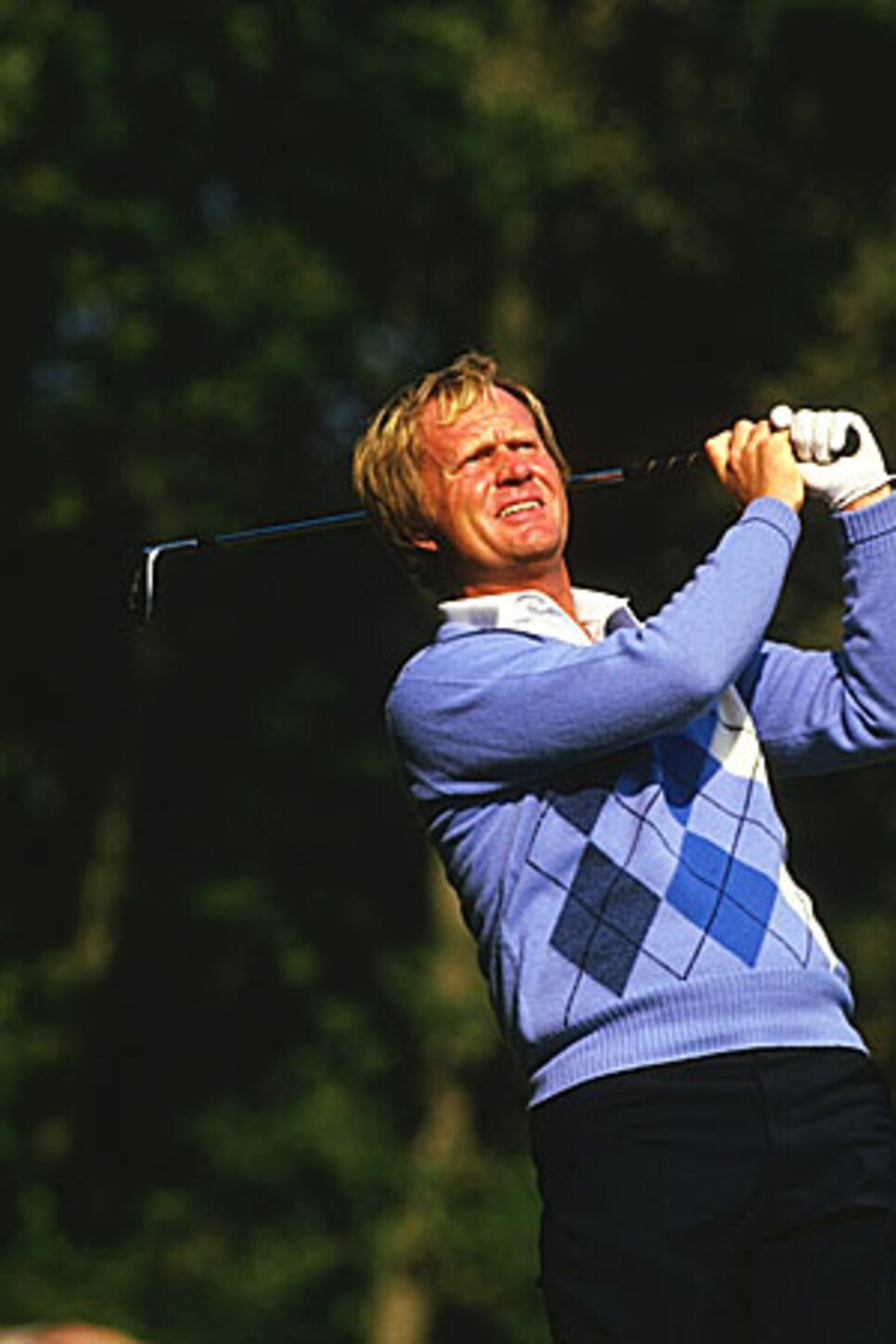 Nicklaus wasn't one to tinker often with his equipment.
With a nod to our cover story, we found a Jack Nicklaus quote of interest on equipment. In a 1970 issue of Golf Journal, Nicklaus said, "Replacing a driver is harder, I believe, than replacing a putter." If you tracked Nicklaus' equipment during his heyday, however, it seems he found just about everything in his bag difficult to replace.
"Jack hardly changed anything," said Clay Long, a designer who began working on Nicklaus' equipment in 1980 at MacGregor. "Since the Pro-81 iron forging, his irons have remained virtually unchanged." Don White, a longtime clubmaker for MacGregor, said, "I think that helped him become so great. That took a variable out of the game for him."
White, who now works for Scratch Golf, is is a master behind a grinding wheel. But White says Nicklaus' irons weren't that difficult.
"The grinds were always the same," said White. "A straight leading edge with softened edges, a flat sole with almost no camber and reduced heel-to-toe radius. A standard toe. Thin topline. The grinds weren't complicated, just perfect."
Nicklaus shafts were True Temper X-100s with wood neutralizers in the butt. The grips were gold-bead leather wraps with paper underlistings. Lead tape? Almost never. Nicklaus didn't like it covering up the name on the back.
Before White and Long ever touched Nicklaus' clubs, Jack Wulkotte was Nicklaus' main equipment man -- thanks to a broken 6-iron. Nicklaus wiped out the club during the Jacksonville Open in 1963 and had it flown to MacGregor's shop in Cincinnati. One problem: The shop was closed. Wulkotte (who started at MacGregor in 1947), hadn't left the building, however, and negotiated $32 for the repair -- about eight times his hourly wage.
Despite that fix, Wulkotte's primary responsibility became Nicklaus' woods. "There's 125 steps to making a persimmon club," said Wulkotte. "I used to make 25 drivers for Jack, and he might find one he liked."
The one Nicklaus really liked was a MacGregor 945W Tommy Armour Super Eye-O-Matic. "It had a 3/8-ounce butt weight in the grip," said Long. "It was heavy and impossible to hit left. Wulkotte made Jack hundreds of beautiful custom drivers over the years, but he didn't change until he went to the metal Muirfield driver." Nicklaus also stuck with the same MacGregor 693 3-wood for at least 30 years. According to Long, the club with the red-fiber insert stayed in Nicklaus' bag into the 1990s.
Nicklaus' wedge style stood pat for a number of years, too. "We would change the sole shape once in a while, but not often," said White. "We called it a tight wedge [for play off tight lies] with a standard toe shape and 8 or 9 degrees of bounce on a 56-degree. He would have me grind a little trough in the middle of the sole to help with turf impact."
On the greens Nicklaus was slow to switch as well, using a George Low Wizard 600 for many years, making his switch to the oversize MacGregor ZT Response prior to the 1986 Masters all the more remarkable. "We never thought he would change and certainly not to anything so radical," said Long, who designed the ZT Response. "That said, he continued to use an oversized putter for the next 10 years."
Old habits are hard to break.
Derek Lamely had a Callaway X-Prototype 2-iron made in the Callaway tour van at Colonial CC, then had it bent to 15 degrees with all the offset removed, essentially providing Lamely with a 1-iron. No other player on the PGA Tour currently has a 1-iron in his bag. Lamely finished T-44 at the Crowne Plaza Invitational at Colonial.
Despite a T-2 at the HP Byron Nelson Championship, Blake Adams reconfigured the makeup of his iron set for the Colonial. Adams put in a TaylorMade R9 3-iron, took out his 4-iron, and used TaylorMade's Tour Burner irons for his 5- and 6-irons, and TM's rac Forged MB irons for the 7-iron through pitching wedge. Adams carried five wedges at Colonial. Adams finished T-27...It has been a rough year for Boo Weekley, who came to Colonial with one top-10 (a T-10 in New Orleans). Part of Weekley's troubles have been off the tee, where he ranked T-73 in distance and 48th in accuracy, prompting a switch to Cleveland's Launcher DST driver. At Colonial, Weekley saw improvement off the tee, ranking 16th and T-8 in distance and accuracy, respectively, while finishing ninth...Although missing the cut certainly wasn't what Phil Mickelson had in mind at Colonial, his switch to Callaway's Tour i(s) ball may have been more with an eye toward the U.S. Open. The i(s) spins more than the Callaway Tour i(z) ball Lefty had been playing -- something that may come in handy on the crusty greens at Pebble Beach GL in a couple of weeks.