News
Subbing A 4-Wood For The Usual 3-/5-Wood Combo Has Its Pluses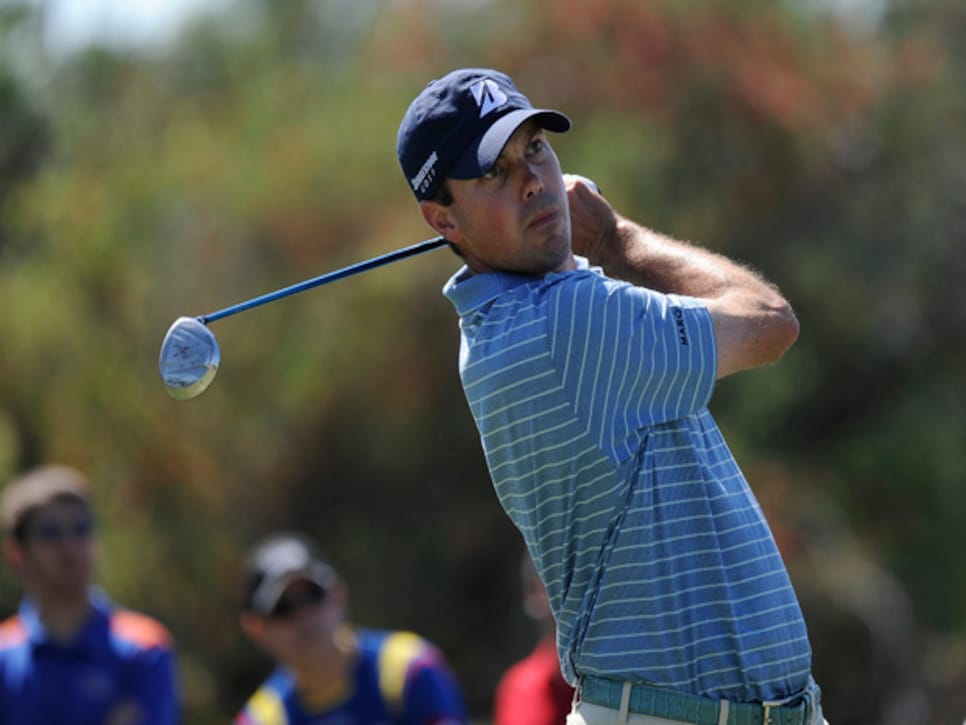 Kuhcar has had success with a 4-wood in the bag.
It was difficult to watch the Crowne Plaza Invitational at Colonial without thinking back to 2003 and Annika Sorenstam teeing it up with the men. That image also brings to mind the 4-wood that Sorenstam striped off the 10th tee for her opening shot.
Sorenstam's shot wasn't quite the equal of perhaps the most famous 4-wood shot of all (Gene Sarazen's double eagle at the 1935 Masters), but it brought to light the fact some pros still use the club -- one that had been mostly relegated to the bench in favor of a 3-wood/5-wood or 3-wood/hybrid combination by most players.
At this year's Colonial, however, approximately a dozen players had a 4-wood in the bag (including Matt Kuchar, who had a 3-wood bent to 4-wood loft). Although that number may not seem significant, it is double the number of 4-woods in play at the same event just two years ago. So what's causing this mini-trend on tour?
For most of the pros, the 4-wood simply makes for a better fit from a distance-gap standpoint. "It's a good club to have in between my 3-wood and 3-iron," said Justin Leonard last year of his Nike 4-wood. "It's 17.5 degrees, and I hit it about 225 yards. That's a perfect distance for me."
Finding the proper yardage slot is a main theme among tour pros when it comes to fairway woods. For many, the 3-wood, believe it or not, goes too far. It is not uncommon for a tour player to hit their driver about 290 with the 3-wood going close to 270. That leaves a huge gap between the 3-wood and the next club in the bag (usually a 3-iron or 3-hybrid). The 4-wood goes about 20 yards less and often is a much better fit.
Distance gaps as well as versatility are the reasons everyday players should consider a 4-wood. According to Marty Jertson, senior design engineer for Ping, he began creating 4-woods about five years ago after witnessing everyday players struggle hitting 3-wood off the ground.
"The ball just spins so much less off a 3-wood than a 4-wood," said Jertson. "We also saw more golfers hitting down on a 3-wood but having more of a sweeping motion with a 4-wood. The extra loft just seems to provide confidence."
A reason for that may be that the head of some 3-woods are now near or over the 200cc mark -- larger than most early steel drivers -- making turf interaction an issue. The added bulk, says Jertson, could be causing players to subconsciously believe the club is difficult to hit, thus making them alter their swings.
The results of a 2009 launch-monitor test by Golf Digest found everyday golfers who swing less than 85 miles per hour actually carried the ball five yards longer with a 4-wood as opposed to a 3-wood, while those swinging more than 85 mph hit the 4-wood eight yards longer. (Elite players still hit 3-woods farther than 4-woods). In both instances the ball went higher too, providing a softer landing for those using the club on approaches into greens.
Although it seems odd a higher-lofted club would go farther, the added loft (along with a shorter shaft than a 3-wood) makes the 4-wood easier to hit more solidly and the backspin from the extra loft helps keep the ball in the air longer. In other words, instead of carrying a 3-wood and a 5-wood, a potentially better set makeup might be a 4-wood followed by a 3-hybrid. Of the dozen players at Colonial using a 4-wood, 10 of them had this combination.
Another reason to consider a 4-wood has to do with options at the other end of the set. By taking the 3- and 5-wood out of the bag in favor of a 4-wood, it provides the opportunity to add another wedge that might save strokes around the green. Not surprisingly, most major manufacturers now offer a 4-wood option in their fairway-wood lines.
More distance, better height, easier to hit and greater versatility in set makeup -- all from one club. You may not hit a 4-wood like Sorenstam or Sarazen, but you might actually get more out of it than they did.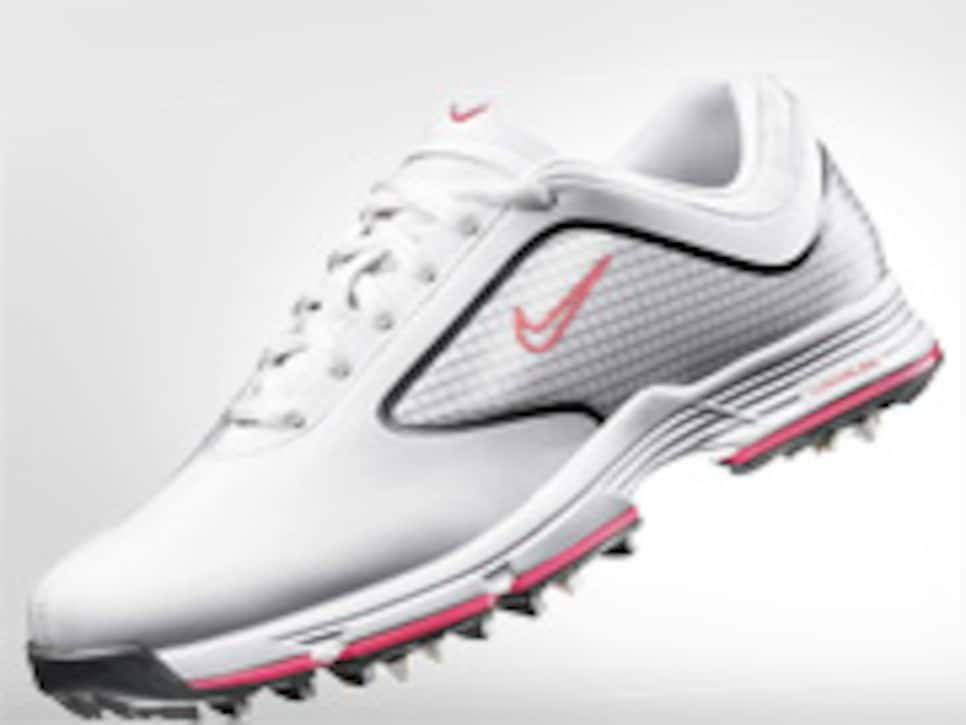 (Styles: White/Alarming-Metallic Silver; White/Metallic Gold)
A synthetic leather upper and a stability layer made from non-stretch fibers provide support without adding large amounts of weight. Suzann Pettersen wore the Lunar Links during her win at the LPGA Sybase Match Play.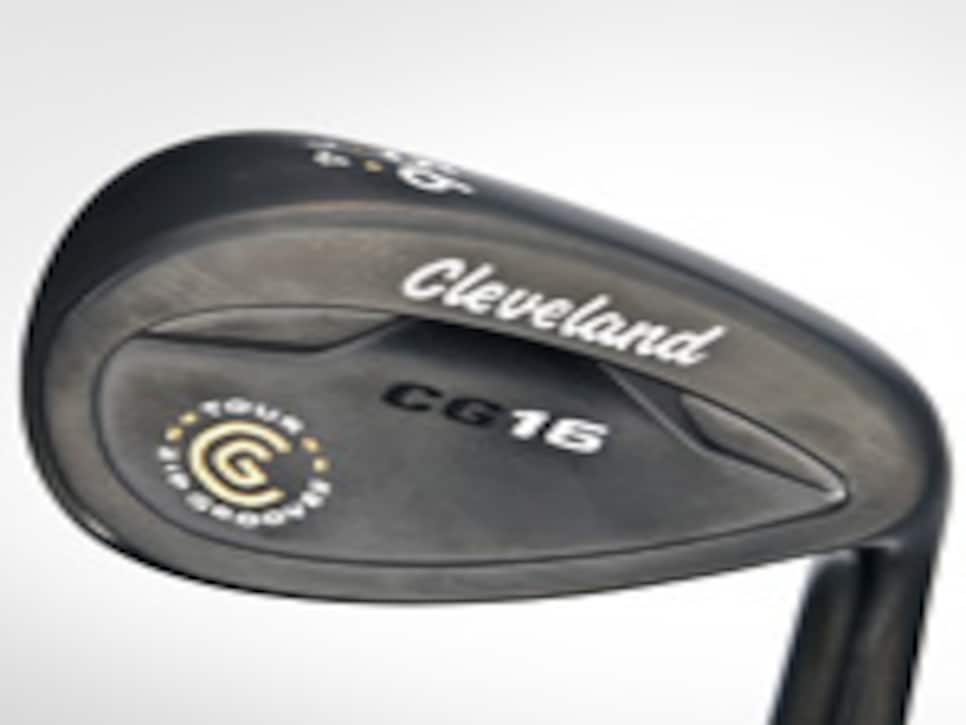 (Loft/bounce options: 16, from 46 to 64 degrees. Finishes: black pearl, satin chrome)
David Toms used a 60-degree version of the CG16 to hole a tournament-changing 83-yard approach shot for eagle on Colonial CC's 11th hole during the final round. The CG16 features a perimeter-weighted cavity design that lowers the center of gravity to assist launch angle as well as forgiveness. On the face, laser-milled micro-grooves provide a consistent surface roughness designed to impart additional spin. The design conforms to the USGA condition of competition statute on grooves.
A search for optimum launch conditions led Jim Furyk to test TaylorMade's R11 and Burner SuperFast 2.0 at the Colonial CC. Furyk is a low-launch, low-spin player who prefers a slightly closed clubface. He tested an R11 with the adjustable sole plate in the closed setting and the hosel in the neutral setting. Then a 16-gram weight was put in the toe section (to prevent too much of a right-to-left ball flight) and a half-degree of loft added to boost the launch angle slightly. Furyk was T-15 in accuracy at Colonial while finishing T-31...Steven Bowditch changed to an Odyssey White Hot XG7 center-shafted putter at Colonial. For the week Bowditch ranked T-6 in putts per green in regulation in finishing T-16...TaylorMade's TP xFT wedge has a fan in Jason Day, who has used the same wedge for the past 12 months but has changed the faceplate nine times...Matt Kuchar, who had been using a TaylorMade Ghost putter, changed to a long Odyssey White Ice D.A.R.T. in Fort Worth. Kuchar finished T-16, ranking 15th in putts per GIR...Cristie Kerr benched her Callaway X-22 irons in favor of the company's Diablo Forged model at the Sybase Match Play. Kerr, who lost in the final match to Suzann Pettersen at Hamilton Farm GC, also went back to her Odyssey White Hot 2-Ball putter.