News
Is Increased Driving Distance A Trend Or Just An Anomaly?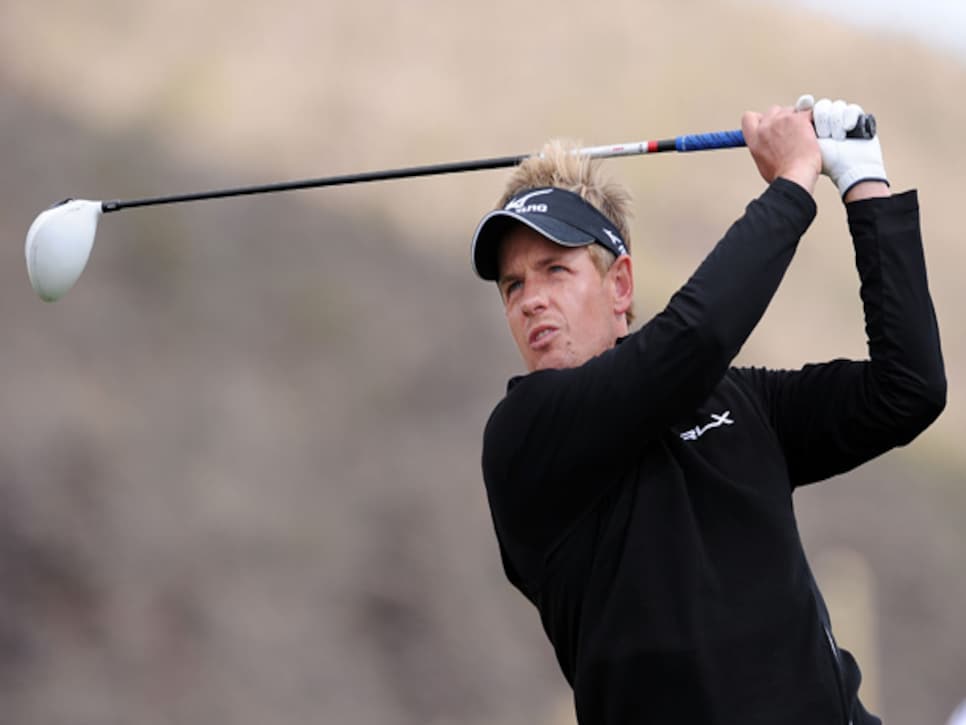 Donald says strength drills and swing changes have helped him increase his swing speed.
Two years ago Dick Rugge, senior technical director for the USGA told Golf World, "We have seen over the last five years that driving distance has remained stable, and we expect it to stay that way." Rugge had good reason to make that statement as, at the time, distance on the PGA Tour had modestly decreased the previous two years. Through 20 events this year, however, driving distance on the tour stands at 286 yards -- an increase of 4.6 yards over the same period last year and an average increase of 3.25 yards over the same period for the prior four seasons.
Although 20 events is a small sample, the increase is enough to ask the question: Is this a true trend or a statistical anomaly? And if it is the former, what is causing it and what may be the reaction of golf's governing bodies?
As to what is the cause for the uptick, opinions vary. Jeff Overton, for one, points to the continuing influx of physically strong players. "There's more young, good talent coming out," said Overton. "Tiger raised that bar years ago. People are just working out more and that means more guys coming out who are hitting it farther."
While it is true that for every short-hitting Corey Pavin that goes to the Champions Tour there is seemingly a bomber such as Gary Woodland to replace him, veterans also have embarked on workout regimens and worked on making their swings more efficient. Luke Donald, for example, says he has gained close to 4 miles per hour in ball speed over the past 18 months, crediting strength drills and swing changes.
"I have better sequencing in my swing now," said Donald. "I also do more speed-related drills -- throwing medicine balls, hitting impact bags. I do a drill where I use a heavier driver and a lighter driver once a week. Just hit 10 drives with a heavy one, 10 with a lighter one and 10 with my regular one. That helps with ball speed, too. I'm not overpowering golf courses, but every mile per hour helps."
David Toms thinks course conditions have played a role in driving distance going up. "[The tour has] tried to do the best they can to get the fairways firmer," said Toms. "Guys wanted firm, fast conditions. That's what the tour's supposed to do. That's part of their setup plan. So if the weather stays dry, I know they've tried to get them to firm up. Perhaps that translates into overall distance being a little longer."
Technology's role cannot be ignored, either. Although it may be somewhat limited due to equipment rules, that doesn't mean club designers have stopped chasing additional yards. They're merely finding it in different places.
Several years ago when drivers had pretty much reached the USGA limit on spring-like effect in the center of the face, Dr. Benoit Vincent, chief technical officer for TaylorMade, was asked if distance was over. Vincent got up from his chair, went to a white board and drew the face of a driver. He then started drawing dots all over the face. "When I can make the ball go as far where all those dots are as I can now on the center of face, then we're done," he said.
Since then designers have worked endless hours seeking to create additional ball speed on off-center hits -- and there is no question that today's drivers are more efficient in that regard, meaning mis-hits now go farther. Designers have been working on other efficiencies as well.
"Speed is the most critical factor to create distance for a driver shot," said Tom Stites, director of product creation for Nike Golf. "Accuracy, of course, is important too, but without creating clubhead speed you cannot transfer the 200 or 205 grams of mass into the energy of the golf ball. There are several ways to achieve that. You can reduce the weight of the club so the golfer can swing it faster. You can also make the club longer relative to the swing arc. All those things contribute to speed, as does the aerodynamics of a clubhead. There's a lot to work with."
Those last six words are what the USGA and R&A were concerned with in 2002 when they issued a Joint Statement of Principles that, in part, said: "The R&A and the USGA believe that any further significant increases in hitting distances at the highest level are undesirable...Should such a situation of meaningful increases in distances arise, the R&A and the USGA would feel it immediately necessary to seek ways of protecting the game."
Will distance critics decry this latest bump in yards and wonder if this is the evidence the ruling bodies need to implement their next technology rollback? Probably not. A boost of 4.6 yards through 20 events probably does not constitute "meaningful" just yet. But this trend -- and what the governing bodies think of it -- bears watching.
Price: $900 (set of eight, steel shafts)
Lucas Glover won the Wells Fargo Championship with these irons that boast a pocket cavity in the long irons (for added distance and forgiveness), a split cavity in the mid irons (for a hint of stability on mis-hits) and blade-like short irons for distance control.
Hunter Mahan used a pair of Ping Anser wedges at the Wells Fargo Championship. The wedges, which are not yet available to the public, are Ping's forged follow-up to its Anser irons...Bobby Gates had a new Scotty Cameron by Titleist Tour Rat prototype in play at Quail Hollow. According to Cameron, "A 'rat rod' is a street-tough custom car built from all sorts of parts." The Tour Rat Gates used is a combination of Cameron's Classic 1, Newport and 009 models rolled into one...Jonathan Byrd came close to pulling off a unique double. Byrd, who won the season-opening Hyundai Tournament of Champions with a black TaylorMade Burner SuperFast driver, was using the company's white Burner SuperFast 2.0 at Quail Hollow where he lost in a playoff to Lucas Glover...The Bulls Eye putter Mark McNulty has used for the bulk of his career received a brief benching at the Regions Tradition. McNulty used an Odyssey White Hot 2-Ball mallet for round one before returning to his skinny Bulls Eye blade after an opening-round 75. McNulty, who rallied to finish T-16, had not been putting well and simply said he wanted to try something different.