News
Top Designers 'Forge' Ahead By Taking An Updated Page From Past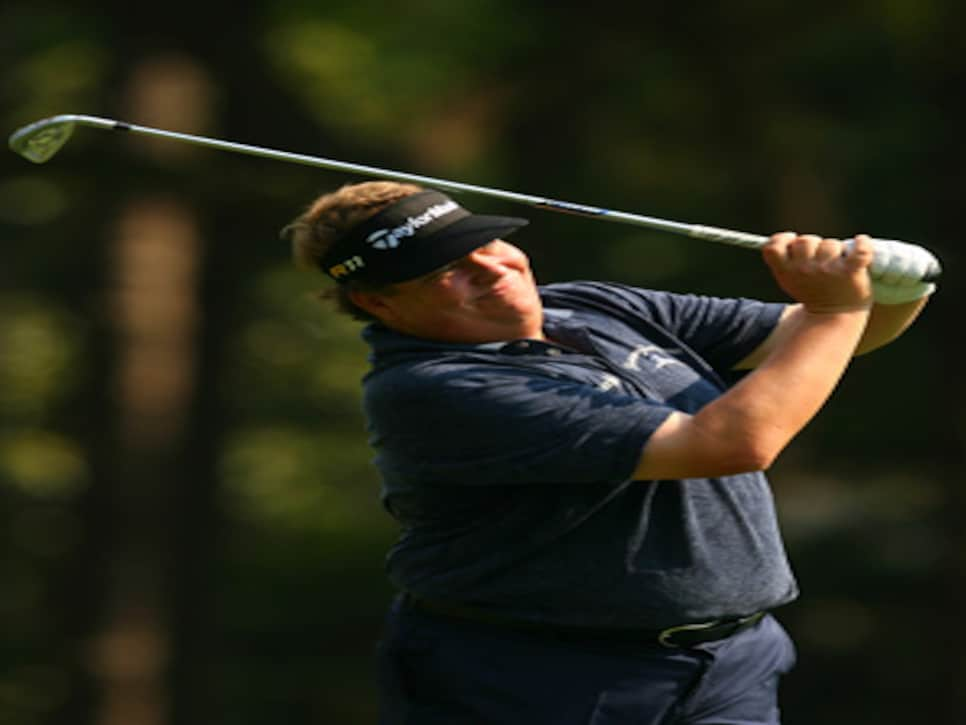 For years a user of investment-cast irons, Herron now gets the look he wants with a softer feel from forged.
A look at the leader board at the Heritage revealed the top five finishers used forged irons. To many that is hardly a surprising stat. After all, doesn't just about every tour professional use forged irons?
The answer to that today is yes. On the PGA Tour approximately 80 percent of players are using forged irons this year. However, that has not always been the case. Some 15 years ago manufacturers found they were able to do things in design with castings that they were not able to accomplish in a forging, causing cast clubs to account for nearly half the iron sets on tour. Although forging continues to be the oldest process for making irons (for example, the forging of metal has taken place at Miura's forging house in Himeji, Japan, for hundreds of years), it was not until recently that forged irons saw a bit of a resurgence.
Why the return? For starters, forged clubs now are not always the knife-like muscleback blades of years past. Some forged irons being used on tour, in fact, feature cavity-back designs and top lines that are modestly thicker than traditional blades.
Tim Herron is a recent convert. Lumpy has played cast Ping irons almost his entire career but was using the company's new Anser forged irons during the Heritage at Harbour Town GL. Although manufactured differently, the Anser irons provide Herron a look he is accustomed to but with the softer feel that comes from a forging despite the company using more than one material in manufacturing the club -- an impressive advancement.
The primary reason, however, for the increase in forged offerings is that several major companies that previously shied away from the process have now fully embraced it, providing pros and consumers with several forged options.
TaylorMade, which has produced limited forged irons in the last decade, debuted three new iron models this year that incorporate forging. The fully forged Tour Preferred MB and MC feature a six-step forging process, while the Tour Preferred CB combines a forged face with a cast body. The extensive forging process results in a head that requires less post-forging finishing and thus a cleaner, consistent final product.
Callaway, meanwhile, utilizes a new closely spaced groove pattern on its RAZR X Forged irons. According to Callaway, the groove pattern, which features five more grooves than in its RAZR X irons and steeper sidewalls in each groove, can only be achieved through the precision that forging provides.
Ping, the grandfather of investment-cast irons in golf, recently entered the forged world with its Ping Anser iron. The multiple-material iron includes a forged body made from 8620 carbon steel with a hollow sole that features a tungsten insert to lower the center of gravity and enhance vibration dampening.
Each of these clubs (along with irons such as Mizuno's JPX-800 Pro, Nike's VR Pro cavity and Titleist's AP2) represents companies finding ways to match the smartest new technologies with the game's oldest club-making technique. As with all great club design, it is a mixture of art and science. The art is that the now-advanced forging process allows for more intricate designs as opposed to simply a hunk of metal on the end of a shaft.
And what about the science? Katsuhiro Miura gave Golf Digest a telling analogy in 2007 when he described the difference between casting and forging. "It's like if you have two glass jars," he said. "One is filled with marbles and the other is filled with sand. There are a lot of voids in the jar filled with marbles, but not with the jar of sand. The jar of sand is a forged iron.
"The marbles will vibrate at impact, and that results in some of the energy transfer being lost and a vibration within the hands of the golfer," he continued. "The sand produces no vibration and no loss of energy. Both a good and an average player will feel that difference."
Judging by the numbers on the PGA Tour, about 80 percent of the players no doubt would agree.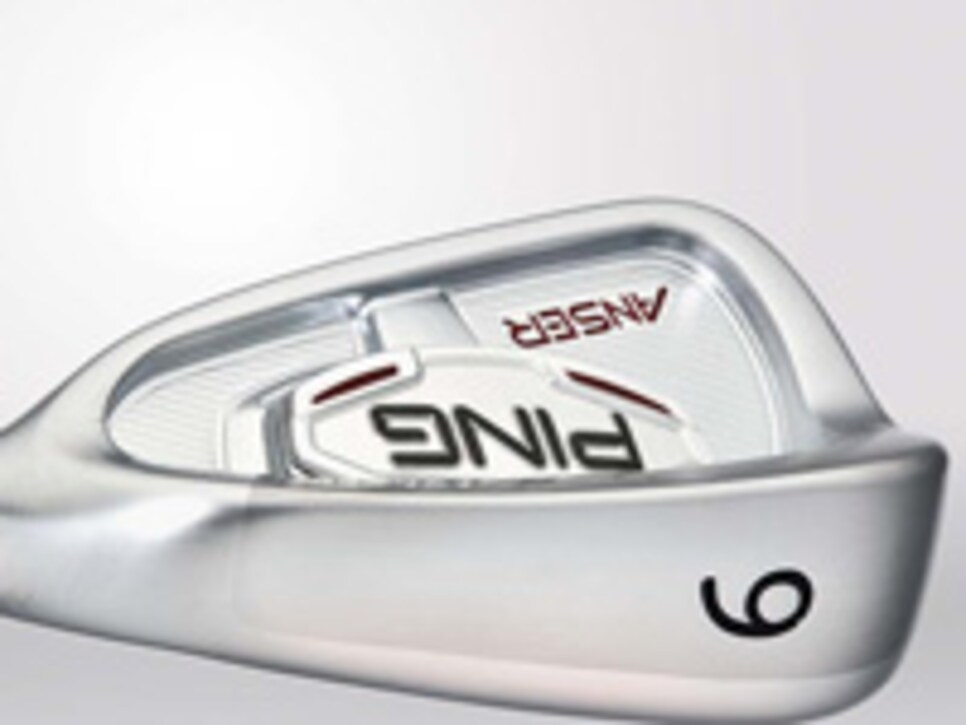 PRICE: $1,350 (set of eight, steel shafts)
A multi-material iron that uses 8620 carbon steel, a tungsten sole and a hollow sole cavity for soft feel and higher-launching shots. Custom-fitting options include a dozen lie-angle settings from 3.75 degrees flat to 4.5 degrees upright.
(Lofts: 14, 16, 18, 20, 23, 26 degrees)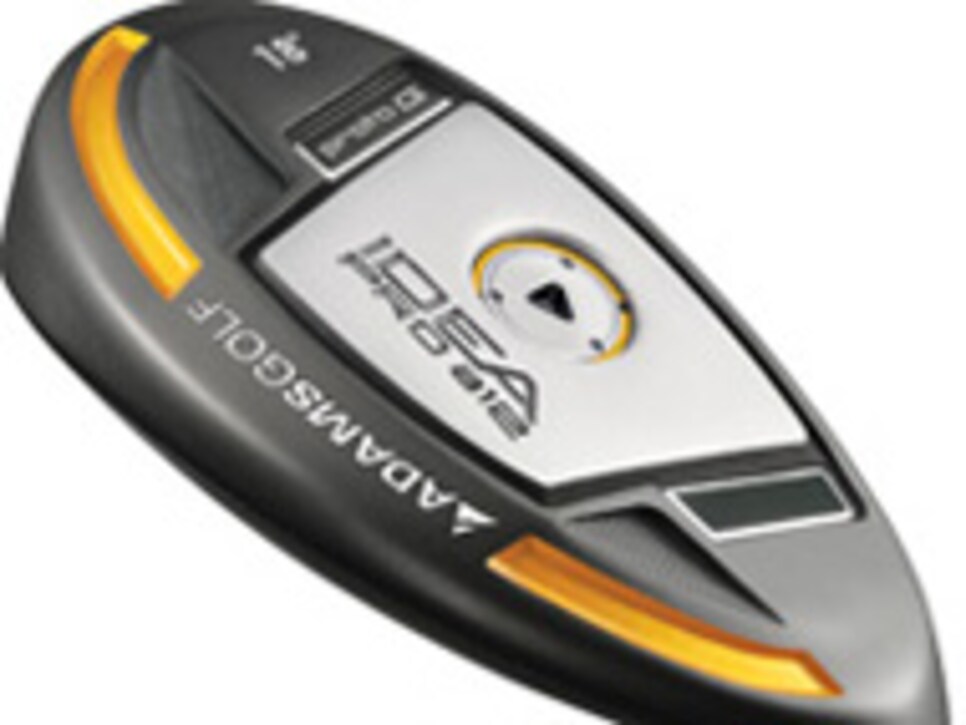 Odyssey putters pulled off a sweep of the top five finishers at the Heritage. Champion Brandt Snedeker used the company's White Hot XG Rossie model while runner-up Luke Donald used an XG #7H. Tommy Gainey was third with Odyssey's Backstryke Blade while Tim Herron and Ricky Barnes tied for fourth using the White Hot 2-Ball and White Ice #9 models, respectively. Interestingly none of the five are paid to play an Odyssey putter...It took a week, but a driver change Herron made at the Valero Texas Open worked well at the Heritage. Herron used a TaylorMade R11 where he changed the weights to produce more of a draw-biased ball flight. Herron originally had the weights positioned with 7 grams in the toe and 4 grams in the heel but changed it to 9 grams in the toe and 6 in the heel. The extra 4 grams made the club feel better to Herron, who had thought the original configuration was a little light. At Harbour Town Herron finished T-4 while ranking T-14 in driving distance at 287.5 yards.